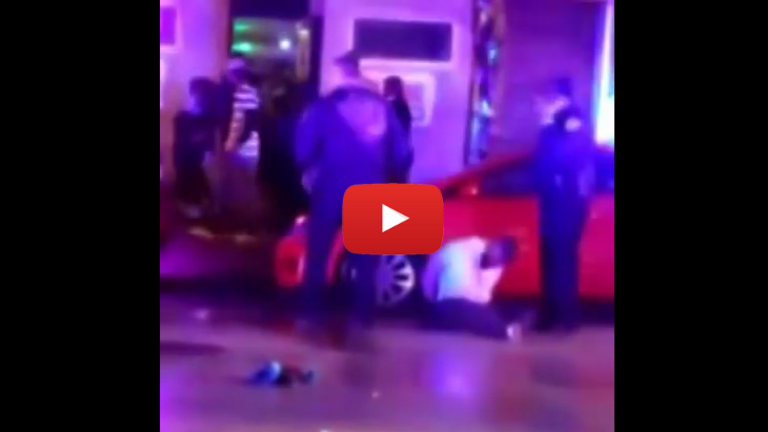 Baltimore Police Assault and Tase Daughter of an Officer- On Video- Attempt to Delete Evidence
"You're a dumb b***h, you know that!"
Baltimore, MD-- Baltimore police are under fire once again after a video surfaced of 36 year old Kianga Mwamba being assaulted and tased by an officer, while filming an arrest the officer was making in the street back in March. The out of control officer attempted to delete the video, but it was pulled from the cloud by the woman's children and posted online on Monday.
While the two minute long video itself isn't too graphic, it is certainly hard to listen to.
Mwamba had pulled up to the scene of an arrest and began filming after she allegedly saw the officers kicking the suspect they had on the ground. After being yelled at by officers, she responded that she knows she can record- as her father is a police officer. The officer's conceded she may film (as if she needed permission), but demanded she pull over and park her car.
"All right, I'll park," Mwamba said.
"You need to pull the car over," an officer responded.
"I am about to pull over," she replied.
As she starts to comply and pull her car over, you hear Mwamba scream, "why would you do that?"
Moments later she is yanked from the vehicle and thrown to the ground, tased, and verbally abused by the belligerent officers. One particularly heinous officer refers to her as a "dumb bitch."
Mwamba was arrested and charged with using her vehicle to strike an officer. In a statement of probable cause, the officer says the woman accelerated toward another officer and he yelled for her to stop—but attorneys say the video and probable cause statement do not match up, CBS reports.
She was later released on $10,000 bail, which was paid for by her father, who is also a cop.
All charges were dropped in September, and she is now suing the officers involved for $7,000,000.
The department has known about this video since April, yet the officer remains on duty and the department has only condemned the language used after being questioned by media as well as during a twitter town hall meeting.
"The video does not capture enough information to draw definitive conclusions about what transpired before, during, and after the arrest." the department's statement read. "What is clear is that the language used is unacceptable and will not be tolerated."
They must mean "will not be tolerated" by the public, since they have known of this video since April and the officer in question has seemingly faced no repercussions. This video is a perfect example of why it is important to always film the police. Situations that seem calm can escalate in only seconds when the gang in blue is around, and video is one of the few ways to protect yourself and others.