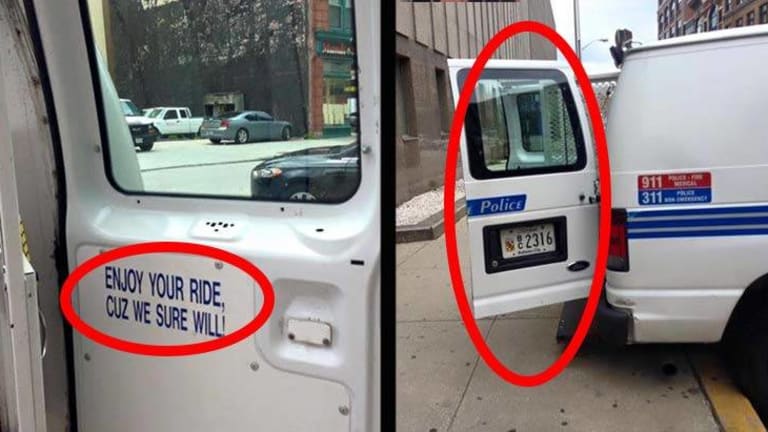 The Last Words Freddie Gray Ever Read? Baltimore Cops Leave Sadistic Messages Inside Police Vans
A Baltimore resident found an alarming message written on the inside of one of Baltimore PD. Were these the last words Freddie Gray ever read?
Baltimore, MD -- This week a Baltimore resident was walking by the police department when she noticed a sadistic message painted on the inside of one of the police vans. The message read, "Enjoy your ride, cuz we sure will!"
The Baltimore resident, who we will identify only by the first name of Laura, decided to take photos of the inside of the van, and later posted them on Facebook.
After the photos were brought to the attention of the Free Thought Project, we contacted Laura to verify their authenticity.
"I want to contact the state's attorney! I took these photos today! Around 12:15-12:30 TODAY! The paddy wagon was parked outside the police station with the door open. I didn't get a picture of the inside, but it was meant for those arrested," Laura said to the Free Thought Project.
We also contacted former Baltimore Police Officer turned whistleblower Joe Crystal, who said that the photo does indeed seem authentic.
"It could be real. That's a picture outside of the central district which is connected to headquarters. The background (street view) is accurate so I think it can be true," Crystal said.
This information is even more disturbing when considering the Baltimore Police Department's history of sending suspects on "Nickel Rides." Nickel rides are a horrific police torture tactic where a suspect is handcuffed and placed in the back of a police van without restraints, and driven recklessly around town by police officers. This practice has also been called a "Rough Ride" or a "Cowboy Ride."
Last year, Nickel Rides became notorious in Philadelphia, after a court case revealed that police were using this tactic as a witness-free way to punish unruly, uncooperative, or arrogant suspects – without ever laying a hand on them. For rogue police, it was a literal way to deliver "street justice."
The practice was exposed through the lawsuit of a man named James McKenna, who was awarded $490,000 after he was able to prove in court that he was intentionally injured during his ride in a police van.
Baltimore itself also has a dark history of police van torture. In fact, Baltimore Police have paid out millions of dollars in settlements to victims who were critically injured during rides in police vans. In 2012, a woman from Baltimore named Christine Abbott sued police after she was badly injured during a bumpy ride in the back of a police van.
That same year, the death of Anthony Anderson was ruled a homicide, he too died of injuries sustained while riding in a police van. Of course, this year the brutal torture tactic took center stage in the case of Freddie Gray, which led to the highly publicized riots and protests that swept the city.
One has to wonder, were those the last words read by Freddie Gray on his own death ride?
Share this article with your friends and family to show them the sadistic nature of those who claim to Protect and Serve. Then call the Baltimore Police department and ask them why they are taunting and intimidating men and women who are innocent until proven guilty.
John Vibes is an author, researcher and investigative journalist who takes a special interest in the counter culture and the drug war. In addition to his writing and activist work he organizes a number of large events including the Free Your Mind Conference, which features top caliber speakers and whistle-blowers from all over the world. You can contact him and stay connected to his work at his Facebook page. You can find his 65 chapter Book entitled "Alchemy of the Timeless Renaissance" at bookpatch.com.