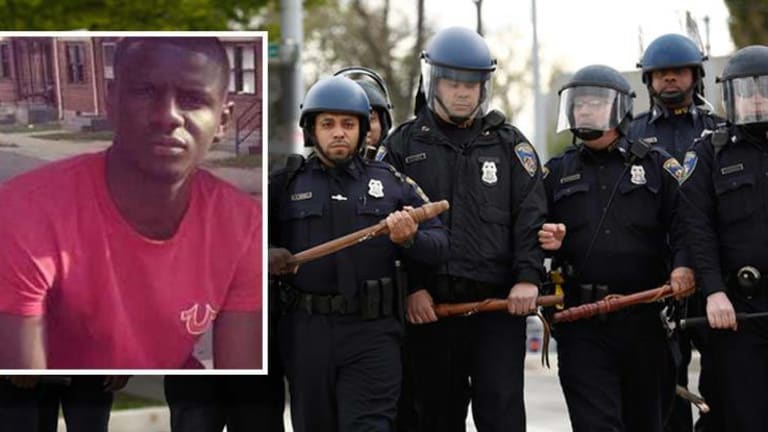 Baltimore Cops Prepping to Crack Down on Protests as Jury is Deadlocked in Freddie Gray Case
Reinforcements make their way to Baltimore in preparation for potential protests over the verdict in the Freddie Gray murder trial.
Baltimore, MD -- This Tuesday, the jury in the case of Freddie Gray told the judge that they were deadlocked and had been unable to reach a verdict. The jury is having a difficult time deciding if Baltimore Police Officer William G. Porter is guilty of killing Freddie Gray in April despite the significant evidence brought against him, strongly indicating that he and other officers denied Gray medical treatment even after he asked for it. The exact charges against him are involuntary manslaughter, second-degree assault, reckless endangerment, and misconduct in office.
Gray's controversial death in April sparked riots throughout the city, which had been brought to a boiling point after years of its citizens suffering police brutality, wrongful arrests, illegal searches, and murders. It seems the police may be expecting to crack down on protests that may develop if the jury delivers a "not guilty" verdict as they have begun to make preparations and bring in officers from other areas.
"We have a number of law enforcement agencies from across the state that are assisting us today. They are here out of an abundance of caution. I hope to never have to call upon them. We are prepared because the community, quite frankly, expects us to be prepared," Baltimore Police Commissioner Kevin Davis said.
The Baltimore Sun reported that there were police stationed in Druid Hill Park on Tuesday, fully suited up in riot gear. Davis said that the officers were "probably bored" and wanted to try out the new equipment.
"We certainly don't want that visual to look like we're expecting something, because we aren't," he added.
Free Thought Project readers from the Baltimore area have also made us aware that school field trips into the city from the suburbs and the county have been canceled throughout the duration of the trial.
Many suspect that Gray was the victim of a "Nickel Ride;" a horrific police torture tactic during which a suspect is handcuffed, placed in the back of a police van without restraints, and driven recklessly around town by police officers. This practice has also been called a "Rough Ride" or a "Cowboy Ride."
Gray suffered broken vertebra and an injured voice box, which required emergency spinal surgery from which he never recovered.
As we reported last month, the mainstream media has been slandering Gray and his family, and giving the police, who are the ones on trial, mostly positive coverage.
If the jurors are unable to decide this week, a mistrial will be declared, which could leave Porter to avoid jail unless the prosecutors choose to aggressively pursue the case. This would obviously create more tension in the city, as everyone is waiting for the officers to see justice.
There are five other officers who have yet to stand trial and it is likely that there will be some form of protest every step of the way if the officers are not brought to justice.
The fact that the jury is having a hard time deciding whether or not the officer is guilty is completely absurd. Most cases in which the murderer is not a police officer, the jury must decide whether or not the defendant took actions that led to another person's death. In this case, since the murderer is a police officer, the jury is instead deciding whether or not the officer was justified in killing someone.
It is well established that these officers are responsible for Gray's death, but there is so much confusion as to whether or not they were allowed to do it. Had these people not had badges and government protection, there would be no confusion. This is why police are so rarely held accountable for the crimes that they commit on duty, because people imagine that these officers have the "authority" to carry them out.
John Vibes is an author and researcher who organizes a number of large events including the Free Your Mind Conference. He also has a publishing company where he offers a censorship free platform for both fiction and non-fiction writers. You can contact him and stay connected to his work at his Facebook page. You can purchase his books, or get your own book published at his website www.JohnVibes.com.