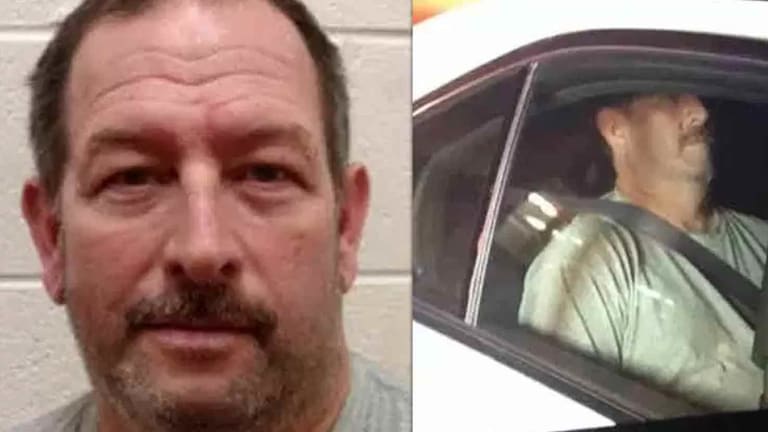 Cops Chase Down, Arrest Bank Robber, Then They Find Out He's a Fellow Cop
A North Carolina Sheriff's Deputy was arrested this week for bank robbery. He robbed a major bank just hours before he was scheduled to go to work as a cop.
Davidson County, NC — A police officer has been arrested and charged with armed robbery following a bank heist in which the deputy was the only suspect. Davidson County Sheriff's Office (DCSO) Deputy Jeff Athey was arrested on highway 52 just four minutes after he allegedly committed the crime.
According to WSOC TV9, "Athey worked for the department for years, and also worked as a private contractor for Blackwater in Iraq and Afghanistan."
Athey allegedly robbed the F&M bank on West Main Street in Rockwell Tuesday afternoon. He reportedly used a semi-automatic weapon during the robbery. Athey, who was scheduled to work later that day as a police officer for DCSO, was immediately fired following his arrest. Sherriff David Grice told reporters, "He was not on-duty during the time of this incident, but he was employed and scheduled to work later today." Grice remarked:
I'm thankful that Mr. Athey did not injure anyone during this incident and that he did not resist arrest...I am as shocked and appalled as anyone else at M. Athey's behavior...We have a lot of employees, a lot of other agencies and law enforcement. It reflects badly on everyone.
Athey's arrest will likely come as a sigh of relief for anyone he has ever arrested in the past. Predictably, defense attorneys will be rushing to have their clients' cases thrown out, now that Athey's judgment will be deemed highly questionable. Any testimony he has ever given in court against a defendant will likely be struck from court records and those prisoners set free.
Athey's arrest comes amid dozens of such cases across the country which have occurred over the last few years. As TFTP has reported, former Atlanta police officer Maurice Dodd robbed the BMO Harris bank in Matteson, IL. Dodd took his own life in the chase which ensued following the bank robbery. Prior to the robbery, he had been fired for driving under the influence.
Also in 2014, Alvin J. Brook, a 44-year-old police officer in Wisconsin, was sentenced to 9 years in federal prison for his role in a 2010 bank robbery which he reportedly committed to fund his drug habit.
While bank robberies by police officers are extremely rare, what is a common everyday occurrence is legal robbery by law enforcement agencies. The practice is known as "civil asset forfeiture" and it is a legal way for police to separate you from your valuables. Unfortunately, what was meant to punish criminals has now morphed into a cash cow for law enforcement agencies (LEA) all across the country.
Police departments have been given cash incentives to find valuables and confiscate them, even if the citizen is not a criminal, has not been engaged in criminal activity, and was not planning on committing any crimes. The forfeitures have enriched some police departments causing the kind of corruption for which Athey now stands accused.
One state seems to have a real knack for separating people from their funds: Illinois. According to the Chicago Tribune, the state has confiscated 319 million dollars over a decade amounting to over 30 million dollars per year. The ACLU has denounced the legal practice of police officers stealing people's money. They issued a written statement condemning the practice:
Asset forfeiture in Illinois has become policing for profit..Without meaningful reform that ensures transparency, this system will continue to take millions of dollars in property from people without true justice.
Athey will have his day in court. He has requested a public defender to represent him. But the now-former sheriff's deputy is a tiny player in a national epidemic which rivals the current health crisis of opiate and heroin overdoses. Law enforcement is in the business of making money, taking money, and selling property to fund their policing activities.