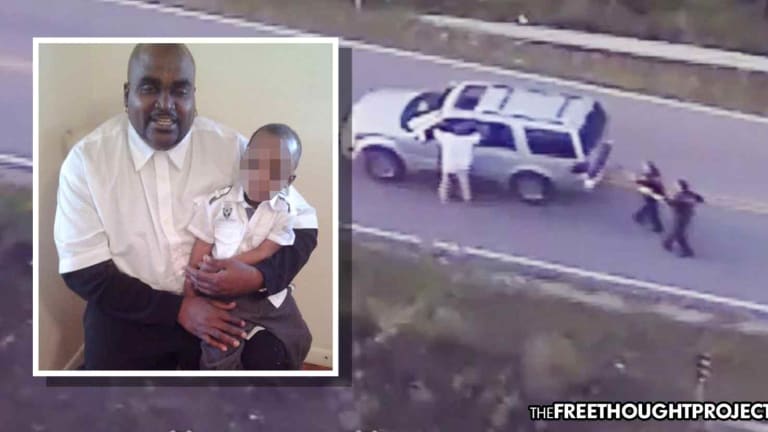 Cop Who Killed Unarmed Dad, With Hands Up, On Video, Now Training Other Cops to Do the Same
An Oklahoma cop whose irrational fear caused her to shoot and kill an unarmed father, will now be instructing other cops to act like her.
Tulsa, OK — Tulsa police officer Betty Shelby never spent a day in prison for killing 40-year-old Terence Crutcher. In fact, last year, Shelby was allowed to return to her job on the police force but the public was reassured that this trigger happy cop would not be allowed to patrol Tulsa's streets. Fast forward to March, and the killer cop was put back on patrol. Now, she will be teaching other cops how to do act when they are presented with unarmed fathers who put their hands in the air.
Community leaders have scheduled a protest for Monday after it was announced that the Tulsa County Sherriff's Office will be holding a training session for other cops, entitled "Surviving a Critical Incident", and it will be taught by Officer Betty Shelby.
"The stresses you may go through, the potential for facing charges for doing your job, things of that nature," TCSO Spokesperson Justin Green said. "This class is not about that particular incident.'
However, members of the community think it is a horrible idea and will only serve to breed distrust and more divide.
"By bringing Betty Shelby to Tulsa and having her speak at the Faulkner Building is a slap in the face to all African Americans," "We the People Oklahoma" representative Marq Lewis said.
We the people of Oklahoma released a statement summing up the horrid nature of such a move, that reads in part:
Deputy Betty Shelby, 44, has presumably been selected to teach this course, which allows for 4 CLEET hours including 2 crucial required mental health hours, because she is the former Tulsa Police officer who shot and killed an unarmed 40-year-old black man, Terence Crutcher.

We The People Oklahoma seriously questions both the judgment and motives that the Tulsa County Sheriff's Office would have in allowing Deputy Shelby to direct such a crucial course.

After all, Shelby herself shifted the blame from Crutcher's death both to police training videos and, shockingly, Crutcher himself.

Although she was ultimately acquitted, jurors cautioned in a letter that they found Shelby wholly unfit to ever serve as a law enforcement officer.
Shelby's trial concluded last year when she was found "not guilty" of manslaughter by a jury of her peers. The jurors also wanted to go on record as saying she is not without blame.
Shannon McMurray, Shelby's lawyer didn't appear convinced her client would return to the force, even expressing doubt it would be a good idea. "She's going to self-guess herself and get herself killed or somebody else," McMurray said, implying she may still be a danger to society. All that has now been thrown out the window and this self-guessing will be taught to other cops.
According to the Associated Press, the Crutcher family petitioned the city to prevent such a reinstatement of her employment. However, this was obviously in vain.
Crutcher's death was captured on video from a police helicopter which was flying overhead. Shelby's husband, Dave Shelby, was in the chopper and watched as his wife made the decision to shoot Crutcher, who died from his injuries.
Shelby even took her case to the court of public opinion, granting an interview with 60 Minutes where she discussed the shooting in detail.
In her interview with 60 Minutes, he said Crutcher wasn't obeying her commands and was acting "Zombie-like." She said she began to fear when he ignored her orders. "I'm thinking he's calculating how he can get to his vehicle to get whatever weapon it is that he's going to get because he didn't find it in his pocket," she said.
There was no such weapon.
She described the moment she fired. "It's like slow motion of me bringing my gun up, my finger coming in and then letting off. And he stopped and then he just slowly fell to the ground."
She then blamed her shooting Crutcher — on Crutcher.
In court, the AP described her defense team's strategy:
Shelby said she fired her weapon out of fear because Crutcher ignored her commands to lie down and appeared to reach inside his SUV for what she thought was a gun. But prosecutors said she overreacted, arguing that Crutcher had his hands in the air and wasn't combative, part of which was confirmed by police video that showed Crutcher walking away from Shelby with his hands above his head.
The father's killing drew outrage from the community and the nation as a whole and this move will only serve to grow that outrage.
Tulsa's mayor G.T. Bynum addressed reporters following the "not guilty" verdict. "We have a long way to go, as a city, when one part of our city is synonymous with an entire race. We have a long way to go, as a city, when people keep expecting lawlessness from African Americans in response to an incident or a verdict."
Bynum says his time spent with the Crutcher family shows him they're "really good people." Speaking of the loss of their loved one he said, "His parents have had to bury a son. His kids will have to grow up without a dad who loves them. His sister, all of her best memories of her brother will be memories. There will be no more new ones."
As TFTP reported at the time, an unusual action was taken on behalf of the jury. The twelve members (3 of whom were Black) issued a post-trial statement noting that they think Shelby should never be a cop again.
McMurray acknowledged her client could have chosen a less-than-lethal method of subduing Crutcher but added her client had to make a "split-second" decision. She'll now be teaching other cops to make the same split second decisions.
Just like that — cops can kill unarmed, non-violent, and arguably innocent fathers on video, and not only be acquitted — but still be cops — and teach other cops how to do their jobs. Hopefully, none of the citizens of Rogers County ever encounter Shelby or one of her new students during one of their fits of fear when they are forced to make another "split-second" decision and kill another unarmed father, mother, son, or daughter with their hands up.
The training begins on Tuesday.