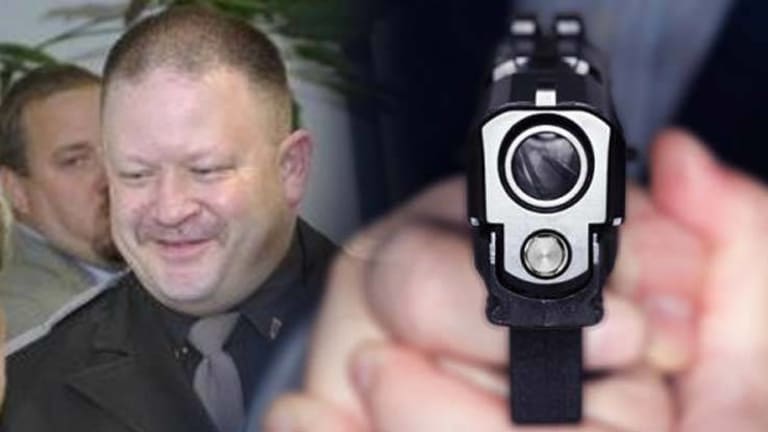 Bigot Cop Pulls Gun on Asian Man, Accuses Him of Being "an ISIS" and Beats Him
A Montana cop was arrested this week for felony assault after allegedly beating and threatening a man with a gun.
Lewis and Clark County, MT -- A sheriff's deputy with Lewis and Clark County was arrested Monday morning after allegedly pulling a gun on a man at a party and assaulting him.
On December 4, Philip Jay Clark, 49, showed up to a bonfire party "super intoxicated," according to the victim, identified as C.F. in court documents. 
"He (C.F) said Clark, 'Got a little bit violent and a little bit aggressive right away.' He said it seemed like Clark wanted to fight. He said after shaking Clark's hand Clark, 'pulled out his gun, pointed it at me and then laughed, handed it to somebody else like we were about to fight ...,'" according to documents.
According to court records, Clark began hitting C.F. before asking him to name the capital of Thailand and punched him in the groin, yelling "Bangkok." The drunken bigot cop then walked away.
As C.F.'s friend was telling him that it would probably be a good idea for him to leave, Clark became aggressive once again. He then pulled out his pistol, with his finger on the trigger, shoved it in C.F's face and began referring to his non-Muslim Asian victim as "an ISIS."
"[I was] 100% positive he was gonna start shooting,'" C.F. said, according to the documents.
Clark has since retained an attorney, Mathew Johnson, who claims that Clark was acting in self-defense when he interacted with C.F. Apparently resorting to schoolyard bully tactics of asking the capital of Thailand before punching him in the groin, was a means of deterring an attack from C.F.
"My client was very surprised that charges were filed without an investigator talking to him," Johnson said, noting that Clark should have been given his special treatment due to his officer status.
According to Lewis and Clark County Sheriff Leo Dutton, after the party, a citizen called in to report Clark's behavior. Dutton said that was when they launched the investigation.
Clark was booked on felony charges of assault with a deadly weapon and his bond was set at $50,000. However, likely due to his blue privilege, after appearing before the judge, Clark was released on his own recognizance.
The case has since been handed over to the Montana Department of Justice to avoid the conflict of interest of the Lewis and Clark County Sheriff's Department investigating themselves.
The Free Thought Project's request for the status of Clark's employment was not immediately returned by the Lewis and Clark County Sheriff's Department.
Matt Agorist is an honorably discharged veteran of the USMC and former intelligence operator directly tasked by the NSA. This prior experience gives him unique insight into the world of government corruption and the American police state. Agorist has been an independent journalist for over a decade and has been featured on mainstream networks around the world.