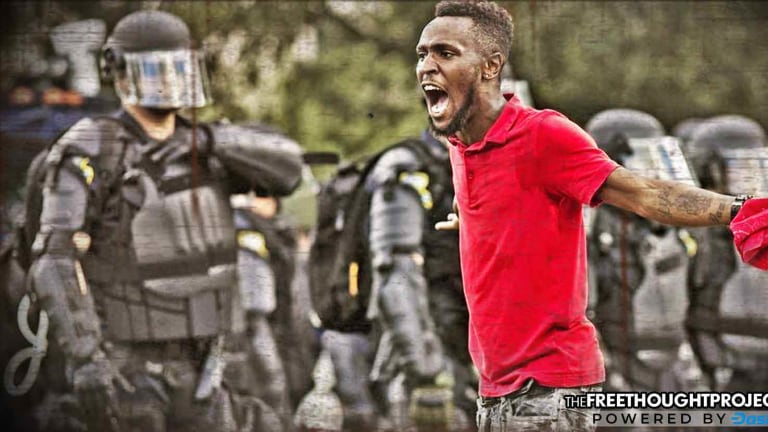 Black Man Arrested, Charged with 'Hate Crime' for Calling a Police Officer a 'Nazi'
A Black man was charged with terroristic threats, resisting arrest and ethnic intimidation for calling a police officer a "Nazi" while he was being arrested.
Crafton, PA – In a complete misapplication of Pennsylvania's hate crime statute called "ethnic intimidation"—defined by law as "malicious intention toward the race, color, religion or national origin of another individual or group of individuals"—Pennsylvania Police are using the law to criminalize constitutionally protected speech directed at them.
For example, Robbie Sanderson, a 52-year-old Black man from North Carolina, was arrested on Sept. 23, 2016, for retail theft in Crafton, Pennsylvania. During the course of his arrest, Sanderson allegedly called the officers "Nazis," "skinheads" and "Gestapo," according to court documents filed by the Crafton Borough police.
For the simple act of expressing his feelings about the officers, he was charged with a hate crime.
Let that sink in for a moment…
A Black man was charged with a hate crime for simply calling a cop a "Nazi."
"This is completely ridiculous," said Mary Catherine Roper, deputy legal director for the ACLU of Pennsylvania. "This is not what the hate crime statute was for. This is criminalizing pure speech and that violates the First Amendment."
A report by The Appeal explained the circumstances surrounding the arrest:
It all began that late September day when the police responded to a CVS Pharmacy for a possible active burglary, according to the police affidavit.

A passing motorist called police to say that she saw an older black man pulling on the rear doors of the store. The store was open at the time, but when police arrived they found no one at the rear so they went inside.

Police then spoke with a CVS employee who identified Sanderson as the man pulling on the store's doors; the employee told the police that the man was at the cashier station.

The police approached Sanderson by the cash registers, detained him, and searched his backpack, according to the affidavit. Inside the backpack, police allegedly found a little more than $100 worth of stolen merchandise, including beef jerky and Dr. Scholl's shoe inserts.
A police affidavit claims that after verbally abusing the officers, Sanderson said "that's why motherfuckers are killing y'all out here" and "all you cops just shoot people for no reason."
Sanderson is then alleged to have told Officer Brian Tully that he was going to have sex with his wife.
Court records reveal that subsequent charges against Sanderson included retail theft, institutional vandalism, misdemeanor terroristic threats and resisting arrest. Additionally, he was charged with "felony ethnic intimidation" for his alleged statements to police.
Roper explained the clear misapplication of the statute, as the law was intended to be used specifically when there is an underlying crime that is motivated by a bias or hatred of race, ethnicity, or religion—not simply because someone made bigoted remarks during an incident.
"Where the underlying crime is shoplifting or the underlying crime is resisting arrest," Roper explained, "none of that is motivated by ethnic bias."
The Appeal reported that the "grading of an offense—whether it is a felony or a misdemeanor—is based on the grading of the underlying offense." An ethnic intimidation charge effectively increases the penalties for a crime by grading it one step higher than the underlying alleged bias-motivated offense.
Police claimed that Sanderson's alleged terroristic threats were bias-motivated, thus the first-degree misdemeanor charge of terroristic threats precipitated the ethnic intimidation charge being upgraded to a third-degree felony.
"What you have is police officers essentially punishing people for disrespect to police officers by adding on criminal charges," Roper explained. "And that's just inappropriate. The things they are saying are deeply offensive, but they are not criminal."
The phenomenon of stacking charges is common in law enforcement, as it creates a dynamic where individuals feel the need to take a plea bargain due to the numerous charges hanging over their heads.
Unsurprisingly, court records reveal that the ethnic intimidation charge against Sanderson was eventually dropped—all Sanderson had to do was plead guilty to retail theft and resisting arrest.
The reality is that hate crime laws are divisive, and although they are intended to protect underprivileged groups from bigotry and racism, they often allow the government to quell speech that is critical of authority. One need only look to the UK to see numerous examples of allegations of hate crime/hate speech being used by the authoritarian governments to arrest people for being politically incorrect.