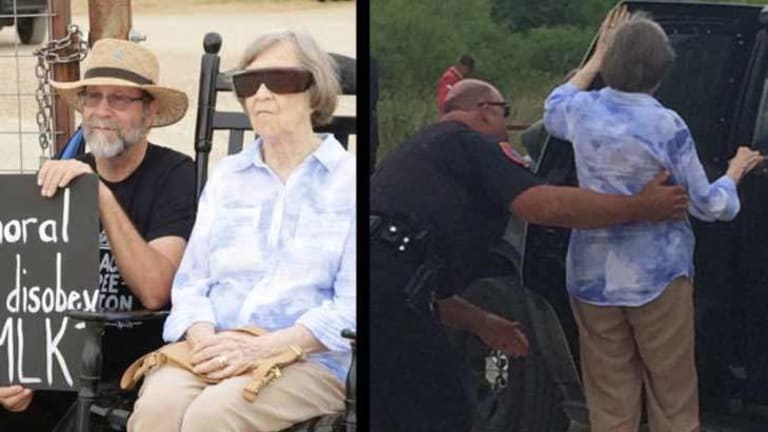 Police Arrest 92-Year-Old Blind Woman for Her Peaceful Protest Against Fracking
A 92 year-old woman from Texas arrested for peacefully protesting - in her rocking chair.
Denton, Texas - On Tuesday, a blind 92-year-old great-grandmother, Violet Palmer, of Denton, was arrested along with her son. They were engaging in a peaceful act of civil disobedience. They were protesting HB 40, a law which effectively nullified Denton's voter-approved fracking ban.
Last November voters of Denton approved a law that banned fracking in their municipality. Subsequently, in May, Texas Gov. Greg Abbott signed HB 40 into law, essentially overriding local bans on gas and oil drilling, thus making Denton's ban virtually unenforceable.
Violet Palmer was arrested on charges of criminal trespassing, while her 64-year-old son, Theron Palmer, was charged with multiple criminal counts.
The duo was protesting at the gate of the Vantage Drill site, the first fracking site in the area since the passage of HB 40. Theron chained himself to the gate with his blind mother seated next to him in a rocking chair, according to NBC DFW.
Upon arrival, officers cut Theron free from the gate and arrested him and his 92-year-old mother. Thankfully police didn't feel the great-grandmother was a threat to their safety and allowed her to be transported to jail without being handcuffed.
After being booked into the Denton jail, Violet Palmer was released by a judge with no bond. Her son was released on a $500 bond on charges of trespassing and a bond of $1,000 for obstructing the highway, according to court records.
While Violet Palmer said that the she appreciated being treated by the police and judge with relative kindness, she was appalled that the will of the people could be so easily usurped, regarding the voter-approved fracking ban.
"I didn't think it could happen here," she told NBC DFW. "To have their vote just taken away, just destroyed, ignored, destroyed, and it was very upsetting."
The family of the 92-year-old great-grandmother said she has never been arrested in her life, nor even gotten a speeding ticket, but chose to engage in an act of civil disobedience as a means of bringing attention and awareness to the state's usurping of the people's will for that of monied special interests.
Supporters of HB 40 claim the banning of fracking is not legal in Texas, and that the bill simply protects the interests of property owners.
Violet Palmer says, "This is not about my age. This is about my vote." Protestors have vowed to continue their protests to stop the fracking from taking place in their community.

Jay Syrmopoulos is an investigative journalist, free thinker, researcher, and ardent opponent of authoritarianism. He is currently a graduate student at University of Denver pursuing a masters in Global Affairs. Jay's work has previously been published on BenSwann.com and WeAreChange.org. You can follow him on Twitter @sirmetropolis, on Facebook at Sir Metropolis and now on tsu.