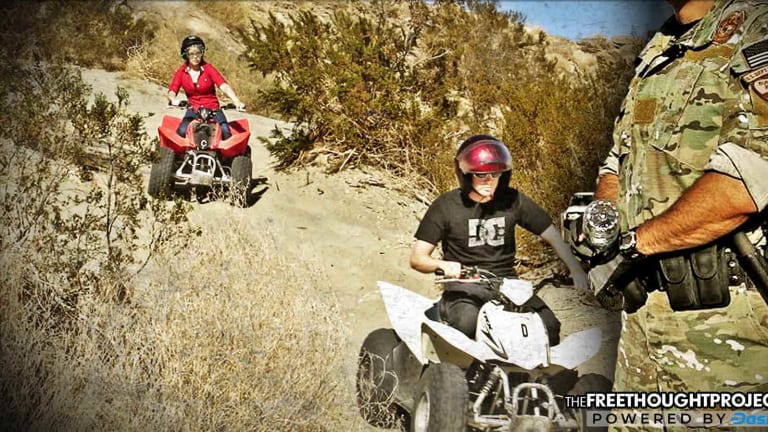 BLM Agents Open Fire on Innocent Couple, Shoot Woman Because ATV Drove Near Restricted Area
A couple is claiming that they were almost killed when federal agents from the BLM opened fire on them with no warning after their ATV broke down.
Pedro and Denise Mejia feel lucky to be alive after they were nearly murdered when their all-terrain vehicle broke down and they said they were confronted by federal officers from the Bureau of Land Management who opened fire with on them with no warning.
The couple was exploring the deserts of Joshua Tree National Park when their ATV got a flat tire. They said that because they did not have a spare, they were traveling much slower than they would if they had four properly inflated tires. At around 11:00 p.m. on June 10, they came face to face with federal agents whom the Mejias said immediately opened fire on them. In a hail of bullets, Denise was struck in the head and hand before BLM agents ceased fire. Predictably, police are telling a different story.
A press release issued by the Riverside County Sheriff's Office, who is investigating the shooting, claimed that the Mejias were in a restricted area and failed to heed BLM officer commands to stop:
(A) Bureau of Land Management officer attempted to stop an off-road vehicle and an officer involved shooting occurred.
Incredulously, a detective with the department who is investigating the officer-involved shooting actually blamed the nearly murdered victims for being in the wrong place at the wrong time. RSO Investigator Armado Muñoz reportedly told KMIR News:
Muñoz says armed officers patrol the federal lands and it's important before you go off roading to know where you're going, "Before you go out and use those vehicles to make sure that you are driving them in a place where it's allowed … sometimes people go out and assume that it's okay so we just encourage you to do some homework."
Not only were two citizens nearly killed by BLM agents, but no one has been arrested for the unprovoked attack on the couple to date. Equally disturbing is the contention the Mejias are maintaining that they did absolutely nothing wrong, which would have provoked the attack. In their own words, the Mejias describe what happened from their perspective.
https://www.facebook.com/photo.php?fbid=1299999106810336&set=a.111043455705913.18914.100004007782851&type=3&theater
Denise Mejia said, "The first thing my husband did was say 'we're stopping, we're stopping'. And I immediately put my hands up too, and right after I raised my hand in the air is when he fired the shot."
Denise, who is a nurse, suffered a gunshot wound to her head and her hand. Her husband, Pedro, said blood was everywhere. "What I remember the most was the blood, the blood…she had blood everywhere," he said. "I remember my wife just screaming 'I don't want to die, I don't want to die.'"
"All we had was an ice chest cooler—no alcohol, we had a metal detector, we had a gun in the vehicle, it's for coyotes, but it was tucked away," said Pedro Mejia who is now demanding answers.
"It's really an emotional rollercoaster. We are happy to be alive and can say that we are still with our family but at the same time, we are confused about why everything happened," Mejia said.
The couple claims the BLM officers swooped in and immediately opened fire on them without warning. They said they did not see any officers prior to the shooting and were in no way threatening the federal agents. What's more, further illustrating the fact that they were entirely innocent, the couple, who was nearly murdered, were not charged with any crime.
Whether or not the married couple was in a restricted area or not, no police officer should be able to open fire on any citizen and get away with it. The attempted murder of the nurse needs to be treated as such and appropriate charges filed against the trigger-happy federal agent. If she had been killed, the story would have been written in an entirely different way, we are sure.
Just as in almost all of the officer-involved cases documented by The Free Thought Project, the officer in question has been placed on administrative leave instead of in handcuffs and in jail where he belongs. If a citizen would have opened fire on a BLM officer, his fellow badge-wearing buddies would have swooped in and killed the man in seconds. But because he has a badge, he is conveniently afforded "qualified immunity."
The attempted murder case involving the Mejias is eerily similar to the officer-involved murder of a Michigan teenager who was riding an ATV. Former State Trooper Mark Bessner tased 15-year-old Damon Grimes while the boy was riding his ATV on city streets. Several officers attempted to shift the blame for the teen's death away from the officer—but the county prosecutor charged Bessner with murder, and he is now awaiting trial.
Denise Mejia underwent surgery on her hand and had 15 staples placed in her head following the shooting. If what she and her husband are saying is true, there is no amount of blaming the victims that can be done to distract the public from the fact that the BLM officers who opened fire on them should be charged with attempted murder.