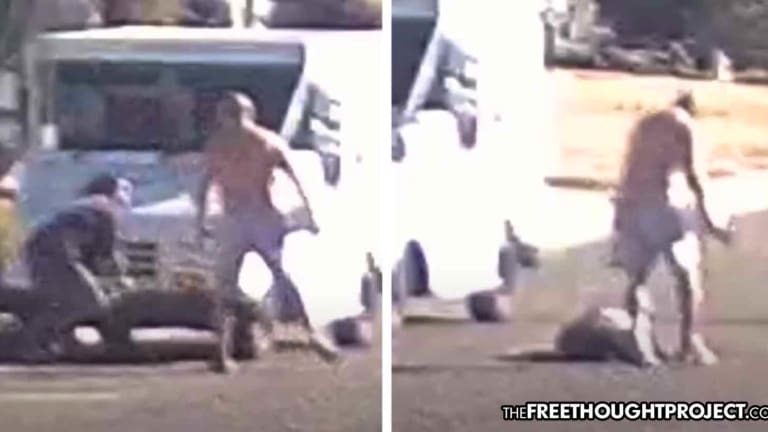 'You Won't Be Going to Jail': Cop Gets Blue Privilege After He Knocks Out His Mailman Over Political Argument
A raging cop is seen on video knocking his mail man out cold only to be told he likely won't be going to jail thanks to his retired police officer status.
Las Vegas, NM — Blue privilege, as frequent readers of the Free Thought Project know, is the set of unwritten laws and privileges which apply to police officers that are not extended to anyone else. Cops have been seen on video completely drunk and passed out behind the wheel of their patrol cars, only to be awakened and taken care of instead of arrested for a DUI. They have maimed, raped, and even killed and have escaped even a slap on the wrist. 
In the following example, a retired cop's blue privilege became apparent after he was seen on video attacking the mail man. As officers showed up to retired Las Vegas Police officer Robert Gutierrez's home after he was seen on surveillance footage attacking and knocking out a postal worker, they tell him that he won't be going to jail because he was a cop.
"Being a retired police officer, I don't think you'll be going to jail. Okay?" said the officer, as seen on the body camera footage.
The incident unfolded on December 3 and serves as a testament to the current divide in America. Gutierrez and the postal worker had been arguing for weeks over which puppet they like in the white house. Gutierrez liked Trump and the postal worker reportedly like Biden so the too argued every day at the mailbox.
On that day, however, it turned into more than an argument as Gutierrez began attacking the postal worker with fists to his face.
As the surveillance footage shows, Gutierrez is seen blindsiding the postal worker as he reaches back into his mail truck. The postal worker attempts to get away but Gutierrez follows and delivers a haymaker, sending the postal worker collapsing to the ground, smashing his head in the bumper on the way down.
As the postal worker tries to get up and get away, Gutierrez lets one more fist fly. This time, the retired cop knocked the post man out cold on the concrete before rolling him over and standing over his limp body.
When officers arrived on the scene, Gutierrez told them that the postal worker was the one threatening him, not the other way around. However, it is clear from the video that they were only verbally arguing before Gutierrez became the aggressor.
As KRQE reports:
Both the postal worker and Gutierrez told officers they'd been arguing for a couple of weeks over politics. In a federal complaint, the postal worker told investigators he left a notice in Gutierrez's mailbox informing him he can pick up his parcel at the post office in order to avoid another conflict. USPS says the postal worker, not even trying to deliver the package, is against policy.
On the body camera footage, the postal worker tells the officers that he was delivering the retired cop's mail when he attacked him.
"I have no idea. Like I said, I have no idea why the f*** he came all the way over here, no. He had no reason to come over here. All his mail got delivered," the postal worker says in the body camera footage.
Gutierrez would go on to admit to the police that he couldn't suppress the urge to "f**king assault him."
"In retrospect, I understand, I probably should've walked away but like the dude is just like setting me up, man. He's holding a package from me, then he's threatening my family, and then he's telling me… oh it's a… like basically wanting me to f****** assault him. You know what I mean?" Gutierrez said.
Again, the postal worker denied any threats and though the officer received blue privilege on that day, federal investigators have since taken over the case and charged him. According to KRQE, he has been released from jail pending trial on the condition that he gets a mental health assessment and seeks treatment.