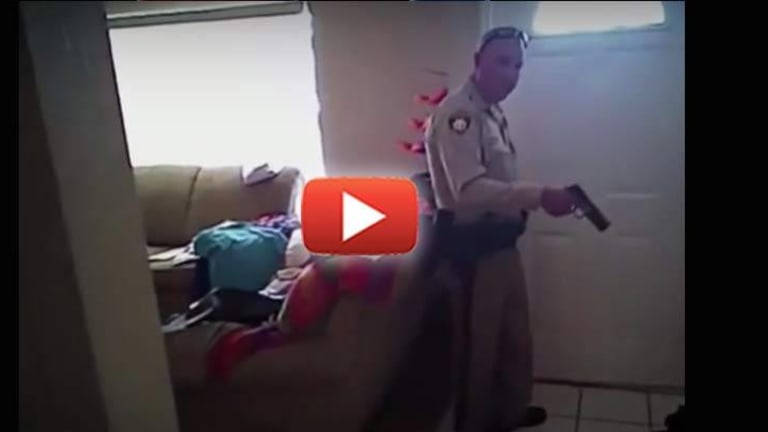 Body Cam Footage Released Shows Cops Execute Mentally Ill Man
The body cam footage was released showing officer kill a mentally ill 24-year-old.
Las Vegas, NV -- Abel Correa was 24-years old when veteran officers Glenn Taylor and Eli Prunchak gunned him down in his home.
Correa, who has a history of mental illness was accused of breaking a neighbor's window. When police showed up, they claimed that Correa "lunged" at officers holding a wrench and a screwdriver. However, this was not seen in the video.
In a press conference on Wednesday, Undersheriff Kevin McMahill inadvertently highlighted the incompetence police exhibit when dealing with the mentally ill.
"The case today that I'm going to speak about perfectly illustrates an individual with mental health issues in dire need of mental health services," McMahill said. " (Correa) Stated neighbors were holding someone against their will, they were witches and were putting spells on him." This young man was clearly mentally ill, yet deadly violence was the only thing officers found effective. The lack of remorse and the 'matter of fact' demeanor exhibited by the officers after the shots were fired are quite disturbing as well. According to C News3LV:

Correa's family tells News 3 they don't know why non-lethal tools were not used to subdue him. "These officers are trained to deal with any type of circumstance, even to try to get the people disarmed in a given event. They have a Taser, they have mace. Why would they go to the gun," Gilberto Correa, Abel's brother, said. The Correa family wants to use this shooting to speak out about what they say are injustices to the Latino community. "Us as Hispanics, most of us, we don't talk. We just hide behind the walls and that's not right. That's why they don't listen to us. That's why justice is not being served to us," Gilberto said. "African Americans with all these things that have happened, they get together and they get justice served. What about us? We're tired of that happening."
Both officers are currently on paid administrative leave pending the results of an ongoing internal investigation. Below is the body camera of the shooting.
Police officers killing mentally ill people is an unfortunate norm in today's society. The lack of training and incompetence in dealing with mentally unstable individuals is a deadly fault among departments from coast to coast.
A study released last year by the American Psychiatric Association found that Crisis Intervention Training (CIT)-trained officers "had sizable and persisting improvements in knowledge, diverse attitudes about mental illnesses and their treatments, self-efficacy for interacting with someone with psychosis or suicidality, social distance stigma, de-escalation skills and referral decisions."
However, as we've shown in multiple instances, police seldom receive this training.
Abel Correa was a troubled young man, but never hurt anyone. He did not deserve such a tragic fate.