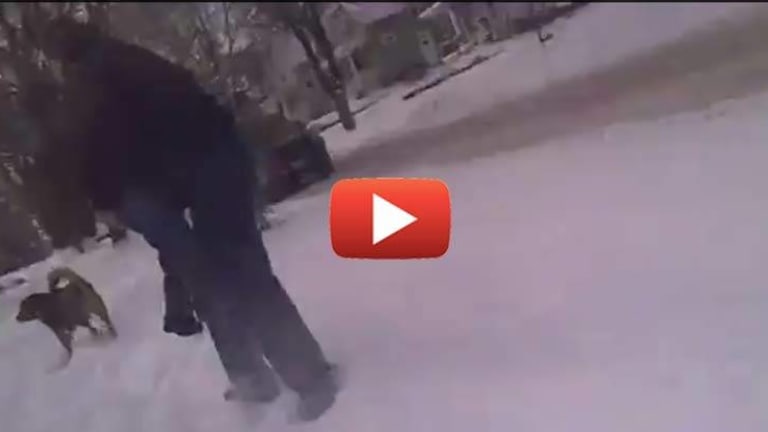 Body Cam Footage Shows Police Officer Attempt to Shoot Family Dog and Kill Mother Instead
Police have released a short video showing an officer kill a mother in front of her husband and child as he attempted to shoot their dog.
Burlington, IA -- On Monday, the Burlington police department released a 12-second clip from a Burlington Police officer's body cam, showing him shooting and killing Autumn Steele.
Gabriel Steele, Autumn's husband, was loading up their 4-year-old son, when Autumn began yelling at Gabriel.
"He's got my kid!" yells Autumn.
Officer Jesse Hill was at the Steele residence acting as an escort in their domestic dispute incident. During this commotion, the couple's dog came running out of the house.
"Hey, hey, quit fighting, stop it," says Hill.
In the video, we can hear the dog growl at which point Hill says, "Get your dog." Only moments later, Hill fired off two rounds, completely missing the dog.
However, one of the shots struck and killed Autumn Steele.
The dog was not hit, nor did it have to be shot for Hill to "make it home to his family" that night.
The Burlington Police Department and the Iowa Department of Criminal Investigation have been anything but transparent in this investigation.
Other than releasing the ridiculously short 12-second video, the DCI, the BPD, and the Des Moines County Attorney's office have denied requests by the HawkEye, for all other portions of the investigation.
Earlier this month Des Moines County Attorney, Amy Beavers released a seven-page report detailing the reasons why Officer Hill will not face charges for killing Autumn Steele.
According to the Des Moines Register:
Beaver's report makes reference to her rationale for not charging Hill with crimes that clearly aren't supported by the evidence, such as felony involuntary manslaughter, which requires the commission of some other crime at the time of the homicide, and murder. Her report makes no mention of misdemeanor involuntary manslaughter, which is imposed in cases where a "person unintentionally causes the death of another person by the commission of an act in a manner likely to cause death or serious injury."
In her report, Beaver cited the fact that Hill is a police officer. Beaver says that he was in a difficult situation in which he was trying to stop a domestic dispute as well as protect himself from a dog. Being that he was a police officer, in this situation, he is entitled to special treatment, according to Beaver.
Does Beaver's logic make any sense at all?
This was a clear-cut case of one person negligently taking the life of another person.
Try to imagine a situation in which a non-police officer shoots and kills their neighbor in their front yard, either accidentally or not. Then try to imagine this non-police officer escaping any and all accountability. It would not happen.
The fact that the dog was secured without needing to be killed, illustrates the unnecessary actions of the officer.
Police officers are supposedly highly trained professionals, prepped to make hasty decisions in volatile situations. This is a claim that we hear all the time from the police themselves as well as supporters. Being able to make this claim means that holding them less accountable than the average citizen, should never occur.
Because of their monopoly on the use of force, cops should be held to a much higher standard of conduct than the average citizen. Unfortunately, this is almost never the case.