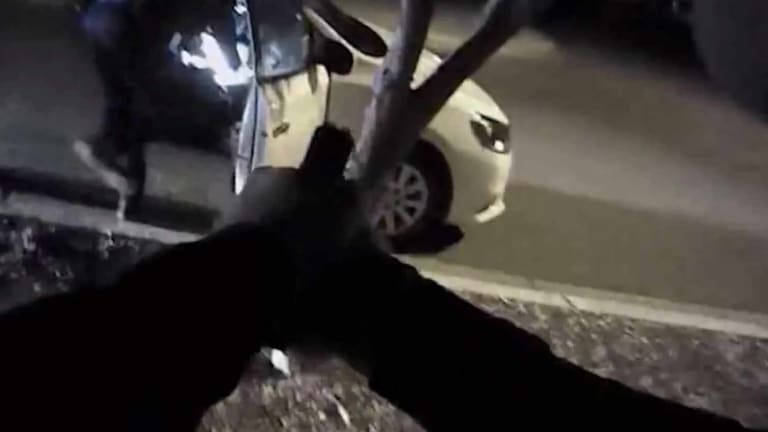 Body Cam Proves Cop Lied When He Jumped into Passenger's Seat, Killed Driver for No Reason
Body cam footage is proving a police officer blatantly lied in his account of a shooting that killed a man who was approached while sleeping in his car.
Surprise, AZ — Body camera footage is giving new insight into the case of a 20-year-old man who was shot and killed by police after they approached him while he was sleeping in the front seat of his car—and its revelations are giving hope to the man's family, as they pursue a wrongful death lawsuit.
When Derek Adame was approached by Police Officer Joseph Gruver on Nov. 26, 2016, in Surprise, Arizona, he was reportedly asleep in his vehicle. Adame had parked his 2016 Nissan Sentra on the side of the road in a residential neighborhood, but when Gruver ran the vehicle's plates, the car came back as stolen. Someone in the neighborhood called the police to report the suspicious vehicle, but before the sun rose in the morning, Adame would be killed, shot by Gruver.
It was not until this week that the Surprise Police Department released the body camera footage captured by the two responding officers. Officer Shaun McGonigle was Gruver's backup. Gruver's body camera footage shows the moments leading up to the shooting and killing in his vehicle.
According to AZCentral, who obtained court documents related to the lawsuit, the suit alleges that "without any warning or legal justification, Defendant Gruver used willful, excessive and unreasonable force when he shot and killed Adame ... Defendant Gruver's negligent handling of his firearm resulted in Adame sustaining fatal gunshot wounds to his right forearm, torso and right shoulder."
In an analysis of the police reports, AZCentral discovered the police officer's statements, the police report and the body camera footage do not all add up to provide a complete description of what happened that night.
In the days after the shooting, Surprise police explained the fatal shooting by saying there was a struggle and concern that Adame was planning to drive away and purposely drag the officer. That sentiment is chronicled in the 89-page police report detailing aspects of the incident. However, Gruver's statements to police do not exactly match what is clear on the body camera footage. Gruver, according to police reports, detailed his thoughts to investigators as he entered the passenger side of the vehicle. He struggled with Adame, who Gruver says hit the accelerator. That caused him to get "sucked into" the vehicle, according to reports.
The vehicle was barely rolling when it appears Gruver opened fire with two fatal shots. After falling out of the rolling vehicle, he radioed to dispatch "shots fired" and indicated that Adame had been hit. He then said something that was patently false: "I think I've been hit, too," he said implying the suspect had shot the officer. Allowing that impression to proliferate was potentially deceptive on the part of the officer who knew he did not see a gun and had not been fired upon.
A subsequent search of Adame's car revealed that no firearm was found in the vehicle. Only a folding pocket knife was uncovered. However, heroin paraphernalia was reportedly recovered, which may have been the reason Adame was so jumpy in the presence of Officer Gruver. Adame's case serves to illustrate precisely what can happen when police are called to investigate a suspicious vehicle.
As The Free Thought Project reported this week, a Maryland man, who was reportedly a heroin addict, was nearly shot and killed by Phoenix police this summer after someone called to report a suspicious vehicle. Unlike Adame, Antonio Garcia-Goff successfully drove away from police—but not before being shot at six times by Officer George Davis. Fortunately, Davis was a terrible shot and did not wound Goff with the hail of bullets.
Both encounters were recorded on body cameras worn by the police officers involved. As a result, the statements by the officers can be evaluated in light of the official recordings. Unfortunately, Adame lost his life, and if the wrongful death lawsuit his family filed is successful, taxpayers in Surprise, Arizona, will foot the bill for the alleged trigger-happy negligence of its officers. Non-compliance with police commands should not be a death sentence for motorists, yet it seems it is becoming an epidemic.