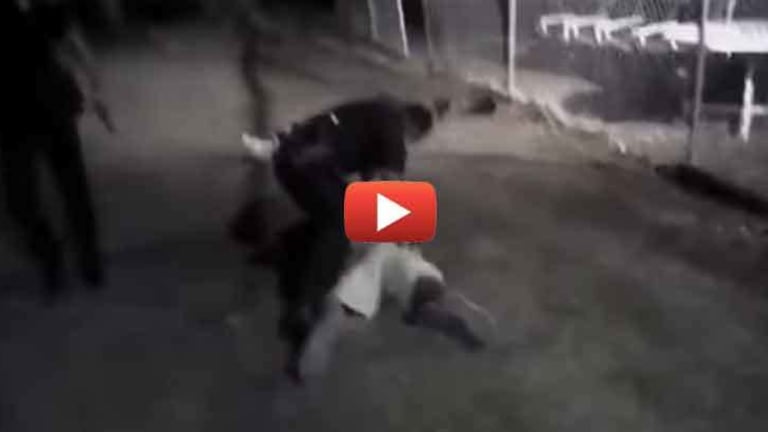 Body Cam Shows Officer Turn Away as Not to Film Fellow Cop Beating Innocent Handcuffed Veteran
Police originally denied the existence of any body camera footage from this incident....now we know why. Thankfully the victim's sister did NOT turn away as she filmed.
Orlando, FL -- In March of 2014, an Orlando police officer was caught on cell phone video kicking and punching a handcuffed man.
The video didn't make its way to YouTube until June when the sister of 25-year-old Refus Holloway, a former military police officer who served in the Air Force, uploaded it.
The incident took place outside of a relative of Holloway's house after police were called regarding a fight that he had been trying to break up.
"Refus was trying to tell the police officers what happened," Holloway's lawyer Bradley Laurent told the Orlando Sentinal. "He wasn't yelling, he wasn't being belligerent in any way shape or form."
Officers initially claimed that the body cam footage from the other officers didn't exist, and now we know why.
Holloway became angry when he learned that police had body cam video from that night that showed Escobar dragging and brutalizing this handcuffed man.
In the body cam video, the officer screams "ESCOBAR! ESCOBAR!" before turning away as Escobar continues to beat this innocent man. Holloway believes the biggest crime is that other officers took no action to protect him, and he's right.
If cops are there to stop crimes, why didn't either one of the officers who witnessed this crime, stop it? Not only did the one officer not stop it, but he deliberately turned around as not to catch the offence on his camera.
"I'm happy that God's been watching me this whole time," Holloway said in an interview with WESH 2 on Thursday. "I could have gotten shot by the officers by being too nervous. I could have gotten severely beaten. I could have gotten into, you know, different turns that situation could have taken."
Officer William Escobar, who was fired Wednesday, was charged with two counts of battery and two counts of perjury.
However, another officer, Officer Joel Williams who, before cameras captured these images, initially kicked, pepper-sprayed and pointed his gun at Holloway while Holloway was trying to show he was a five-year Air Force Veteran, remains on the job. Williams has not and according to the Chief, will not face any discipline.