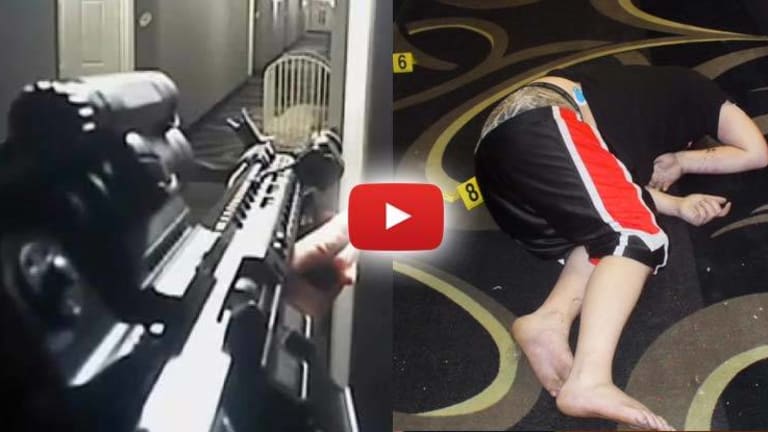 Body Cam Video Released of Cop Who Murdered Innocent Unarmed Man as He Begged for His Life
The video shows why police wearing body cameras is not a fail safe for preventing and documenting their violence.
Phoenix, AZ -- In March, Mesa Police Officer Philip Brailsford was charged with the second-degree murder for gunning down Daniel Shaver, an innocent husband, and father of two. The shooting was captured on his body cam, part of which was released on Tuesday.
Last week, an Arizona judge announced that they would be releasing the body camera footage showing Brailsford murder Shaver. On Tuesday, however, the city released two videos, both of which have been clearly edited and portions redacted.
Police said Shaver, a 26-year-old from Texas staying at the La Quinta Inn & Suites on a business trip, had invited a couple he met to his room for drinks. No one was in any danger and the entire incident was a misunderstanding. For the majority of the video, police appear to be in a standoff with people who simply can't hear them.
"Occupants of room 5-0-2, this is the Mesa Police," the officer is heard yelling on the video, to which he receives no response.
"Listen to my instructions or it's going to become very uncomfortable for you," the officer said. "The female is to step outside the room."
When 'the female' does step out the room, she is escorted away by an officer as she tells him how scared she is.
"I'm so scared," she told the officer, clearly in shock with the multiple officers in the hallway responding to a hotel in which no crime had been committed and innocent people were simply sharing drinks.
Below are the redacted versions of the police body cameras.
The videos above clearly illustrate the intentions behind only releasing a portion of the body camera footage. It is made to look like it was an intense standoff as well as make the police look like heroes as they comforted the woman.
However, as we pointed out, it was likely that there was no standoff and they simply did not hear the officers. Also, the woman was most likely not scared of the man who she voluntarily consented to have drinks with -- she was scared of the multiple armed men pointing AR-15s at them.
When Laney Sweet, Shaver's wife originally asked to see the footage, she was told that if she watched it, she would be forced to remain completely silent about its contents.
During an interview with Maricopa County attorney, Bill Montgomery, Sweet was given the ultimatum -- watch the disturbing video and never speak of it, or don't. The widow of an innocent man, killed by the government, was told that the video proves her husband did not deserve to die. However, Sweet will now have to wait until the city decides to release the unedited version of the video to get closure, which could, apparently, take years.
In a statement to the press, the county stated that Daniel Shaver was complying with officers, crawling on his hands and knees and begged not to be shot, just before Brailsford opened fire.
"Please don't shoot me," Shaver is quoted in the police report.
However, on Tuesday, Craig Mehrens, Brailsford's attorney denied Shaver begged not to shoot him while at the same time thanking Superior Court Judge Sam Myers for not releasing the entire video.
On January 18, Brailsford, along with several other officers, responded to a call about a suspect with a rifle in a hotel room. The 'rifle' was nothing more than a pellet gun that was used in Shaver's business of pest control, and Shaver was not in possession of the pellet gun when he was murdered in cold blood by officer Brailsford.
According to KTAR, Brailsford told investigators that Shaver was ordered to crawl toward officers with his hands on the ground, but the officer believed Shaver's move forward was an attempt to get "a better firing position on us."
The officer said he could no longer see Shaver's right hand and worried that Shaver could have easily drawn on officers, who were just feet away in a hallway outside his room. However, none of the other officers fired, illustrating the lack of danger.
"So that's when I assessed the threat. I fired my weapon, uh, five times," Brailsford said, adding that it was terrifying the first time Shaver reached back.
Charging an officer with murder in Arizona is an exceptionally rare incident, which speaks to the severity of what must be shown on the body camera. It also means that this coward officer was in no danger when he decided to pull the trigger -- 5 times.
Despite the damning evidence against him, showing that he murdered an innocent man in cold blood, officer Brailsford is facing a maximum sentence of only 3.75 years.
"I feel like if you were sitting in my position, you would understand that 3.75 years is a slap in the face," said Sweet when speaking to the county attorney.
Brailsford was fired from the department in March for multiple policy violations not associated with the murder of Shavers. After he was fired, we learned that he should have never had a badge that night he killed an innocent man.
Aside from his unsatisfactory performance, records released by Mesa Police revealed that Brailsford was accused of beating three people a few months before he killed Shaver. He also etched "You're Fucked" into his AR-15 police rifle -- illustrating his disregard for human life.
Two children and a wife will now live the rest of their lives without their loving father because of the actions of this public servant. The one thing that could help get this family closure is to see the man who stole the life of their dad and husband put behind bars. However, thanks to a system that is set up to protect killer cops -- this will likely never happen.
All too often, people who film the police are accused of not capturing the entire incident and the video doesn't show the entire story. The majority of the time, this is simply a standard reaction from police to discredit the person who filmed an officer committing a crime. This time, however, it is the police and the city who've edited the video to protect themselves.
"There are portions of the video that should remain sealed until the trial is completed," Maricopa Superior Court Judge Sam Myers said, KPHO-TV reported.
"It's unfortunate that the Mesa PD cover-up continues," Sweet said in a statement to the NY Post. "My husband was brutally murdered while he begged for his life. Redacting the evidence won't change the facts."
If you'd like to ask the Maricopa Court why they bothered releasing the video that does not show the murder, you can do so here.
[author title="" image="https://tftpstagingstg.wpengine.com/wp-content/uploads/2016/03/magorist-e1456948757204.jpg"]Matt Agorist is an honorably discharged veteran of the USMC and former intelligence operator directly tasked by the NSA. This prior experience gives him unique insight into the world of government corruption and the American police state. Agorist has been an independent journalist for over a decade and has been featured on mainstream networks around the world. Follow @MattAgorist[/author]