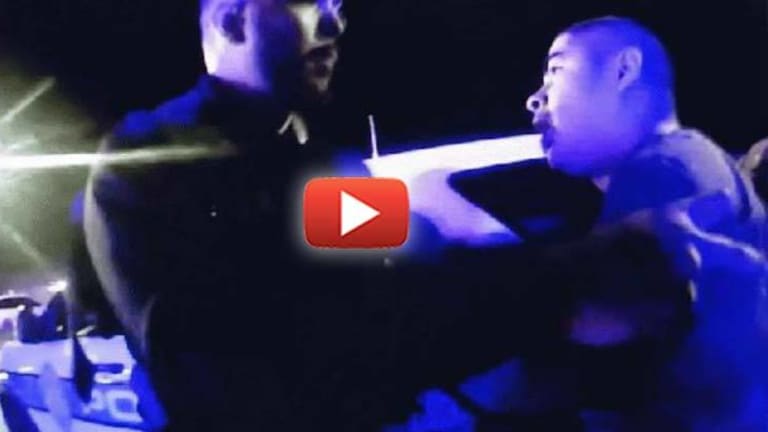 Body-Cam Shows Cop Randomly Walk Up to Handcuffed Man and Knee Him in the Genitals
A San Juan police officer has just received a paid vacation after assaulting a restrained and compliant citizen.
San Juan, TX — Captured on body-cam video kneeing a handcuffed suspect in the groin, a San Juan cop was immediately suspended with pay pending an investigation into the blatant abuse. With a history of prior complaints, the officer is also being investigated due to the fact that he and the victim appeared to recognize each other in the video.
While checking up on a runaway, San Juan police officers arrested a young man last week for allegedly resisting arrest and assaulting an officer. An arresting officer's body-cam recorded the cops escorting the handcuffed suspect across a parking lot when a patrol car pulled up alongside them. After exiting his vehicle, Officer J.P. Galindo briefly exchanged a few words with the subdued suspect before attacking him.
In the video, Officer Galindo grabbed the suspect by the shoulder and suddenly kneed him in the crotch even though he was not resisting or attempting to escape. The victim collapsed to the ground screaming in agony as the other officers callously shoved him into the back of a cruiser. According to San Juan police Chief Juan Gonzalez, one of the officers who witnessed the abuse immediately reported the incident.

"As a chief of police, I expect officers to report the actions of other officers," Chief Gonzalez told CBS4. "And that's what was done. That's why the officer was immediately suspended."
Galindo was suspended with pay on Tuesday for using excessive force. As a six-year veteran on the force, Galindo received prior complaints according to Chief Gonzalez. Police are also looking into a possible connection between Galindo and the suspect due to the fact that they appeared to immediately recognize each other in the video.
"I got zero tolerance for that type of behavior, and I think it's important for us to take appropriate action. We've been consulting with other state agencies and the district attorney's office as well to see how we proceed with this case," stated Gonzalez.