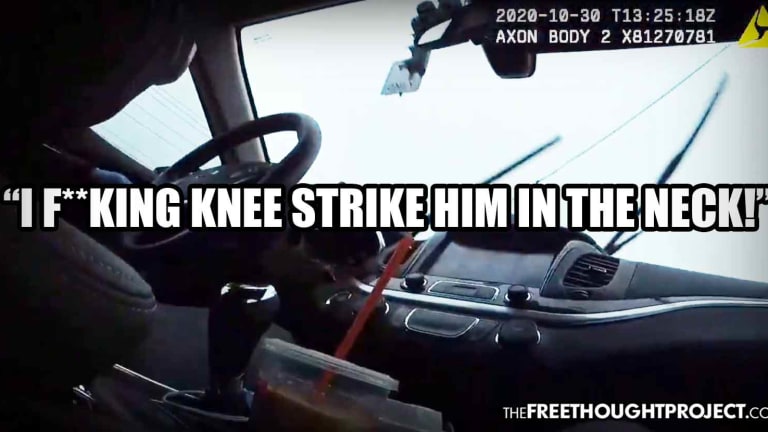 Cop's Body Cam Catches Him Brag About Beating Innocent Man, Planting Evidence
A New York cop has been suspended after his own body camera recorded him bragging about beating an innocent man, discuss planting evidence.
Ithaca, NY — As TFTP reports on a regular basis, being entirely innocent is no defense against police violence. All too often, we hear from the police state apologists who repeat the phrase, "if you don't want to get killed by police, don't break the law." Not only is statement entirely flawed from its premise — as breaking the law is not justification for execution — but these folks are ignoring the cases in which entirely innocent people have been caught up in police violence. As the following case illustrates, this sort of thing happens so much, it is even captured on their own body cameras.
Ithaca Police Officer, Sergeant Kevin Slattery was suspended this month because his own body camera recorded him talking about beating a man, who would later be proven innocent, as well as planting evidence.
The comments were made in October, but have only recently come to light, prompting police Chief Dennis Nayor to go on the defensive and suspend Slattery.
"As the Chief of Police, I am thoroughly disappointed in the statements made by this Sergeant. They are wholly inconsistent with our values and culture. I took swift action to suspend the involved Sergeant, and in consultation with the Mayor and City Attorney, I will seek to impose appropriate discipline," said Nayor.
The body camera footage was part of an arrest made in October when Slattery and his partner arrested Jovon Monk who was facing sex offense accusations. After swabbing Monk's mouth to obtain a DNA sample for the case, Slattery and his partner get in the cruiser where the conversation begins.
"Yeah, Monk, I f**ked him up one night years ago," Slattery said, explaining how he received the call to the scene from fellow officers.
Slattery said when he arrived, he immediately took to beating Monk, accusing him of crimes which never happened.
"I f**king pinned him up against the wall. He was fighting with me, so I f**king suplexed him to the ground. Then, I'm on top of him and he's still not giving up, so I'm giving him knee strikes, I f**king knee struck him in the neck. F**king struck him in the f**king back."
After savagely beating the man — who would later be cleared of all charges — Slattery bragged about dragging Monk down a flight of stairs.
"We said 'Look, dude, you're going to the car, you can either go to the car with us or you can, you know, be dragged to the car,'" Slattery said on the body camera footage. "He said 'I ain't standing up.' So I grabbed one foot and he grabbed another and we f**king bounced him down, all the way down the stairs."
Slattery and his partner then stop talking for a moment before Slattery begins to talk about planting evidence.
"He was being sketchy, wasn't he?" Slattery said to his partner. He then imitates Monk's question about sealing the DNA sample before apparently offering a hypothetical sarcastic response as they both laugh along. "No, we ain't sealing it man, we got some places to put this first. Whoa, whoa, whoa, sealing it? We have to put this on the evidence first."
After bragging about beating an innocent man and joking about planting evidence, Slattery realizes his body camera is on.
"Oh, hold on," he says, before reaching inside his coat and turning off the camera.
Knowing that he would likely be caught down the road for the comments, Slattery reported the video to the department himself on Nov. 6, saying the comments were made the week prior.
"It's frustrating since we're all innocent until proven guilty," Monk's defense attorney, Kevin Kelly said. "He brags about dragging my handcuffed client down concrete stairs years ago--that arrest ended with no criminal conviction against my client. Then he jokes about evidence tampering in this case. I will do my best to limit the harm to my client's case, and help Ithaca regain confidence in our police force."
According to police, Slattery will remain on paid suspension until the internal investigation is complete. If he is fired, he will likely just move down the road to another department, who will gladly hire him.