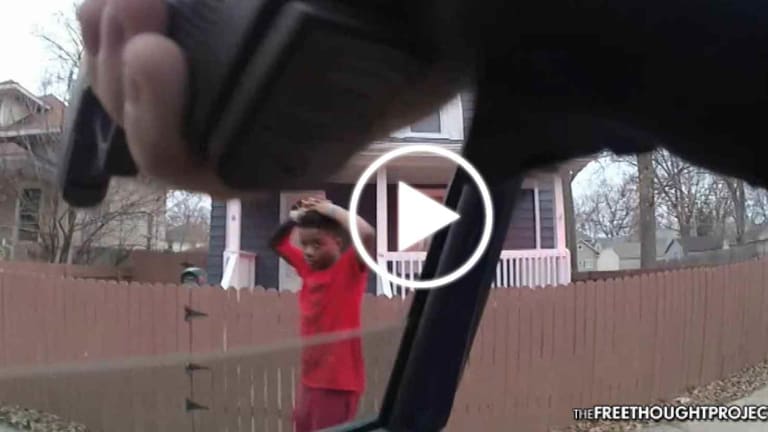 'Don't Shoot Me': Video Shows Cops Hold 5 Innocent Children at Gunpoint for Playing Basketball
Body camera footage, obtained through a FOIA request, shows the terrifying moments 5 innocent children were held at gunpoint by Michigan cops.
Grand Rapids, MI -- Outraged community leaders in Grand Rapids are demanding reform after five African American youths aged between 12 and 14 years were held at gunpoint — for no justifiable reason — as they walked home from playing basketball. Pressure on the department by The Grand Rapids Press through a Freedom of Information Act request finally forced them to release the body camera footage which is nothing short of horrifying. 
As the Free Thought Project reported last week, original video of the incident, taken from far away, shows a number of Grand Rapids Police Department patrol cars descend on the scene, as officers point loaded weapons at the youths, order them to the ground, and eventually place them each in handcuffs — after a vague call to dispatch suggested a large fight in the area, and the possibility a teen was in possession of a gun. 
None of the young teens in question were armed.
"Now they're saying they don't like the police," Ikeshia Quinn, mother of two of the teens, told WOOD-TV — intimating the boys did not feel ambivalent toward law enforcement until this traumatic incident. "They don't want to be involved with the police. They should've been approached differently because they are young boys. They had basketballs in their hands."
As the body camera footage begins, Officer Caleb Johnson pulls up to the boys and immediately points his weapon at them and demands they get on the ground.
"Get on the ground!" Johnson tells the boys.
Three of the children were so confused that they did not immediately comply. Luckily they weren't shot.
"Hey, get over here," Johnson said, motioning with his arm. "Keep your hands where I can see them and get on the ground."
"Can you please put the gun down?" one of the boys asked.
Another youth is heard saying, "I do not want to die, bro."
"We are not about to die we didn't do nothing," another of the boys says to try and comfort him.
"Don't shoot me," one of the boys pleads with the officers.
The entire time, the boys are trying to explain to the police that they were not involved in any of this mess and they have the video to prove it.
"Calm down, calm down, it'll be alright," Officer Johnson says as he has his finger on the trigger of his police issued pistol as its trained on the boys. "They'll give you directions, OK?"
As more officers arrived, the boys were instructed to stand up, put their hands on their heads, and walk backward slowly toward the car. They were then all placed in handcuffs while officers figured out they were assaulted with deadly weapons for the sole act of being in the wrong place at the wrong time.
After being wrongly detained for 10 minutes, the officers then called the boys' parents to come pick them up. When the parents got there, naturally they were shaken up and furious to find out their children had been held at gunpoint because police mistook them for criminals.
"I'm sorry, I don't mean no disrespect, but you all have to understand that's my baby," said Shawndryka Moore, mother of one of the boys, crying as she stood outside of the police cruiser with her son inside, as reported by mLive. "We don't deal with police. I don't have charges. We don't do this. All this stuff that goes on in this world - I worry about my kids every day. That's why I don't let them go nowhere."
"We hate that it had to get to that point," officer Troy Colegrove said. "We're just doing our job because a lot of people out here have guns. We're not saying that your kids have guns - we're just doing our job," Colegrove reiterated to the mother of an innocent child he just held at gunpoint.
Sadly, Colegrove is right. They were just doing their jobs -- which requires the utmost attention to officer safety while acting in careless disregard for the citizens, even if they are children.
Although Grand Rapids Police Chief David Rahinsky and Mayor Rosalynn Bliss have since apologized for officers' handling of the situation, fallout from the March 24 incident continues.
"The officers didn't do anything wrong. They acted on articulate facts from a witness moments earlier who said he saw them hand a gun to each other," Rahinsky said previously to The Press. "I think when the community sees what we've seen -- with the body worn camera footage; I think they'll have a different opinion. I respect their emotion. I think what we're hearing is a lot of grief and frustration to systemic issues."
A statement released by local police union leaders further exacerbated tensions between community leaders — who feel that if this incident represents standard protocol, change is imperative — and officers who see nothing of concern.
Local NAACP president Cle Jackson told local NBC News affiliate, WOOD-TV, "If this is protocol, in terms of how you detain and treat teens and youth, then there probably needs to be a change in that protocol."
As mLive reports, this week the city announced results of a racial profiling traffic stop study showing bias in the police department which follows that very 'protocol.' Black drivers are twice as likely to be stopped by police in Grand Rapids than non-black drivers, according to a study done of 2013-2015 data.
"The issue is not about having bad police officers," LINC UP executive director Jeremy DeRoo explained. "The issue is there's a protocol in place that is causing significant damage to the relationship between the people and the police department."
He added, "No community can be safe and be effective for all people without strong relationships between both the police and the community and that's what we really want to make sure happens from this incident."
As there is nothing that these children can do to prevent further situations like this one from occurring, hopefully, this situation teaches police to use a little more discretion next time the profile a group of children. However, judging from their response -- claiming they're 'just doing our job' -- that is highly unlikely.