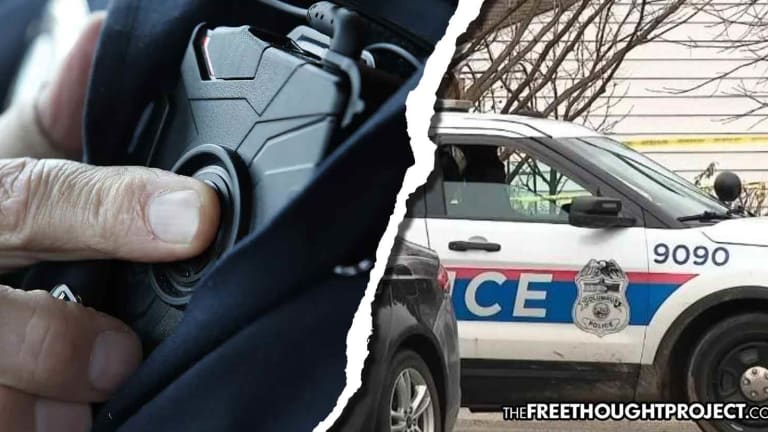 Cop's Body Cam Was Off Before Killing Innocent Man Holding a Phone, But It Caught Him Anyway
Cops had body cameras off when they walked up to an unarmed man holding a cellphone and killed him for no reason but it was recorded anyway.
Columbus, OH — A Columbus police officer has been relieved of duty this week after shooting an apparently innocent man who was holding nothing but a phone. Neither the victim nor the cop have been identified. However, protests are already in the works.
According to police, they received a call Tuesday evening, which they referred to as a "non-emergency call," about a man sitting in a car. According to police, the caller said the man was turning the car on and off — which never warrants a call to the police and shouldn't even warrant a response — as he could've simply been working on his car.
Police responded anyway. According to police, the man in question was visiting a relative at the home and when they arrived, he walked toward them holding his phone. None of the responding officers had activated their body cameras.
According to police, as they walked toward the man, he walked toward them with his cellphone in his hand. At this point, one officer fired his weapon, striking his victim in the chest.
Only after the officer shot the man — who had not been accused of any crime — did the officers turn on their body cameras. The body cameras used by the cops have a constant recording which buffers a 60-second clip with no sound, even when the cameras are not activated. Because the officer killed the man almost immediately after arriving, the shooting was captured on video.
The look-back function, known as "buffering," is a common technology on body cameras and is meant to address this exact situation, Charles Katz, an Arizona State University criminal justice professor told CBS.
Although the cameras' video is perpetually running, they only begin recording once they're activated, saving whatever they're set to, such as 30 seconds or a minute, Katz said.
"In a technical sense it's always recording but it's not saved until it's activated, and then it only saves the prior 60 seconds," Katz said.
In the body camera video, "the man walked toward the officer with a cellphone in his left hand," police said. "His right hand was not visible."
Because the buffer doesn't record sound, we do not know what was said by any party before the officer opened fire. However, we do know that no one rendered aid immediately after they killed this man.
Body camera footage from immediately after the shooting indicated "a delay in rendering of first-aid to the man," the public safety department said in a news release.
"This is a tragedy on many levels," Columbus police Chief Thomas Quinlan said in a statement. "Most importantly, a life has been lost."
Quinlan said in a press conference that he immediately suspended the officer, forcing him to turn in his badge and gun and suspended his police powers pending an internal review. He then went on to lambast the officers for failing to turn on their cameras.
"The Division invested millions of dollars in these cameras for the express purpose of creating a video and audio record of these kinds of encounters," Quinlan said. "They provide transparency and accountability, and protect the public, as well as officers, when the facts are in question."
Columbus Mayor Andrew Ginther echoed the chief's sentiment, saying that it was "unacceptable" for the officer not to have turned on their cameras.
"It is unacceptable to me and the community that officers did not turn on their cameras," Ginther said.
The City Council also issued a statement describing members as "beyond frustrated" at the news of cops killing more people.
"We are impatient for answers but insist on a thorough, professional, and complete investigation that ensures justice is done," the statement said.
Police said they are not releasing the body camera footage or the victim's name until the family has had a chance to view it. When it is finally released, we will report it here.