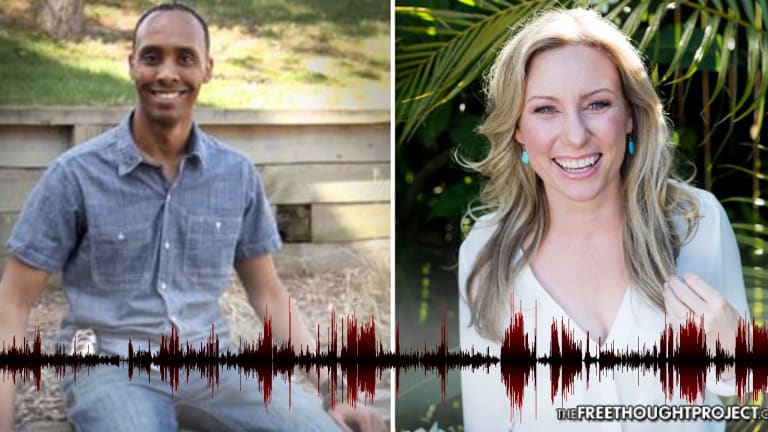 Audio Released of Cops Who Turned Off Body Cams And Killed Justine Damond
Cop who killed Justine Damond was already under investigation for assault and battery of another woman - as chilling audio captures her last moments.
Minneapolis, MN — New details are emerging about the tragic shooting of Justine Damond, an Australian yoga teacher and spiritual healer, by Officer Mohamed Noor. The Free Thought Project has learned that Noor had a history of complaints against him, neither he nor his partner chose to activate their body cameras before the shooting, and the audio from the radio dispatch has been released capturing Damond's final moments on earth.
Officer Noor, who was sitting in the passenger seat of his patrol car at the time, opened fire through the driver's side door hitting Damond at least once in the abdomen. Noor and his partner were responding to her 911 call about a possible sexual assault.
Police have yet to release any reason for Noor, who joined the force in 2015, to have opened fire as Damond was unarmed.
Witnesses told The Star Tribune that Damond, wearing pajamas, was speaking to officer Matthew Harrity, 25, through the driver-side window of the police cruiser when Noor, sitting in the passenger's seat, shot Damond through the driver-side door.
Noor's partner was allegedly "stunned" when Noor opened fire, KARE11 reported through a source.
Conveniently, for the officers involved in the shooting, it was revealed on Monday that neither of them had activated their body cameras. The dashcam, we are told, was not recording any video footage either.
Since 2016, Minneapolis has required all officers to wear and activate body cameras "at all times when they could reasonably anticipate that they may become involved in a situation for which activation is appropriate," as noted by HuffPo.
But these officers conveniently managed to turn off both of their body cameras and the dashcam before entering the alleyway in response to Damond's call about an alleged sexual assault taking place behind her home.
While police have been shamefully tight-lipped on the killing of an innocent unarmed mother, they did release audio of the conversation between the officers and dispatch immediately following Noor's shots.
In the audio, one officer can be heard saying he sees a 'female screaming behind a building' after the shots were fired.
"Shots fired … we have one down," an officer is heard calmly telling dispatch after Noor had shot Damond to death behind her home.
The conversation continues as Damond bleeds out in one of the safest neighborhoods in town — killed by those who are ostensibly sworn to protect.
Attorney Thomas Plunkett said in a statement that Noor "takes these events very seriously."
"He joined the police force to serve the community and to protect the people he serves," Plunkett said. "Officer Noor is a caring person with a family he loves, and he empathizes with the loss others are experiencing."
However, it has since come to light that Noor had multiple complaints against him prior to killing Damond. One of the complaints is still open.
The open federal investigation into Noor stems from a former social worker from Minneapolis who says Noor and other officers violated her constitutional rights in March by ordering her detention at a hospital after she called 911 to report a drug crime and other issues.
Damond had also called 911 to report a crime, she was not fortunate enough, however, to file a complaint against Noor.
READ MORE:Banners Fly and Backs are Turned: NYPD is Not Scared to Showcase Blatant Insubordination
"We lost the dearest of people and are desperate for information," Damond's fiancé, Don Damond, said Monday, according to the Star Tribune, in his first public comments. "Piecing together Justine's last moments before the homicide would provide small comfort as we grieve this tragedy."
Sadly, it appears that this small comfort may be a long way away.