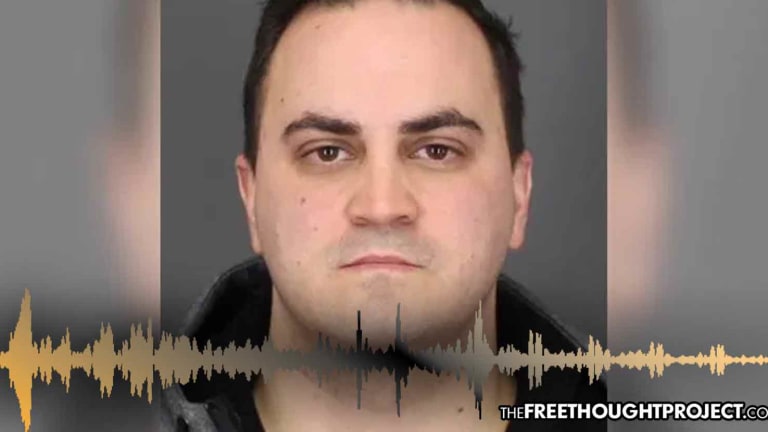 Brave Woman Catches On-Duty Cop Who Repeatedly Raped Her By Recording Him in The Act
For six months, an on-duty cop allegedly repeatedly raped his victim until she finally recorded him in the act to get him arrested.
An alleged serial stalker, rapist, and predator, who got away with his crimes some would say because he is a cop, was arrested and charged numerous felonies and misdemeanors for repeatedly raping a woman for over six months. Michael Agovino, 33, of Palisades, NY is a Peekskill police officer who was caught because his victim recorded her rape. He was arrested in February and charged with over 20 crimes and more charges may be forthcoming if it can be proved he has raped other victims.
The suspected predator cop was arrested on February 15th a full six months after the rapes were reportedly alleged to have started. At the time of Agovino's arrest Peekskill Mayor André Rainey called the officer's arrest an "embarrassment to our police department and our entire city."
As unfortunate as this is, I'm very optimistic this isn't a reflection of our police department, however, we will not tolerate this behavior at all...We've come too far and we will continue moving forward and deal with this situation accordingly if these allegations are true.
Bail was originally set at $50,000 but was raised to $100,000 apparently a result of the seriousness of the charges. Officer Agovino posted bail and is out of jail awaiting trial. Following his arrest the Peekskill officer was placed on administrative leave and is currently drawing his peace officer salary pending the outcome of the trial which could take months and even years.
Westchester County District Attorney Anthony A. Scarpino, Jr. announced Agovino's arrest and said he committed the crime of sexually abusing the female victim while he was acting in the course of his duties as a Peekskill Police Officer. He was arraigned on a 20-count indictment before Westchester County Court Judge Susan Cacace charged with the following crimes:
3 counts of Burglary in the Second Degree as a Sexually Motivated Felony, a class C felony
2 counts of Burglary in the Second Degree, a class C felony
2 counts of Sexual Abuse in the First Degree, a class D felony
1 count of Attempted Burglary in the Second Degree as a Sexually Motivated Felony, a class D felony
1 count of Attempted Burglary in the Second Degree, a class D felony
1 count of Stalking in the First Degree as a Sexually Motivated Felony, a class D felony
1 count of Falsifying Business Records in the First Degree, a class E felony
4 counts of Official Misconduct, a misdemeanor
2 counts of Forcible Touching/Forcibly touch other person's sexual/intimate parts, a misdemeanor
3 counts of Coercion in the Third Degree, a misdemeanor
DA Scarpino said in his press release of the arrest and arraignment of the Peekskill police officer:
This indictment shows that no police officer should ever get away with abusing the power entrusted to them. And once again, we want to assure victims of any crime they should feel safe coming forward. We are here to help.
According to the official Westchester County press release:
The charges in this indictment are based on several incidents where, prosecutors allege, that Michael Agovino, while dressed in his Peekskill Police uniform coerced a victim, illegally entered her home, and sexually abused her. He is also accused of filing false reports. At least four separate incidents took place on several dates starting July 9, 2019 and ending Jan. 22, 2020 when the victim reported it.
While we do not know the age or identity of his alleged victim we, at TFTP, would like to praise her heroism displayed when she took the very risky decision to audio record at least one of the incidents of rape which took place in her apartment.
We would like to encourage any and all potential victims of Officer Agovino to come forward and report any and all criminal activity to the Westchester County District Attorney's office">. In our experience in holding police officers accountable for their criminal actions it is highly unlikely there is only one victim.