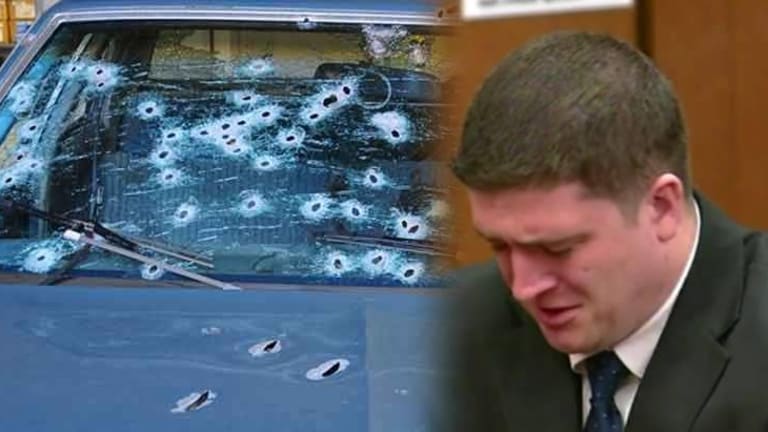 Cop Found Not Guilty After He Jumped on Hood of Car and Murdered Unarmed Couple
Cleveland Cop Michael Brelo was found not guilty on all counts after he and several of his peers unloaded their weapons into a car occupied by an unarmed couple.
Cleveland, OH -- Cleveland cop Michael Brelo was found not guilty on all counts Saturday morning for the shooting deaths of Timothy Russell and Malissa Williams.
In November of 2012, Brelo jumped on the hood of a car occupied by the unarmed couple and fired more than a dozen shots through the window and into their bodies. The car was surrounded by multiple other officers who also fired more than 100 rounds into the car as well.
The verdict comes on the heals of recent information which showed that the cops knew the couple was unarmed, yet unloaded their weapons anyway.
As the Free Thought Project reported in February, 
In the hours following the shooting, Patrolman James Hummel sent texts in which he said "they all knew" neither of the victims had a gun – that the officers had mistaken a silver can of soda pop for a weapon, prosecutors said.

The texts said that what some of the officers had suspected were gunshots were actually backfires from the fleeing car, that Brelo "was going to be in trouble," and that "everyone knew Brelo did something wrong," prosecutors said.
The judge ruled that Brelo jumping on the hood of the car and dumping his magazine into an unarmed couple was "constitutionally justifiable" because it "wasn't clear that any perceived threat to the officers was over."
According to CNN,
Emotions ran high outside the courtroom in Cleveland -- where public outrage over several recent police shootings has been palpable -- after the verdict was read. One woman wept inconsolably on its steps.

Some held up signs, outraged that Brelo was not convicted.

"All I know is that I don't trust police no more. No police. None," proclaimed one man, adding that "I can't recover from this. ...This verdict isn't real. This verdict is fake."
Following the verdict, the defense attorney for Brelo slammed Brelo's prosecution calling it "ruthless."