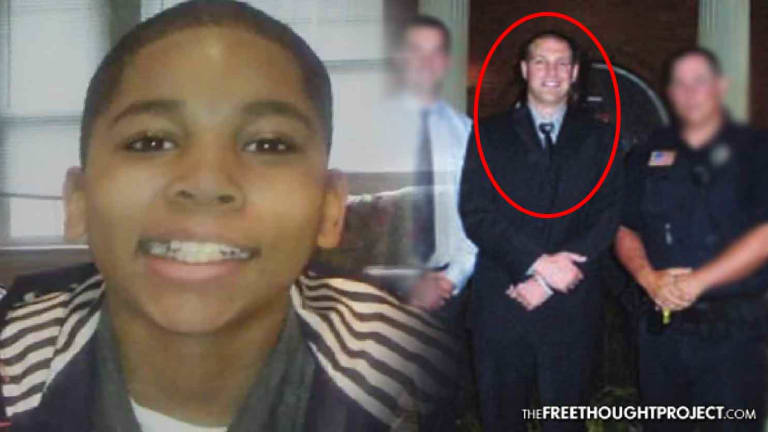 BREAKING: Cop Who Killed 12yo Tamir Rice on Video Finally Fired, But Not for Killing a Child
The cop who killed Tamir Rice is finally off the streets. However, his firing highlights a troublesome problem in modern day policing. He should've never been a cop.
Cleveland, OH — In November of 2014, Officer Timothy Loehmann gunned down a 12-year-old boy for playing with a toy gun in a park. More than two years would pass, during which this cop would fail to be indicted for the murder of Tamir, before any semblance of accountability would occur. On Tuesday, officials announced that Loehmann has finally been fired from department — but not for killing a boy with a toy gun — for "providing false information" on his application to be a cop.
Timothy Loehmann's termination is "effective immediately," Cleveland Police Chief Calvin Williams said at press conference Tuesday as he announced the end of a years-long investigation into the rookie who killed Tamir Rice on video.
A quick look at the history of officer Timothy Loehmann shows that he has a short and troubled past with police work. In fact, Loehmann was actually terminated from his last job as a police officer, because they did not think that he was mentally capable, or mature enough for the job. However, because police are often granted the privilege of quitting before they are charged with a crime, Loehmann was allowed to resign, before the department officially fired him.
After he was let go by the City of Independence Police Department in December of 2012, he was quickly rehired with the Cleveland Police Department in March of 2013. Instead of vetting their officer by simply calling his previous department, the Cleveland police hired him — and he went on to murder a child.
As Buzzfeed reports, on Tuesday, Williams said that he believes these falsehoods in Loehmann's application would have "come out eventually" but admitted that the department wouldn't have learned about his past employment history as "quickly if this didn't happen."
In other words, it took the death of an innocent child, at the hands of one of their officers, before they decided it would be a good idea to look at Loehmann's past.
"There's a 12-year-old kid dead — people on both sides are going to say we didn't do enough or we did too much," Williams said Tuesday. "We have to go through our process. We have to be fair and objective to our process."
In 2015, amidst a myriad of killer cops getting off scot free, a grand jury declined to indict Loehmann. It was a tragedy for the Rice family who'd been through the ringer by the department, the police union and the press.
In 2014, without any hesitation, Loehmann shot young Tamir Rice because he allegedly believed that he was pointing the gun at him and his partner. Loehmann shot in spite of the person who dialed 9-1-1 telling them twice that the gun was "probably fake." After they killed him, police inspected the gun to discover that it was an airsoft pellet gun, which is little more than a toy.
The tragic incident was captured on surveillance video.

When Samaria Rice rushed to her dying son's side, police told her that she had to back off and calm down, or she would be arrested. When she backed off, she found Tamir's sister handcuffed in the back of a police car because she "refused to calm down" at the sight of her little brother just getting killed in front of her.
Tamir Rice had laid on the ground for 5 minutes before anyone approached him to render medical aid.
In spite of the department noting that Loehmann wasn't fired for killing Tamir Rice, Loehmann's partner that day, Officer Frank Garmback, was actually punished for it. The department noted that Garmback will be suspended for 10 days and required to undergo re-training on the department's tactical policies.
Sadly, Loehman's firing on Tuesday — for lying on his application — is the closest the Rice family has come to seeing their son's killer held accountable.
At its root, this firing highlights the very real problem of policing in America. Loehmann should've never been a cop, yet the hiring practices are so lax and careless that the Cleveland PD gave him a badge and a gun without first checking to see if he was qualified to get them.
By these same standards, anyone, including mass rapists, murderers, of child molesters, could simply lie on the application and become a cop. Troubling indeed.