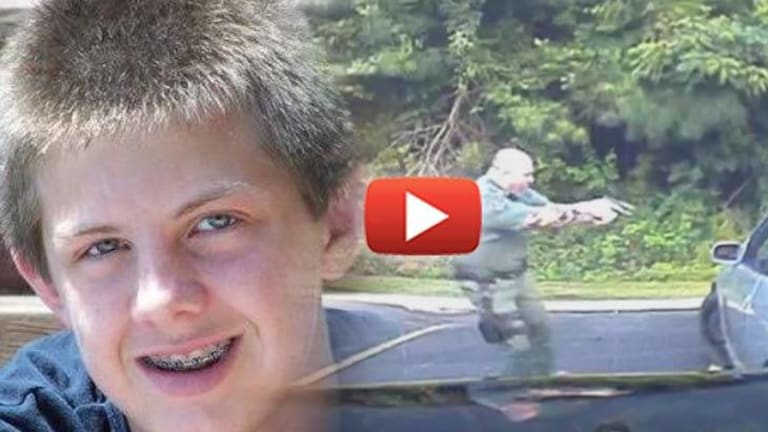 BREAKING: Dashcam Video Just Released Shows Cop Murder Zachary Hammond
Tuesday, the much-awaited dashcam footage was finally released and it shows that the officer was indeed not in danger as he murdered Hammond.
Seneca, SC — On July 26, Seneca Police Lt. Mark Tiller ran towards 19-year-old Zachary Hammond's car with his gun drawn as Hammond's date, Tori Morton, allegedly sold a few grams of marijuana to an undercover cop.
According to Seneca Police Chief John Covington, Hammond drove toward Lt. Tiller in an attempt to murder him. Fearing for his life, Tiller shot Hammond twice at point-blank range killing him. But according to witness statements and Hammond's autopsy, the teenager was not attempting to run down Tiller in the moments before his death.
Hammond's autopsy revealed that the teen was shot in the back of his left shoulder and his side.
In a letter from Hammond's attorney to the FBI, a witness has recently come forward describing officers planting evidence under Hammond's body and high-fiving his dead hand after the shooting. Although police found no weapon or drugs on Hammond, Chief Covington claims that a white powdery substance was found at the scene.
Tuesday, the much-awaited dashcam footage was finally released and it shows that the officer was indeed not in danger as he murdered Hammond.
As Tiller exited his vehicle, he ran to the side of Hammond's car. Hammond was only attempting to leave the scene when Tiller acted as if his life was in danger and began firing as he screamed, "I'm gonna shoot your f*cking ass!"
Immediately after falsely claiming that his life was in danger, Tiller screams, "He tried to hit me." This statement, according to the video evidence, is a blatant lie.
This teen was only trying to avoid having his life ruined for being caught with an "illegal plant." Or, he was actually scared by a crazed maniac running toward him with a gun, screaming that he is "gonna shoot your f*cking ass." Either way, the end result is tragic and unjust.
To add insult to this cop's murder, 10th Judicial Circuit Solicitor Chrissy Adams released a statement Tuesday, announcing that officer Tiller will not face state charges. 
Below is a statement for City Administrator Greg Dietterick on behalf of Solicitor Chrissy Adam's decision not to file charges against Seneca Police Lt. Mark Tiller in the shooting death of Seneca teen Zachary Hammond.
The past three months have been extremely difficult for the residents of Seneca, its city employees and the 45 members of its police force. While the effects of outside agitators to tear apart our community lingers, we are thankful the investigation has come to an end and shows Lt. Tiller was acting in self-defense. The night of July 26 was a tragic event for this community and I personally will always grieve for the Hammond family. I would like to thank the hard work of the local and state investigators who handled the cases expertly and professionally. I would like to thank Solicitor Adams, who suffered numerous personal attacks, for her diligence. I thank Chief John Covington for his courage and strength during these trying times as he and his family have been repeatedly maligned. I thank our Mayor and City Council for standing with us during this tragedy. It is now time to start healing Seneca.
The Free Thought Project is disgusted with the outcome in this case, and we are voicing our discontent. If you'd like to let them know that you are unhappy with their decision to watch a murder happen in broad daylight and on video, and still decide to let the killer free, please peacefully do so.
10th Judicial Circuit Solicitor: 864-260-4046
Seneca Police Department: 864-885-2718
Below is a shorter video with sound.
Update: Tuesday afternoon a second dashcam video was released showing the heartbreaking aftermath of the shooting. Police can be heard telling the dead body of Zach Hammond to "get on the ground."
His date can be heard crying in disbelief after watching this young man die for trying to purchase a plant that is legal in 5 states.