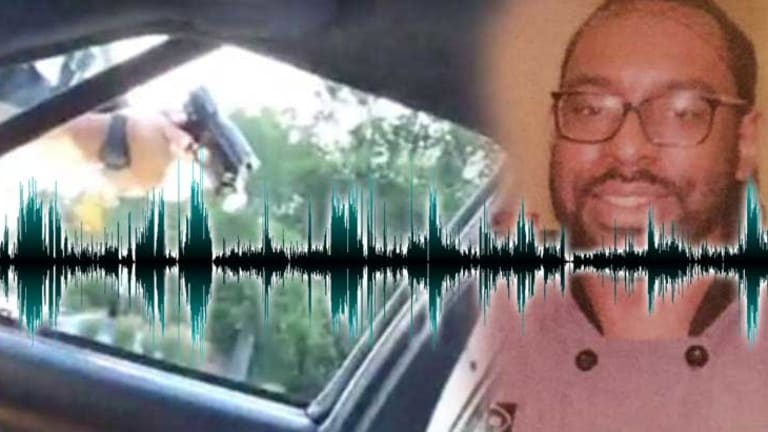 Breaking: Dispatch Audio From Castile Killing Reveals Cop Pulled Him Over for Having "Wide Nose"
There was never a broken taillight, dispatch audio reveals the officer pulled over and killed Philando Castille because he profiled him.
Minneapolis, MN - New developments in the killing of Philando Castile have revealed potentially crucial information that gives new insight into the incident. In a dispatch recording posted by KARE 11 in Minnesota, audio clips of dispatch recordings related to Castile's death reveal new details about what transpired.
In the shocking video, streamed on Facebook Live, Philando Castile is seen bleeding to death after a Minnesota police officer shot him through his driver-side car window. His girlfriend, Lavish Reynolds, also know as Diamond Reynolds, captured the horrific scene on her cell phone, narrating the tragic events, and streaming them live on Facebook.
Reynolds had claimed that the reason they were pulled over, according to the officer, was due to a broken taillight, which she claims didn't exist. This new information seemingly obliterates the narrative of this being a legit traffic stop as the recording indicates the officer believed Castile to be a robbery suspect.
According to the report by KARE 11:
A KARE 11 viewer, who gave us audio clips of police radio traffic, claims they captured the moments just before Philando Castile and his girlfriend were stopped by St. Anthony police – which ended in police shooting that killed Castile.

KARE 11 has attempted to confirm the authenticity of the recording with police officials, but so far they have not responded.

We have verified that the license plate mentioned by police in the recording matches the plate of the car Castile was driving. The location the officer gives also corresponds to the locations of the traffic stop.

"I'm going to stop a car," the officer says on the recording. "I'm going to check IDs. I have reason to pull it over."

"The two occupants just look like people that were involved in a robbery," the officer says. "The driver looks more like one of our suspects, just 'cause of the wide set nose," the officer continues.

A minute and a half later, the recording captures the first report that there was a shooting.
This new information implies that the officer approached the car with the belief that he was possibly dealing with a robbery suspect. It is not completely clear which robbery the officer was referring to when he said that he believed Castile to possibly be a suspect. The Minnesota BCA had sent out a press release earlier this week saying St. Anthony police were investigating a gas station robbery that occurred in nearby Lauderdale on July 2, but it's unclear if that was the robbery the officer was referencing.

During the incident, as Reynolds records, an officer approaches the couple with his gun drawn and argues with the woman about what happened.
"We got pulled over for a busted tail light in the back and he's covered… They killed my boyfriend. He's licensed to carry. He was trying to get out his ID and his wallet out his pocket and he let the officer know that he had a firearm and he was reaching for his wallet and the officer just shot him in his arm," Reynolds says, narrating the events that had just taken place.
"[Castile] let the officer know that he had a firearm and he was reaching for his wallet," the woman says into the phone.
"I told him not to reach for it! I told him to get his hands up!" the officer responds.
By all accounts, Castile was a good person. Castile's mother, Valerie Castile, said Philando Castile worked as a cafeteria supervisor at J.J. Hill Montessori School in St. Paul, according to WCCO television. Philando's uncle Clarence said he had been employed in the cafeteria for 12 to 15 years "cooking for the little kids," according to the Minneapolis Star-Tribune. Clarence Castile called Philando "a good kid" and said he grew up in St. Paul, Minnesota, also living in Minneapolis.
Philando's cousin, Antonio Johnson, 31, told the Star-Tribune that Philando was an honors student at St. Paul Central High School, "where he was a straight-A student," noting Castile was a "very non-confrontational" person.
Saint Paul Public Schools released a statement about Philando Castile that stated:
Saint Paul Public Schools and its staff grieve the tragic death of a former student and current employee, Philando Castile.

He graduated from Central High School in 2001 and had worked for Saint Paul Public Schools (SPPS) since he was 19 years old, beginning in 2002, in the Nutrition Services Department.

Mr. Castile was promoted to a supervisory position two years ago and was currently working in one of our schools during the summer term.

Colleagues describe him as a team player who maintained great relationships with staff and students alike. He had a cheerful disposition and his colleagues enjoyed working with him. He was quick to greet former coworkers with a smile and hug.

One coworker said, "Kids loved him. He was smart, over-qualified. He was quiet, respectful, and kind. I knew him as warm and funny; he called me his 'wing man.' He wore a shirt and tie to his supervisor interview and said his goal was to one day 'sit on the other side of this table.'"

Those who worked with him daily said he will be greatly missed.

"I am deeply sorry for his family and for their loss. He's worked in SPPS for many years and he graduated from our district, so he was one of our own," said SPPS Superintendent Valeria Silva.

Grief counselors will be available for staff and students as needed or requested.

The Saint Paul Public Schools family extends its deepest sympathy to Mr. Castile's family and loved ones.
A parent of a child at the school wrote on Facebook, that "This was a GOOD MAN," noting that Castile snuck extra graham crackers to children and gave hugs to a borderline autistic child every day. He "pushed extra food in them like a grandma" and made sure to know the name of all the children.
It's important to note that in many cases similar to this, police, and their corporate media cronies, often attempt to shift the blame onto the victim rather than being held accountable for their actual actions. Please share this story to make sure that doesn't happen!
Below is the video of the aftermath of the shooting.