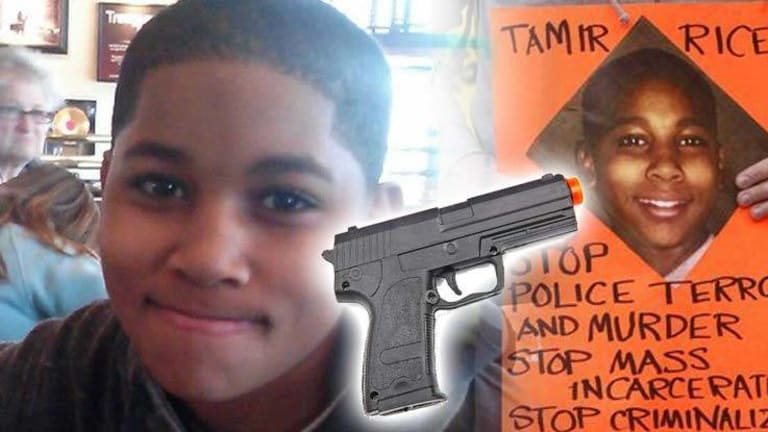 BREAKING: Grand Jury Says Cop Killing a Little Boy for Playing with BB Gun is Okay
Monday afternoon an Ohio grand jury dealt a devasting blow to justice.
Cleveland, OH -- In November of last year, Officer Timothy Loehmann gunned down a 12-year-old boy for playing with a toy gun in a park.
Without any hesitation, Loehmann shot young Tamir Rice because he allegedly believed that he was pointing the gun at him and his partner. Loehmann shot in spite of the person who dialed 9-1-1 telling them twice that the gun was "probably fake." After they killed him, police inspected the gun to discover that it was an air soft pellet-gun, which is basically a toy.
The tragic incident was captured on surveillance video.

When Samaria Rice rushed to her dying son's side, police told her that she had to back off and calm down, or she would be arrested. When she backed off, she found Tamir's sister handcuffed in the back of a police car because she "refused to calm down" at the sight of her little brother just getting killed in front of her.
Tamir Rice had laid on the ground for 5 minutes before anyone approached him to render medical aid.
For an entire year, the only thing keeping Tamir's mother going was her hope for justice. On Monday, that hope was crushed.
Monday afternoon, an Ohio grand jury decided not to indict Loehmann for the shooting death of Tamir Rice.
Prosecutor Tim McGinty calls the case an "absolute tragedy."
In a press conference on CNN McGinty addressed the grand jury's decision:
"But it was not, by the law that binds us, a crime," he said. He said he has "heard the chants" that cry for justice for the boy.
"We too want justice for Tamir," he said. But it would not be justice to bring charges against the officers involved in the shooting if those charges "could not be sustained."
That, however, "doesn't mean the legal system is done," he said. The civil courts may provide some accountability to the boy's family "that they deserve," McGinty said.

The shooting of a child should "never happen again," he said, and he urged that toy gun manufacturers stop making their products look so much like real guns.
 A quick look at the history of officer Timothy Loehmann shows that he has a short and troubled past with police work. In fact, Loehmann was actually terminated from his last job as a police officer, because they did not think that he was mentally capable, or mature enough for the job.
He was let go by the City of Independence Police Department in December of 2012, and then was quickly rehired with the Cleveland Police Department in March of last year. And now he'll be back on the street again.
This decision by the grand jury is a blow to the Rice family and the American justice system. What the decision not to indict says to American children is that police can kill you for playing with a toy, and nothing will happen to them.