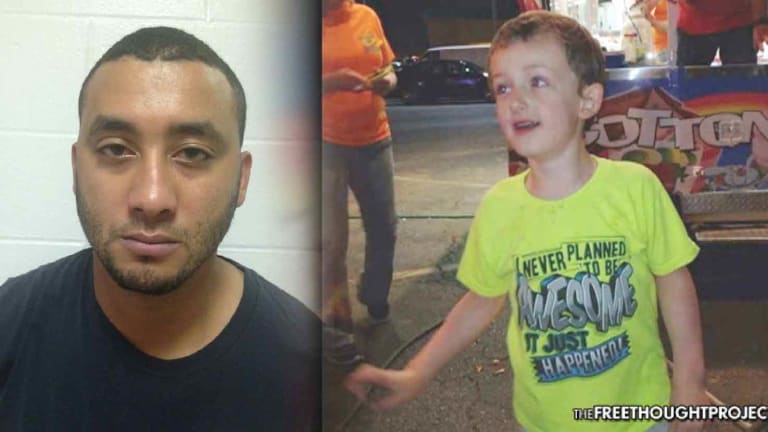 Cop Who Killed 6yo Autistic Boy Had History of "Satisfying His Sexual Desires" ON-DUTY
The cop who killed little Jeremy Mardis — should've NEVER been a cop — he's been caught making sexual advances toward underage girls and adults alike.
Marksville, LA — The officer-involved wounding of Christopher Few and the murder of his son Jeremy Mardis has taken a perverse and bizarre turn, if prosecutors of former Marksville, Lousiana Police Officer Norris Greenhouse, Jr. are to be believed. Marksville law enforcement officer, Derrick Stafford, was recently convicted of manslaughter and attempted manslaughter in the shooting that led to Mardis' death, and Few's close brush with death. Now it's Greenhouse's turn to be tried for second-degree murder and attempted second-degree murder.
In a recent court filing, Greenhouse was accused by prosecutors of having a habit of abusing the authority implicit in his badge to "satisfy his sexual desires." According to the Associated Press, "The Avoyelles Parish Sheriff's Office fired Norris Greenhouse Jr. for "abandoning his job" after the mother of a 14-year-old girl complained in 2012 that she found him lying on a sofa with her daughter while he was dressed in his sheriff's office uniform, prosecutors said in Friday's filing."
As the Free Thought Project previously reported, Greenhouse had a history with Few's then-fiancé. Now, prosecutors also agree and have alleged Greenhouse had previously made "sexual advances" towards his ex-fiancé, Megan Dixon. So, it's now becoming clear why Few may have fled from police in November of 2015. Greenhouse may have wanted him dead so he could have his way with Dixon.
The chase was caught on police body cameras and shows Few was unarmed, sitting in his small SUV, when Greenhouse opened fire, wounding Few and killing his autistic son. The chase was hardly record breaking, lasting only 2 miles before ending in a hail gunfire, and yet the officers displayed what appears to be an urgency to kill Few.
Prosecutors now want the evidence made available to jurors for an upcoming trial involving Greenhouse. "Prosecutors argue that jurors for Greenhouse's trial should hear these allegations because they could help explain why Greenhouse initiated the pursuit," writes the AP.
Assistant Attorney General Matthew Derbes reportedly stated Greenhouse "has established a pattern of approaching women or teenage girls while 'on the clock' as a law enforcement officer and using the means at his disposal due to said employment to solicit those victims in an effort to satisfy his sexual desires." Greenhouse' attorney George Higgins III said prosecutors are attempting to "tarnish" their client's reputation with "unfounded allegations" that are "clearly inadmissible" in court.
Stranger still, and what may add credibility to the prosecutor's allegations, is that the two officers who killed Mardis and nearly killed Few, were moonlighting at the time of the shooting, and may have conspired to kill Few, completely unaware that his son was inside the car with him. In fact, Greenhouse has yet to produce a true reason for pulling Few over that night.
The tainted relationship appears to be the only possible motive for the stop that night as no definitive explanation has yet to be given as to why Greenhouse was moonlighting, riding alone that night and decided to pull Few over.
According to the Greenhouse and Stafford, the officers decided to conduct a traffic stop because Few had an outstanding warrant. However, the Clerk of Court, the District Attorney's Office, Marksville Police Department, and City Court noted that they did not have any warrants against him. The officers also claimed Few had a weapon, that was also a lie.
The only reason Few ran from Greenhouse that night was to catch up with Dixon so he could give her Jeremy in case he was arrested.
"The whole reason there was even a chase was for his well-being," he said.
Greenhouse's father is a prosecutor for the Avoyelles Parish. His trial starts June 12. He was accused of sexual misconduct with the 14-year-old in 2012 and resigned in 2014. When internal investigators questioned him about the incident with the 14-year-old, he admitted to going over to her house on three separate occasions when the mother wasn't home.
Greenhouse also admitted to asking a 16-year-old to send him pictures of her breasts. With respect to Few's girlfriend, "prosecutors say 'more than one' of Greenhouse's sexual advances toward Few's ex-girlfriend happened while he was in uniform and driving his patrol car. Greenhouse made the advances 'under the guise of wanting her to work as a confidential informant (but) would quickly transition to wanting some sort of sexual contact,'" writes the AP. Stafford received a 40-year sentence for Manslaughter.
NBC News reported Dixon's allegations of the bad blood between Few and Greenhouse. She told reporters Greenhouse "had started messaging her on Facebook and had come by the house that she and Few were sharing at the time." When Dixon told her boyfriend, Few confronted Greenhouse and threatened him with bodily harm saying, "Next time you come to my house I'm going to hurt you." In the end, the former officer and his friend killed little Jeremy Madis, the most innocent one involved.