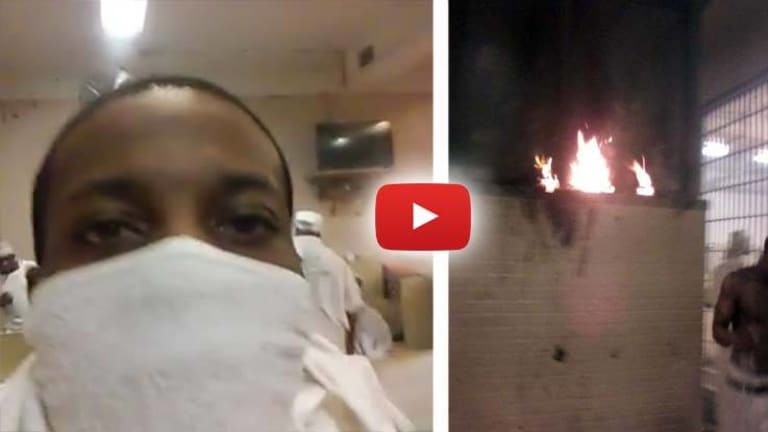 BREAKING: Prisoners Respond to Alleged Officer Abuse, Start Riot, Stream Video on Social Media
In an alleged fight for their lives, prisoners in Atmore's Holman Correctional Facility have taken over.
Atmore, AL -- Allegedly responding to their mistreatment, prisoners in at the Holman Correctional Facility in Atmore, about 50 miles north of Mobile, began to riot early Saturday morning.
Early reports indicate that a correctional officer was stabbed 9 times and the warden, at least once Friday night which led to the riots. Their injuries were not life-threatening.
An inmate, who goes by the name PA Brazeal on Facebook, uploaded a video showing the riot situation. In the video, inmates are seen starting fires and running freely throughout the prison.
The Escambia County Alabama Sheriff's office confirmed on Saturday, that a riot was still going on, although the exact details are unclear.
AL.com said prisoners were using social media to report that "gates are rolled up" and that they had overturned beds.
"Please pray for my son in Holman Prison a riot Lord Jesus," wrote Zannice Houston on Facebook, referring to her son Jamario.
Houston told AL.com that her son, Jamario J.E. Houston, called via collect called this morning and said that prisoners have built a wall, and they are waiting for more authorities to come to the prison. "Yes, right now it's not under control, Lord Jesus," Houston said. She said she hasn't heard from her son since then.
According to multiple Facebook posts, the prisoners said the cause of the riot was over their alleged mistreatment.
One Facebook claimed prisoners were fighting for their lives. "Attention: We need yall help here at Holman Correction Facility Prison. The police down here beating on and just treating us any kind way," said the post. "Please contact the News, Newspaper, Radio station. NCAAP. Help please."
https://www.facebook.com/LylEastSyde62/posts/1747561005472385
[author title="" image="https://tftpstagingstg.wpengine.com/wp-content/uploads/2016/03/magorist-e1456948757204.jpg"]Matt Agorist is an honorably discharged veteran of the USMC and former intelligence operator directly tasked by the NSA. This prior experience gives him unique insight into the world of government corruption and the American police state. Agorist has been an independent journalist for over a decade and has been featured on mainstream networks around the world. Follow @MattAgorist[/author]