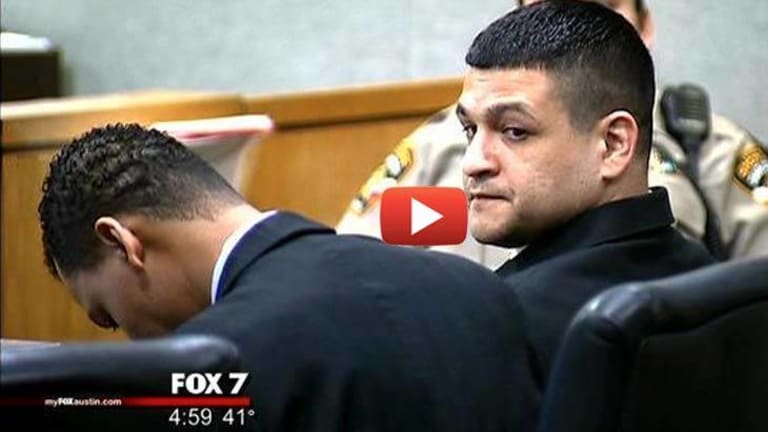 Vet Facing Life Sentence Found Not Guilty for Aiming Pistol at Cops Who Failed to Identify as Cops
The former Marine's defense pointed out that police officers didn't identify themselves until AFTER they shot him.
Austin, TX-- The trial of Marine veteran Gene Vela ended on Wednesday when a jury found him not guilty of aggravated assault on a public servant.
The charges were brought against the veteran after an intense police standoff in November, 2013, which concluded with him being shot by police three times. The man was months away from receiving his master's degree when the incident took place. Also, his only previous run-in's with the law were minor such as a DUI.
The incident occurred when a friend of Vela had called the police because he was worried about Vela after he unexpectedly cut a phone call short telling his friend that he needed help and sounding distressed. Vela suffered from PTSD.
When the police arrived at the home, they were met by Vela and his loaded Glock with a laser that the police allege was aimed at one officer's chest. The defense argued that he did not know that the men banging on his door were police, and that he was attempting to protect himself and his home.
"Why wouldn't you say — just to make sure he understood — 'hey, we're Austin police, we're here to help you?'" Skip Davis, the lawyer representing Vela asked officer Joseph Poswalk during the trial.
A standoff ensued but ended when two officers fired three shots at Vela, striking him once in the shoulder. He then surrendered without his weapon and was taken into custody.
After nearly four hours of deliberations, the jury sided with the defense who stated that Vela was within his rights to protect his property. This was due to the fact that police did not identify themselves until after Vela had already been shot.
Violence from police, while handling veterans suffering from PTSD, often proves fatal. Many officers lack Crisis Intervention Training and subsequently end up escalating situations instead of using deescalating tactics. It is fortunate that this incident did not prove to be fatal like so many others before and after it have.
Tommy Yancy, 32, father of two, was savagely beaten to death by five law enforcement officers during a routine traffic stop near the city of Imperial on Mother's Day last year. Yancy, a veteran who suffered from PTSD, served in Afghanistan and Iraq in the 259th Field Service Unit following the 9/11 attacks.
West Monroe Police Officer Jody LeDoux plead not guilty at his arraignment last week, for negligent homicide after shooting and killing homeless veteran, Raymond Keith Martinez, 51, in December.
"He said when he wasn't drinking he had to remember and he didn't want to remember. He never bothered anybody," someone from the neighborhood he stayed in told KTVE.
Allan 'AJ' DeVillena II, an unarmed High Desert Marine was shot and killed on Veteran's Day weekend after a reckless cop's aggressive actions gave his partner "no other choice" but to shoot DeVillena.
A quick search of the word "veteran" on The Free Thought Project will give you an idea of how common this theme is. It is undeniably tragic that these men and women who serve our country and survive war are in such danger from the police once they are home and should be safe. With police forces so militarized, is it so hard to imagine them being a triggering factor for those who suffer from PTSD?
Luckily, this time, justice prevailed.