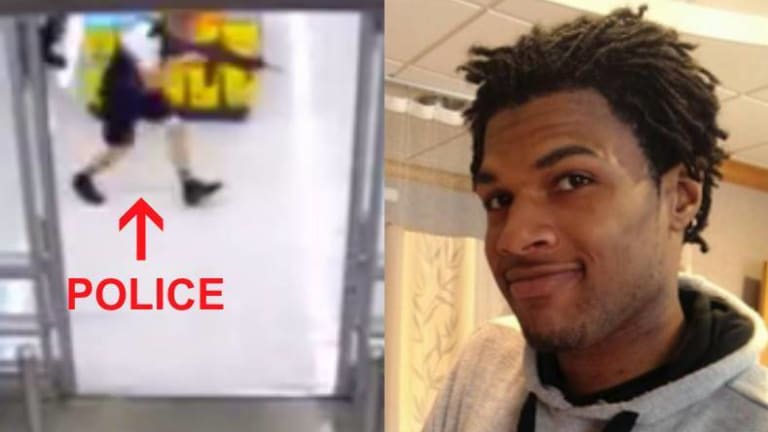 BREAKING: Video Finally Released of Cops Shooting Man With a Toy Gun in Wal-Mart
Beavercreek, Ohio - Special Prosecutor Mark Piepmeier released the long awaited surveillance video of John Crawford being gunned down, while holding a BB gun, in a Beavercreek, Ohio Wal-Mart.
The video was released as Piepmeier announced that that the Greene County grand jury in Xenia had chosen not to indict the officers involved in the August 5th incident, which resulted in the death of John Crawford, 22.
Beavercreek officers claim that they shot Crawford after he ignored their commands and refused to drop the BB gun. The family of Crawford vigorously disputes that notion.
"It was an execution, no doubt about it," alleged Crawford's father, John Crawford II. "It was flat-out murder. And when you see the footage, it will illustrate that."
The video of the incident seems to bolster the families claims, as there is absolutely no reaction by Crawford until he is hit by gunfire presumably.
Additionally, preliminary autopsy findings show that Crawford was shot in the back of his left arm and in his left side, which supports the claim that he was never even facing the officers that shot him, as shown in the video. These facts support a narrative that officers never made verbal contact with Crawford, but instead simply gunned him down on sight.
When reviewing the video, Crawford neither points the weapon at anyone, nor does he have any type of body language suggesting that he ever heard any commands given to him to drop the BB gun if they were actually given. It's much more likely, judging from the surveillance video, that officers simply shot Crawford on sight without giving him the opportunity to drop the toy gun.
There are many problems with this case, but one glaring problem is that open carry is fully legal in this jurisdiction, so the notion of officers approaching and simply shooting someone that is carrying something that resembles a rifle is very troubling for all open carry supporters.
In addition, the man who initially made the call to 9-1-1 to report that Crawford was carrying a weapon around the store and pointing it at people, Ronald Ritchie, has already admitted to lying about the facts regarding his 9-1-1 call.
During the initial call, Ritchie claimed that a black man was "walking around with a gun in the store." He told the dispatcher, "He's, like, pointing it at people," and later told reporters, "He was pointing at people. Children walking by," according to The Guardian.
But a month later in an interview with The Guardian he had changed his story stating, "At no point did he shoulder the rifle and point it at somebody."
Additionally, in the initial call, Ritichie told the dispatcher that Crawford appeared to be "trying to load" the gun, which the 9-1-1 dispatcher relayed to officers telling them that they thought the gunman had "just put some bullets inside."
With all information available, and the video now being released, it seems that officers were jacked up and ready for confrontation and there seems to be little doubt that they simply ran up on Crawford and gunned him down.
Although the grand jury has failed in its duty to hold these officers responsible for their actions, it was announced today that the Department of Justice will be undertaking an independent investigation of the incident.
The officers excuse that that they attempted to tell him to drop the weapon, but he refused, rings extremely hollow when viewing the video.
Seemingly, the only reaction had by Crawford is the reaction to bullets entering into his body unexpectedly as he is shot by officers.
Jay Syrmopoulos is an investigative journalist, freethinker, researcher, and ardent opponent of authoritarianism. He is currently a graduate student at University of Denver pursuing a masters in Global Affairs. Jay's work has previously been published on BenSwann.com and WeAreChange.org. You can follow him on Twitter @sirmetropolis and on Facebook at Sir Metropolis.