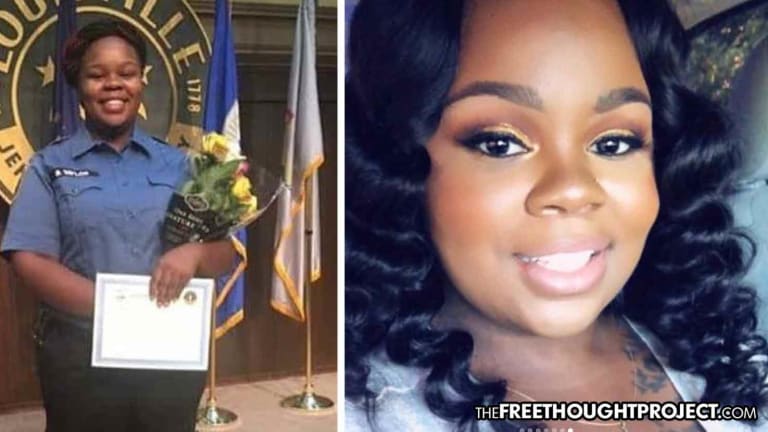 Breonna Taylor Lived After Being Shot, Bleeding Out, In Dire Need of Help Police Never Gave Her
In an updated lawsuit, the family of Breonna Taylor says she lived for over 5 minutes after being shot as police refused to render aid.
Louisville, KY — It has been over 4 months since three Louisville police officers fired more than 20 bullets into Breonna Taylor's apartment, hitting her five times, killing her. As the weeks roll on, details continue to surface painting an ominous picture of how the state can execute innocent people in their own homes and face no consequences. One of these new details is the fact that Taylor was still alive after police riddled her body with bullets and possibly could've lived — had she received any help.
According to Kenneth Walker, Breonna's boyfriend — who was originally charged with murder — Taylor did not die after being shot. Instead she struggled to catch her breath, in dire need of help, which the police refused to offer, in spite of Walker begging them for it.
"(Police are) yelling like, 'Come out, come out,' and I'm on the phone with her (mom). I'm still yelling 'help' because she's over here coughing and, like, I'm just freaking out," Walker said in a recorded police interview 3 hours after the shooting, as reported by USA Today this week.
Dispatch logs reveal that absolutely no effort was made to save Breonna's life that night and after she was fatally shot, she lay where she fell in her hallway for over 20 minutes.
"Breonna, who was unarmed in her hallway, was struck by several rounds of gunfire. She was not killed immediately," attorneys Sam Aguiar and Lonita Baker wrote in a revised lawsuit filed on behalf of Taylor's family. "Rather, she lived for another five to six minutes before ultimately succumbing to her injuries on the floor of her home."
Instead of helping the innocent EMT they just filled with holes, officers devoted their resources to applying a tourniquet to Sgt. Jonathan Mattingly's leg after Walker shot him, thinking he was an intruder. Spoiler alert, they were intruders.
Naturally, the police friendly Jefferson County coroner disputes the claims that Breonna could have been saved and gave the cops a pass for not giving her any help.
"If she had even been outside of an emergency room department at a hospital, and she got shot and sustained the same injury, they would not have been able to save her," Jefferson County Coroner Barbara Weakley-Jones said. "… So there's no way that even if they (police) ran to her and tried to give her aid, they can't do anything because it's all internal injuries that you can't stop."
Weakley-Jones said the coughing and breathing Breonna was doing — for more than five minutes — was her body giving out a few last breaths.
Breonna's family disputes this claim, and has alleged in the new court filing that for "more than five minutes,"she was still breathing and "fought for her life."
The coroner's words ring hollow considering the fact that the entire system protected the officers from the start, according to the family's attorney.
Instead of attempting to get to the bottom of the botched raid and hold those accountable who are responsible for Taylor's death, the department circled the wagons and engaged in a cover up.
"LMPD has tried to sweep this under the rug," Aguiar said. "The family right now has a very understandable desire to know the full circumstances of what went on that night."
Thanks to the newly released audio which TFTP reported on earlier this month, we now know that cops actually admitted they were in the wrong.
The recordings reveal that a plainclothes officer went up to Taylor's boyfriend after the fatal March 13 shooting and told him there had been a "misunderstanding."
"Why'd he say to me that there was a misunderstanding?" Walker asked when he was interviewed by police just hours after the botched raid.
"I don't know," Sgt. Amanda Seelye, a member of the Louisville department's Public Integrity Unit, answered. "That's some new information for us as well."
"I'm not an idiot," Walker replied. "They figured out something. They did something wrong."
Indeed, they did.