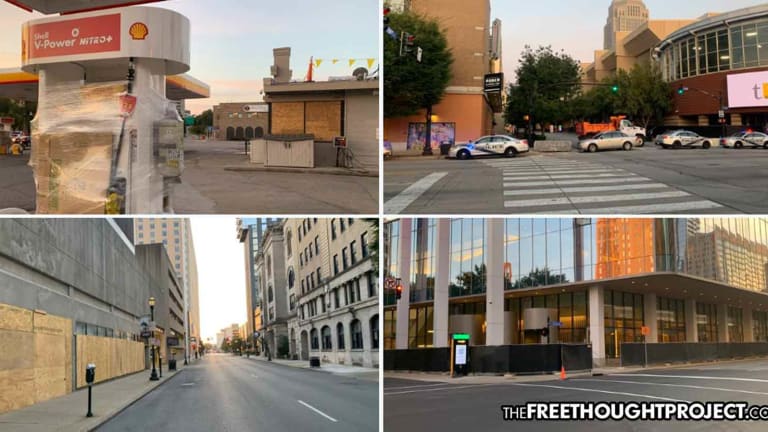 BREAKING: Louisville Braces for Riots as Only 1 Officer Involved in Breonna Taylor Killing is Charged
Streets in downtown Louisville have been blocked off and police put on high alert as Kentucky authorities announced they are charging an officer involved in the fatal shooting of Breonna Taylor.
Louisville, KY — (RT) Streets in downtown Louisville have been blocked off and police put on high alert as Kentucky authorities announced they are charging an officer involved in the fatal shooting of an African-American woman in her home.
Kentucky Attorney General Daniel Cameron announced on Wednesday that former officer Brett Hankison will face three counts of "first degree wanton endangerment" in the death of Breonna Taylor.
Taylor, 26, was killed in March during a "no-knock" police raid serving a narcotics warrant. Protests over her shooting escalated into violence after the May death of George Floyd in Minnesota and the ensuing nationwide Black Lives Matter protests.
Louisville has braced for another riot since Monday, with concrete barriers, fencing and even vehicles brought out to block major roads and intersections. The city's police department declared a state of emergency on Monday, in anticipation of the announcement. The Kentucky National Guard was activated around noon on Wednesday, shortly before Cameron's announcement.
The US district courthouse in Louisville and the nearby US Citizenship and Immigration Services field office were shuttered for the week as well, per orders from a federal judge.
The city has taken a number of steps to address Taylor's killing since March, banning "no-knock" warrants, firing Hankison for "extreme indifference to the value of human life" and violating department procedures in July, and reaching a $12 million wrongful death settlement with Taylor's family last week.
None of this seems to have mollified Black Lives Matter groups, however, who have called for arresting all three officers involved in Taylor's death and charging them with murder.
Like this story? Share it with a friend!
READ MORE:
WATCH: LMPD Top Cops Walk Out of Meeting, Refuse to Answer Any Questions About Breonna Taylor
Louisville, KY — It has been nearly 5 months since three Louisville police officers fired more than 20 bullets into Breonna Taylor's apartment, hitting her five times, killing her. As the weeks roll on, details continue to surface painting an ominous picture of how the state can execute innocent people in their own homes and face no consequences. The silence by the LMPD is a kick in the face to Taylor's family and according to a report out of Louisville this week, police have no problem flaunting the fact that they can remain silent.
A committee meeting was held on Monday in an attempt to gain some clarity on where the LMPD stands on the current investigation. Instead of answering questions during the committee, however, Louisville's top police officers stood up, walked out, and refused to answer any questions.
As ABC News reports, Louisville Metro Police Chief Rob Schroeder and the city's chief of public safety Amy Hess left the hearing without answering queries from city lawmakers on Monday, citing a pending lawsuit against the police department and the city.
Their decision to walk out is in spite of the fact that they agreed to testify before the Government Oversight and Audit Committee about the city's response to ongoing protests over Taylor's death.
Lawyers for the top cops released statements after they walked out claiming it is in not in their interest to testify given the pending litigation by the ACLU and NAACP.
Their absence will likely be short-lived, however, as the council members voted 10-1 to issue subpoenas to compel the officials to testify soon after they walked out.
Taylor's case is swarmed in controversy and has led to protests across the country. On a near-weekly basis, we continue to find out just how egregious the actions of police were from that night until now. One of those details, as we reported last month is the fact that Taylor was still alive after police riddled her body with bullets and possibly could've lived — had she received any help.
According to Kenneth Walker, Breonna's boyfriend — who was originally charged with murder — Taylor did not die after being shot. Instead she struggled to catch her breath, in dire need of help, which the police refused to offer, in spite of Walker begging them for it.
"(Police are) yelling like, 'Come out, come out,' and I'm on the phone with her (mom). I'm still yelling 'help' because she's over here coughing and, like, I'm just freaking out," Walker said in a recorded police interview 3 hours after the shooting, as reported by USA Today.
Dispatch logs reveal that absolutely no effort was made to save Breonna's life that night and after she was fatally shot, she lay where she fell in her hallway for over 20 minutes.
"Breonna, who was unarmed in her hallway, was struck by several rounds of gunfire. She was not killed immediately," attorneys Sam Aguiar and Lonita Baker wrote in a revised lawsuit filed on behalf of Taylor's family. "Rather, she lived for another five to six minutes before ultimately succumbing to her injuries on the floor of her home."
Instead of helping the innocent EMT they just filled with holes, officers devoted their resources to applying a tourniquet to Sgt. Jonathan Mattingly's leg after Walker shot him, thinking he was an intruder. Spoiler alert, they were intruders.
Breonna's family has alleged in the new court filing that for "more than five minutes,"she was still breathing and "fought for her life."
Instead of attempting to get to the bottom of the botched raid and hold those accountable who are responsible for Taylor's death, the department circled and has continued to circle the wagons and engage in a cover up. This walk out is evidence of that.
"LMPD has tried to sweep this under the rug," Aguiar said. "The family right now has a very understandable desire to know the full circumstances of what went on that night."