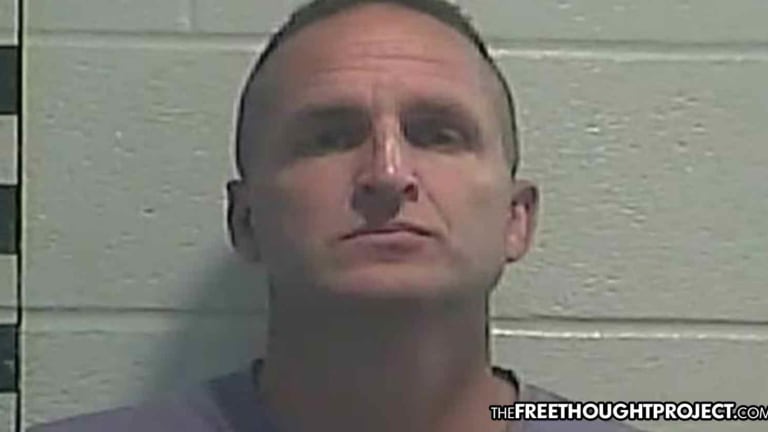 Cop Involved in Breonna Taylor Killing, Accused of 'Violent' On-Duty Sexual Assault
A damning lawsuit accuses officer Brett Hankison of violently raping a young woman and also accuses the department of covering it up.
On September 23, knowing that there would be backlash for their decision, streets in downtown Louisville were blocked off officials, police put on high alert, and government buildings were boarded up as officials announced the charges against former officer Brett Hankison for his role in the raid which left Breonna Taylor dead.
The subsequent outrage was well deserved as Hankison was not charged for anything that led to the death of Taylor. Instead, this trigger happy cowboy cop was charged with "first degree wanton endangerment" for shooting like a madman into neighboring apartments during the raid.
Now, the former officer Hankison is finally getting some attention but not for his role in murdering Breonna Taylor. This attention comes in the form of a lawsuit accusing the officer of sexual assault and rape.
The lawsuit, filed on Tuesday, calls Hankison a "sexual predator" who "used his police uniform and secondary nightclub employment as mechanisms to prey on innocent women who are two decades younger than him."
According to the alleged victim, law graduate Margo Borders, she met Hankison in 2017 and they had a mutual friend. Hankison "frequently messaged" Borders on Snapchat and reached out to her when he was "having problems with his girlfriend," according to the lawsuit.
On the night in question, Borders was intoxicated and attempted to take an Uber home from a local bar where Hankison was working security in uniform. However, Hankison insisted on driving her, according to the lawsuit. Hankison then invited himself into Borders' apartment as Borders went to her room and fell asleep. According to the lawsuit, when she was unconscious, Hankison "willfully, intentionally, painfully and violently sexually assaulted" her.
When Borders regained consciousness, she yelled for Hankison to get off her; he then grabbed his uniform and left her room, according to the lawsuit. Later that day, Hankison messaged Borders "to try and suggest that the two had engaged in consensual relations," according to the lawsuit.
"Margo and so many other women put their trust in what they thought was a police officer doing a good deed. He responded by damaging their lives," said Sam Aguiar, one of Borders attorneys. "We are confident that this litigation will send a message that the community will hold the police accountable when the department itself fails to do so."
Aguiar, who represented Breonna Taylor's family in their lawsuit, says this wasn't an isolated incident. Borders' lawsuit includes claims from nine other women who claim everything from unwanted sexual advances to sexual assault.
In fact, according to the lawsuit, Hankison's internal police department file details more than 50 internal reports, including "at least two Public Integrity Unit investigations which included allegations of sexual misconduct."
However, when the department conducted an investigation, they acquitted Hankison of the accusations — an unsurprising move considering that he wasn't charged in Taylor's case until the public demanded it for 6 months.
In June, Borders shared her story on social media.
In an impassioned post on Facebook, Borders, who studied law at the University of Louisville, said her assault took place in 2018 and she had nowhere to go because her rapist was a cop.
In April of 2018 I went out to a bar with some friends. I went to call an uber home and a police officer who I had interacted with on many occasions at bars in St. Matthews offered me a ride home. He drove me home in uniform, in his marked car, invited himself into my apartment and sexually assaulted me while I was unconscious.
It took me months to process what had happened and to realize that it wasn't my fault and I didn't ask for that to happen by allowing him to give me a ride home. I never reported him out of fear of retaliation. I had no proof of what happened and he had the upper hand because he was a police officer. Who do you call when the person who assaulted you is a police officer? Who were they going to believe? I knew it wouldn't be me. ‬
‪In ‬March of 2020 that same officer and two others (John Mattingly and Myles Cosgrove) entered the home of Breonna Taylor under a no-knock warrant and with absolutely no regard for anyone's life shot over 22 rounds murdering Breonna Taylor while she was sleeping.
Brett Hankison has a history of violence, sexual assault, and planting drug evidence on people. There have been multiple allegations against this man and reports but all cases dropped and no disciplinary action taken.
He is currently on paid leave in Florida on the beach.
I implore all of you to demand justice for all of his victims, but mostly demand justice for Breonna Taylor.
Contact the attorney general Daniel Cameron to charge him and the LMPD Professional Standards Unit to fire him. https://www.cameronforkentucky.com/contact/
Sign https://www.change.org/p/andy-beshear-justice-for-breonna-t…
Donate to Breonna Taylor's family https://www.gofundme.com/f/9v4q2-justice-for-breonna-taylor.
If you're not angry, you're not paying attention.
Emily Terry, Hankison's other alleged victim, tells a similar story of a cop preying on drunk women after the bars closed. The only difference is that the sexual assault started in the car on the way home. Unlike Borders, Terry's case was allegedly reported to police, who apparently took no action.
In fact, the lawsuit, alleges that colleagues of Hankison at the LMPD, including former Chief Steve Conrad, knew of his conduct but never reported or investigated it. It also alleges that "multiple women claim that reports made to LMPD over the incidents were made, but were not pursued."
Given the fact that the department refused to investigate or charge the officers involved in Taylor's death, it should come as no surprise that they would also cover up allegations of rape against their officers. This is the nature of the thin blue line.