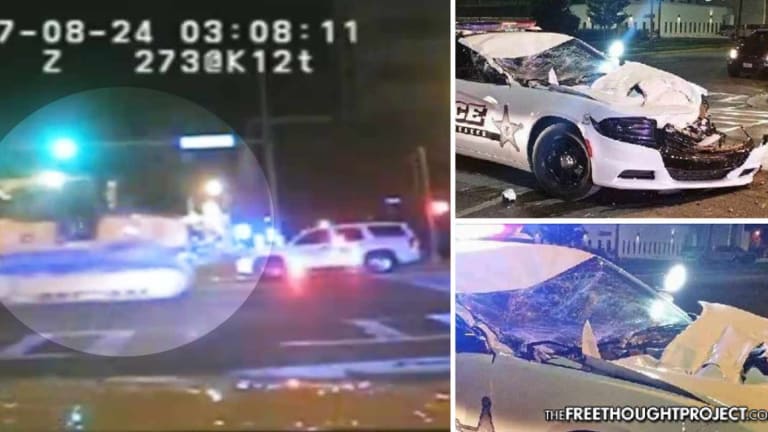 WATCH: Teenager Snaps, Crushes Cop Car With Bulldozer During Chase With Police
A stolen bulldozer took police on a low-speed chase that resulted in a police cruiser being flattened when it tried to block the construction vehicle's path.
Kankakee, IL – An extreme joy ride caught on police dash camera revealed a low-speed chase with a bulldozer that eventually crushed a police cruiser when cops attempted to stop the dozer by pulling a vehicle in front of the stolen construction vehicle.
After the Kankakee Police Department initially told WLS-TC that no video of the incident existed, they later relinquished the footage to the station—without explaining why they initially denied there was a video.
Police investigators now say footage of the early morning Aug. 24 incident shows Austin White, 18, engaging in a low-speed chase with police while driving a bulldozer stolen from a construction site.
The comical video footage shows multiple officers chasing the construction vehicle down the street, and includes numerous angles of the chase.
During the chase, one officer had the bright idea to pull his police cruiser in front of the 20-ton bulldozer in an effort to block White's escape, which resulted in the vehicle being crushed under the construction vehicle.
Officers continued to pursue the construction vehicle for another 12 blocks, as police can be seen attempting to jump onto the dozer.
Eventually, White stopped the vehicle. Immediately, police pulled him from the cab and hit him with a Taser.
Police say that White, who is being charged with driving under the influence of drugs, has never had a driver's license, and that he is currently being held on six felony charges, including attempted murder, criminal damage to property and theft.
White should consider himself lucky, as one of the most commonly used reasons for justifying police killings is "he or she used their vehicle as a weapon."
This tactic of American police, to claim their lives were endangered because someone attempted to drive off, has become quite familiar. It is also considerably successful at exonerating killer cops.
Over the past few years, there have been numerous cases in which we've seen unarmed individuals, killed while in their vehicles, by fearful trigger-happy cops. One of the most widely covered of those cases is that of Samuel Dubose, who was killed by officer Ray Tensing. Despite the fact that Tensing was in no danger of being run over, he shot and killed the Dubose.
Another tragic case of police killing an unarmed man in a car is that of Zachary Hammond, who was shot in the side and back while trying to flee by vehicle, by an officer attempting to arrest his date for a small amount of marijuana.
In yet another heartbreaking case, a mother concerned about her son's erratic behavior called authorities in hopes of getting her son a medical evaluation. Instead of medical evaluation, however, her son John Barry, 33, was gunned down as he attempted to back out of a parking space—with officers unloading dozens of rounds into the mentally ill man.
Thankfully, in this case, police showed remarkable restraint, as they likely could have shot and killed White only to be later exonerated.
Watch the dash cam footage below: