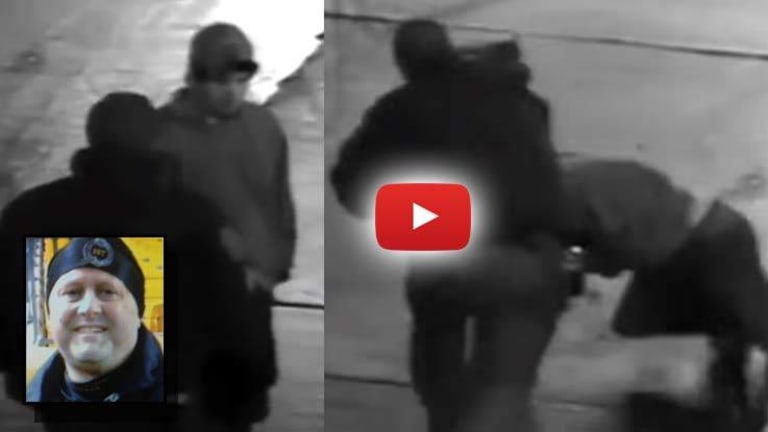 Good Cops Stand Around and Watch as Rogue Cop Takes Out His Aggression on Non-Violent Teen
A Pittsburgh cop was caught on video viciously attacking a non-violent sports fan -- the victim was charged with assault and the cop is still a cop.
Pittsburgh, PA -- After assaulting a 19-year-old man outside of a football game, Pittsburgh police officer Sgt. Stephen Matakovich was arrested and charged with assault. However, in a glaring and insulting display of blue privilege, on Monday, all the charges against Matakovich were dropped.
According to the police, Matakovich was working security outside of the Heinz Field Stadium on November 28, 2015, when he arrested Gabriel Despree on a number of charges, including public drunkenness and aggravated assault.
The entire encounter was captured on surveillance footage. As the video begins, it shows security officers appear to be asking Despree to leave. As he turns to leave and obey their request, Matakovich and several of his fellow officers stop him in an obvious move to bully this teen.
Once police obtained the surveillance video of the incident, showing Matakovich, entirely unprovoked, attack Despree, throw him to the ground and punch him several times, the officer was charged with simple assault and official oppression.
But, thanks to a clearly biased judge, Matakovich, who's been on paid vacation for nearly two months, will now return back to the streets to 'officially oppress' once again.
The excuses used by the defense to convince the court to throw out the charges were nothing short of laughable.
"The video, it says a lot, but when you have an opportunity to break it down and listen to Sgt. Matakovich, his reasoning it makes total sense. The young man is going in and out of his pockets he was asked to leave his BAC was very high he admitted on the stand today he was very intoxicated," said defense attorney Blaise Jones.
Somehow, the court found that the 19-year-old Despree, who was no threat to anyone and was trying to leave, was the 'aggressor,' and there was not enough evidence to hold the charges against the violent officer.
In a courtroom full of his fellow officers, applause exploded after the judge bought Matakovich's claims that he feared for his safety.
"I don't think it's unusual to say Sgt. Matakovich put his safety first, his and those around him," Jones said.
Apparently, Matakovich, an armed, 200+ pound officer, surrounded by his other fellow 200+ pound officers, who are also armed, felt that a drunk teen half his size posed a threat to him. Or, at least, he thought that the court would buy his preposterous story, and he was right.
Still facing the entirely false charge of assault on an officer, Despree is due in court in March. Welcome to justice in the land of the free.
Matt Agorist is an honorably discharged veteran of the USMC and former intelligence operator directly tasked by the NSA. This prior experience gives him unique insight into the world of government corruption and the American police state. Agorist has been an independent journalist for over a decade and has been featured on mainstream networks around the world.