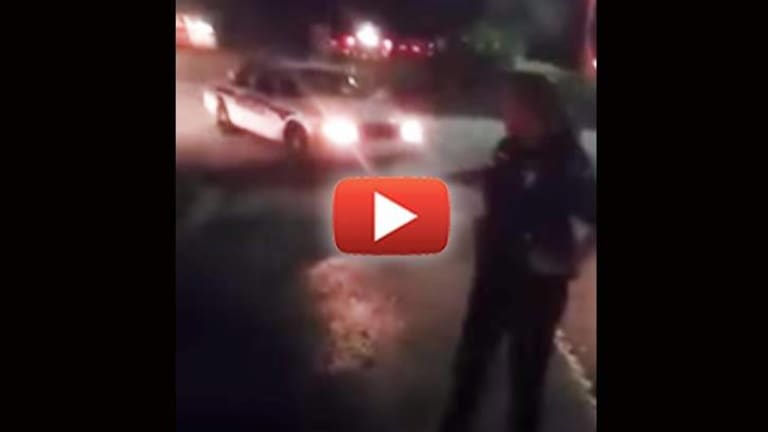 After Watching these Cops Bully an Innocent Combat Vet, You'll Know Why People are Upset with Cops
As two innocent men were waiting for their ride to work, they were approached by an authoritarian cop who called in back up authoritarians who proceeded to violate these two men.
Apopka, FL - Six Apopka police officers are under investigation after video was posted online showing cops roughing up and berating two men who were simply waiting for a ride to work.
A video of the incident shows extremely aggressive and unnecessary actions by the officers involved, which are indicative of the increased calls for police oversight and accountability by the American public.
The two men said they were simply sitting on a curb outside of a cellphone store after business hours, waiting for a ride, when approached by the overly aggressive officer. Now one of the men has spoken out, claiming that he feels he was racially profiled.
"If you're African-American, you're going to be profiled," Niblak said.
Initially, one of the men can be heard politely explaining to the officer that he is waiting for a ride, stating,
"I understand that ma' am. I'm just sitting here waiting for my boss. I just wanna go to work. That's it."
When one of the men tells the cop that she needs to "follow the law." The officer seemingly takes this comment as a personal affront.
Considering that at that instant she has already ascertained that these men were sitting on the curb as they waited for a ride, there should be no reason to continue with the investigative stop. But, as is all too common the case, this officer's ego has taken over, and she has decided to show theses men who has the "authority."
While the officer's initial reasoning for the contact is valid, once ascertaining that the men were simply waiting to be picked up, the situation should have been a non-incident.
As we all too typically see in these types of situations, rather than accept that these men were simply sitting waiting for a ride, the officer decided to escalate the incident.
The video, recorded by one of the men, begins only minutes after the initial contact by the officer and runs for a few minutes after.
"Whoa, I'm just trying to go to work," one of the men can be heard saying as a number of officers pull up and get out of their vehicles.
Keith Niblak, a U.S. combat veteran who served two tours in Iraq and a tour in Afganistan, said he was treated extremely unprofessionally by a ranking officer at the scene.
"He was like, 'No, you're not a vet. You're a punk. You're a (expletive), you're a coward,'" Niblak said.
The video shows Niblak being thrown to the ground and cuffed by cops after complaining that he felt he was being racially profiled.
"The police are paranoid of us because we are terrified of them," Niblak said.
The video ends as one of the cops violates the civil rights of the men by taking and throwing his camera, effectively forcing the man to stop exercising his First Amendment right to film.
"They grabbed his phone and threw it," Niblak said.
When the officer stopped these gentlemen, they should have politely refused to give their names and then asked, "Am I being detained?" If the officer said "no," they should have then calmly walked away. Incident over.
Or, if the officer says, "you are being detained," they could have invoked their 5th amendment right to remain silent.
If you are ever arrested and the officer continues to question you, then use the magic words "I'm going to remain silent. I would like to see a lawyer." If the officer is persistent in continuing the questions, repeat those words again. They are your best protection if the unfortunate situation arises in which you are arrested.
In this incident, police claim that there has been an increase in cellphone store burglaries, which led to the investigation. However, the issue isn't with the initial investigation but the utter disrespect and contempt that these men were shown by police for simply questioning the actions of "authority."
Perhaps if cops began to treat people as human beings, they would find less resistance amongst a large segment of the population.
"I would love for them to just train better," Niblak said.
The instant storm trooper reaction seen in this video is the problem.
Until police decide to fix this authoritarian element within their own ranks, the calls for increased transparency and accountability for law enforcement will continue to grow louder.
Jay Syrmopoulos is an investigative journalist, free thinker, researcher, and ardent opponent of authoritarianism. He is currently a graduate student at University of Denver pursuing a masters in Global Affairs. Jay's work has been published on Ben Swann's Truth in Media, Truth-Out, AlterNet, InfoWars, MintPressNews and many other sites. You can follow him on Twitter @sirmetropolis, on Facebook at Sir Metropolis and now on tsu.