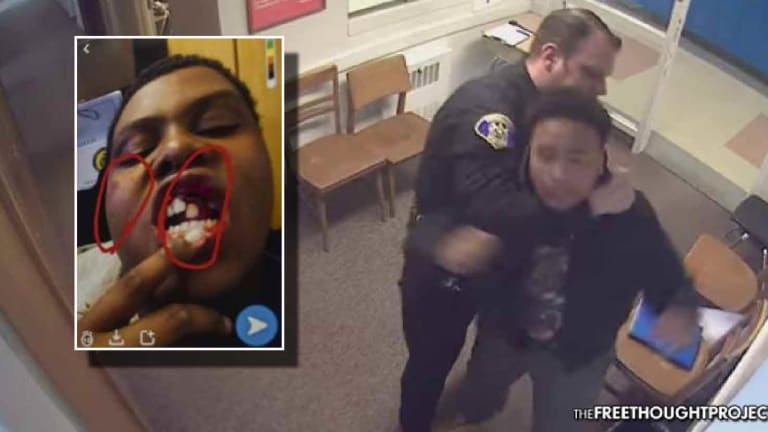 Horrifying Video Shows School Cop Beat Up Boy for No Reason, Knock His Teeth Out
A Pittsburgh school resource officer is caught on film walking up to a child and attack him for no reason — choking him and knocking out his teeth.
Churchill, PA — There's probably no better example of why the government needs to get out of the business of education than the following ongoing story taking place at Pittsburgh's Woodland Hills High School. The school's resource officer, from the Churchill Police Department, was caught on film assaulting a student in a physical altercation which appears to be one-sided.
In 2015, Officer Steve Shaulis can be seen on video approaching Ahmad Williams, 15, who was seated quietly it seems, holding only his folder and a writing utensil. Shaulis takes Wade by the wrist, puts him in an armbar, reverses his arm behind his back and then applies a choke hold.
Possibly aware of the camera's existence, Shaulis then takes Williams down a darkened hallway where he then picks up the young teenager and slams him to the ground. Williams alleges the officer slammed him on hands, injuring them. The principal, Kevin Murray then comes over and pushes Williams' head to the ground. Shaulis then tazes Williams three times.
Now, the officer has been reassigned pending an internal investigation. Many who've seen the video have already concluded their own investigation and they believe the officer should be criminally charged. And now that the FBI is investigating the incident, it's likely Officer Shaulis will find himself in court, instead of the teenager, he charged with resisting arrest, something he clearly wasn't doing. His attorney, Todd Hollis, made the following statement.
Too much has happened at Woodland Hills High School in the past six months for this to be ignored.
The attack is the latest incident at Allegheny County Schools' Woodland Hills High, but it's not the first. Apparently, two other students have come forward with similar stories of heavy-handedness followed by bogus charges to support and defend the officer's and the administration's actions. Hollis claims:
Four kids have been injured as a result of some conduct by one or more administrators at the high school
In 2016, the school's principal, who's also the school's football coach, Kevin Murray, was recorded threatening an unidentified student. On no less than four occasions, Murray promised to punch the student in the mouth and knock out his teeth if he misbehaved again in school.
While Murray made his comments "man to man," he was, in fact, dealing with a teenager, not a man, and was accused in a criminal complaint of threatening, bullying, harassing, and intimidating the student. The school district investigated the incident but cleared Murray of all wrongdoing and reinstated his position as principal, following a paid leave of absence.
Now it's the school district, the police department, the FBI, and the district attorney's office that's headed back out to the school to now investigate the school's law enforcement official.
But enforcing the law wasn't what Shaulis was doing that day, it appears. Subduing an already subdued and compliant student, slamming him to the ground, and causing physical harm to the student will not make that individual trust police.
On the contrary, as the incident can now be seen by every student in the school, the chances are that more members of the student body will now fear the police, as well as school officials who may be inclined to call them, when an incident arises. Hollis attempted to put the incident into perspective by saying:
How hard does a person have to hit a child to knock their teeth completely out of their mouth?...What does a child have to do to justify that response? Idon't care about the phone...This is a 14-year-old child. This is not a grown man. This is a school where we send our kids to.
Attorney Phil DiLucente, Principal Murray's attorney, attempted to exculpate his client from the incident, even though Hollis said the principal and another officer were present and did nothing to help the child. "My client was not involved in the incident and casting his name in this light with respect to the alleged incident is not only inflammatory, but completely unnecessary and only done to damage his reputation," Mr. DiLucente said in a statement. But DiLucente's statement is inaccurate at best. Murray actually can be seen in the video helping Shaulis to taser Williams. In other words, Shaulis and Murray ganged up on Williams in an apparent assault on the child.
Mr. Hollis said both Officer Shaulis and the principal need to fired. "Where there's smoke, there's fire," he said. "This tells me there'a problem at Woodland Hills High School that needs to be corrected."
But the most egregious actions attributable to Shaulis happened last month. Que'Chawn Wade, another student, in April was asked to come to the office at Shaulis' request. Shaulis was investigating the case of a missing cell phone. The officer reportedly told Wade he was responsible for the phone. Wade walked out into the hallway. Shaulis then allegedly called Wade a "f'ing faggot" supposedly overheard by another student.
Shaulis then grabbed Wade, dragging him back through the waiting area into his office. He apparently threw Wade against the wall, against a chair and then to the ground, all the while being punched on his waist and back of the head. The officer, who claimed Wade was resisting arrest, then mounted Wade MMA style and punched out his front teeth. The attack wasn't caught on film but the initial encounter was, apparently showing Wade with his hands up, being compliant with the officer's authority and commands. Hollis told reporters his client will have to have four more dental surgeries to ensure the tooth stays in place.