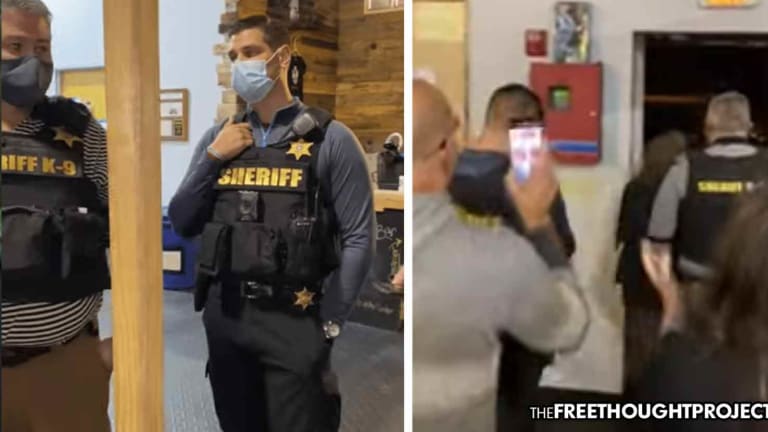 EXCLUSIVE: Business Owners Meet to Defy COVID Shutdown, Run Off Cops Who Try to Stop Them
Roughly 100 business owners held a meeting on how to resist the new shutdowns in New York, when police arrived to shut them down, the cops were run off.
Buffalo, NY -- As the world is quickly learning with the recent spikes in COVID-19 cases -- despite Draconian measures by tyrants across the globe -- lockdowns do not appear to be effective at curbing the spread of the virus. They are, however, according to the World Health Organization, very good at making poor people poorer and extremely effective at wiping out a large portion of the middle class.
"We in the World Health Organization do not advocate lockdowns as the primary means of control of this virus," the WHO's Special Envoy on COVID-19 said. "Lockdowns just have one consequence that you must never, ever belittle, and that is making poor people an awful lot poorer. Look what's happened to smallholder farmers all over the world. Look what's happening to poverty levels. It seems that we may well have a doubling of world poverty by next year. We may well have at least a doubling of child malnutrition."
When comparing countries and states who have implemented economically devastating and crushing lockdowns with those who didn't lockdown at all, it is nearly impossible to see a difference in spread of the virus and deaths per million.

Luckily, many governments across the planet are realizing this and have taken a more rational approach to dealing with the virus like protecting the vulnerable, recommending social distancing when possible, masks, and better treatment for the virus. However, states like New York and California appear to be completely unconcerned with logic and actual science and have continued their crackdowns, despite evidence to the contrary.
In New York, thousands of businesses -- many of which have been around for decades -- have been forced to shutter their doors forever thanks largely in part to government mandates. As a result, those who want to make sure their businesses don't fall like the thousands before them -- and make sure they can feed their families -- have begun taking action to resist.
The Free Thought Project spoke to one of the participants of this resistance, Daniel Crane who runs the website christianpatriots.org. Over the weekend, he and roughly 100 other local business owners gathered in Orchard Park, New York to discuss how to resist the lockdowns and safely reopen without permission from the state.
The gathering at a private business somehow garnered the unwanted attention of the local police, who quickly descended on the group.
As Crane explained to TFTP, "Here in New York, the governor is shutting us down again. We were holding a private meeting with business owners to discuss a plan of action with these shut downs because we can't survive doing this over and over again. The sheriff's and health department showed up to it to shut down and harass us."
Crane said that Erie County Sheriff's Office escorted the Erie County Health Department as standard procedure into Athlete's Unleashed, a local fitness center, in an attempt harass and breakup the meeting. But these folks were not going to go down that easily.
When the officers and health department officials attempted to assert their authority inside the private business, the business owners chased them away for trespassing. This epic moment was captured on video.
"This is private property," the gym owner was heard on video telling the cops and health department officials. "Go get a warrant," he says.
After attempting to assert their authority multiple times -- unsuccessfully -- the cops and health officials turned around and walked out in shame.
"What you see here are thugs for the Governor and for tyrants," Crane wrote on his website. "This is your modern day Nazi Gestapo in America. The Erie County Sheriff's Department sent deputies out to violate the rights of American people who are loosing their jobs and businesses over this pandemic. The Erie County Health Department was also present. People need to remember these faces, call the Erie County Sheriff's Department and hold these unconstitutional tyrants accountable."
Crane went on to name every official involved and put their phone number on his website.
Crane tells TFTP that local business owners are planning more meetings to "brainstorm and come up with real ways to protect one another when they all start to defy the local and state shut down orders and remain open."
"Businesses here can't survive under these conditions," he said. "More rallies and protests are on the table as well. The hope is to be an example here in this tyrannical state for other small businesses dealing with the same date."