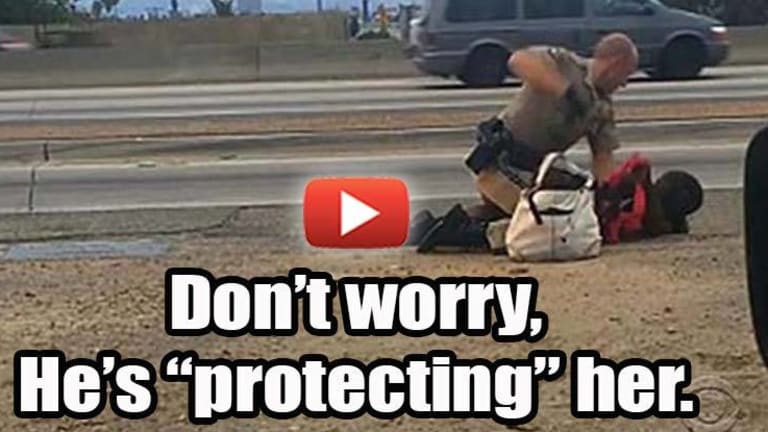 Cop Escapes Charges for Bashing in Woman's Face - Because He was "Protecting" Her & Himself
"In our analysis, his use of force was legal and necessary to protect not only his own life but also that of Ms. Pinnock," read the statement.
Los Angeles, CA -- While the nation was consumed with news of the San Bernardino shooting last week, the Los Angeles County District Attorney's Office conveniently slipped out a report noting that Officer Daniel Andrew acted within the law when he savagely beat Marlene Pinnock on the side of a highway.
On July 1, 2014, on an on-ramp of the 10 Freeway, Marlene Pinnock was attacked and beaten nearly to death by officer Andrew. Blow after blow, the woman's head was seen bouncing off the concrete in the horrific video captured by bystander David Diaz.
Weeks after the video went viral, the CHP kept the entire incident under wraps, refusing to release Andrew's name and asserting that he was only trying to help the woman.
The video became iconic and quickly became a symbol that epitomized police brutality across the country. However, in a blow to justice, the abusive, woman-beating tyrant who was caught red handed brutalizing an innocent woman will face no consequences.
After the incident, even Andrew thought he was a goner, and he did what most cops do when they get caught committing a crime - resign to avoid punishment. It worked too, in spite of the CHP paying out a $1.5 million settlement to Pinnock.
"There is insufficient evidence to prove beyond a reasonable doubt that the force he used was unreasonable or excessive," claims the report.
District Attorney Jackie Lacey, who refused to prosecute this woman-beating cop, says the video did not show what led up to the struggle.
Lacey said in a statement "when looking at all of the evidence, and especially the medical reports and eyewitness accounts, it becomes exceedingly clear that the officer, who was alone and struggling with Ms. Pinnock precariously close to evening freeway traffic, acted within the law."
"In our analysis, his use of force was legal and necessary to protect not only his own life but also that of Ms. Pinnock," she added.
According to Lacey, police should be able to jump on top of anyone walking on the shoulder of a road and beat them half to death - because there is a chance they may walk into traffic.
"I think Jackie Lacey's cowardice decision not to prosecute Daniel Andrew is disgusting, completely disgusting. And she needs to be investigated," Pinnock's attorney, Caree Harper, said.
"This is unbelievable. No one who has seen the videotape needed a bias report to determine that the beating suffered by Ms. Pinnock was criminal, it was clearly a use of excessive force, it was damn near attempted murder. I am appalled and disappointed in the decision made by DA Lacey," Community Activist and Executive Publisher of the Los Angeles Sentinel Danny J. Bakewell, Sr. said.
Since the news broke last week, Community Leaders and members of the National Action Network's Los Angeles Chapter are calling for L.A. County District Attorney Jackie Lacey to step down. 
Not only should Lacey step down, but, like Pinnock's attorney stated, she should be investigated for letting Andrew walk.
In Police State America, 'public service' has taken the shape of a fist - smashing a helpless woman's face.