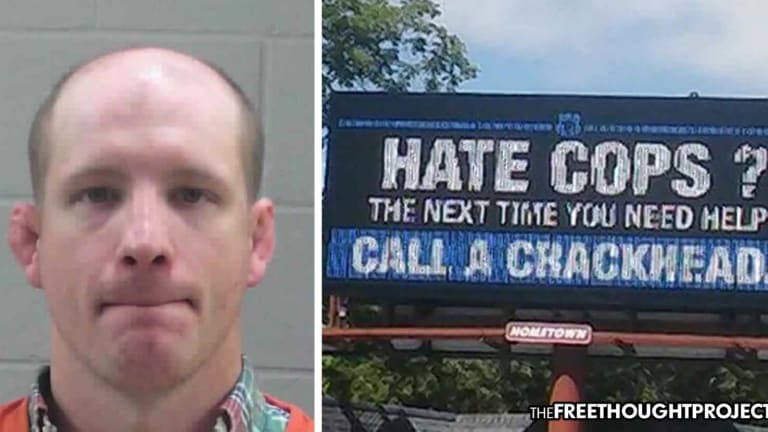 'Call a Crackhead'? Georgia Cop Busted for Possession of Meth
What happens when the oft-used police slogan of "if you don't like the police? Call a crackhead," actually ends up backfiring? It just did.
Madison County, GA — There is a saying among police officers that has even been the subject of billboards across the country. It goes like this, "If you don't like police, next time call a crackhead." This puerile catchphrase is thrown about online by police and apologists like it actually has merit and that the only other option for not calling the cops is calling a crackhead. But what happens when the police are the crackheads? Well, that happens to be the case with one officer in Madison County, Georgia who was busted this week for methamphetamine.
According to the Madison County Sheriff's Office, Georgia State Patrol pulled over Madison County deputy Gabriel Dalton, 31, Saturday around 8 p.m. During the stop, the trooper found methamphetamine in his car.
According to the Atlanta Journal Constitution, the sheriff's office said the arrest came after it received information and turned it over to the GBI "for a fair and impartial investigation." The nature of that information was not released.
Dalton was immediately terminated from employment by Sheriff Moore and booked into the Madison County Jail.

After a bond hearing, Dalton was released on an $8350.00 bond and the case turned over to the Northern Judicial Circuit District Attorney's Office. There is no evidence at this time that there were any violations of Georgia law while Dalton was on duty with the Sheriff's Office.
In the department's Facebook post, many people are giving their support to the officer claiming that he shouldn't be judged for his drug use. We agree. Addiction is a serious issue that has no place in the criminal justice system. But we'd be irresponsible to not point out the fact that had a regular citizen been arrested for the same thing, these "thoughts and prayers" would be non-existent.
It is truly amazing how people can forgive a cop whose job consisted of locking people up for this very same "crime" while at the same time donning pitch forks and torches when it's an average Joe. But it should come as no surprise given the hypocritical nature of the state. In fact, we have reported on police departments hiring former drug addicts and giving them a job in which they can arrest people for the very thing they have done.
In 2017, police departments began getting so desperate, they announced that they were willing to cut corners and lower both physical and drug-use requirements to attract more applicants. The NY Times writes:
New Orleans, with more than 400 openings, no longer automatically disqualifies those who have injected heroin or smoked crack. Aurora, Colo., has stopped using military-style running tests, but now checks how quickly candidates can get out of a squad car.
Here's a list of police department policy changes the Times documented;
1. Maryland changed its policy to allow for past drug use.
2. Louisville, KY no longer requires two years of college credits.
3. New Orleans dropped its no-prior-recreational-drug-use rule, now allowing for marijuana outside of last two years, and harder drugs, like crack and heroin, no sooner than 10 years prior.
Lowering the bar to allow drug use should come as no surprise given the fact that a federal court ruled police departments across the nation can discriminate against applicants who are too smart.
This decision by the US Court of Appeals for the Second Circuit to condone the ability of police departments to discriminate against smart people is one of the most profoundly ridiculous moves ever made. But it also tends to explain the state of police departments today.
It is important to point out that there is absolutely nothing wrong with someone who used crack or heroin. Beating an addiction takes very strong resolve and an epic level of dedication. That being said, however, police departments actually hinder that road to recovery by treating addiction as a criminal act.
It would take a true hypocrite to kick their habit without going to jail only to join the police department and throw people in jail for the very same thing.
So, in essence, the slogan, "If you don't like police, next time call a crackhead," is now being taken seriously by law enforcement agencies all across the country. It could now be re-written as "Crackheads wanted to become police officers: Old rules no longer apply. No education necessary. Here's your badge and your gun."
Instead of merely pointing out the idea that police are lowering their standards, it is also important to pose a solution to this problem.
The overwhelming majority of police work these days consists of revenue collection through the enforcement of immoral drug laws and traffic citations for victimless crimes, like window tint. If police departments across the country turned their focus from revenue generation to crime prevention, America would need fewer cops and animosity between the police and the policed would drop, dramatically.
To ignore the fact that the war on drugs is creating crime is a negligent and dangerous act. And, until it's brought to an end, we can only expect this problem to get worse which is illustrated by this recent arrest in Georgia.
To learn how much better the situation in America can be by ending the drug war, check out our solutions page here.