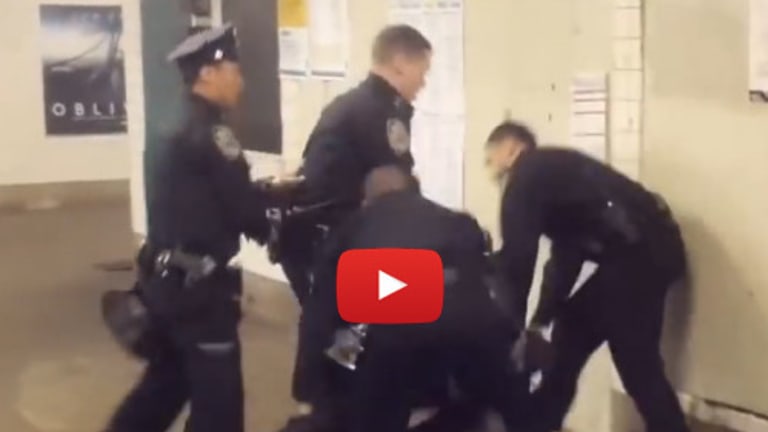 This is What Happens When You Call the Cops
Matt Agorist
August 7, 2014
The militarization of American police is increasing at an alarming rate. 9-1-1 calls these days are a crap shoot; there is a good chance that your house will be wrecked, your pet killed, or worse, a family member killed.
However, if you get all of your information from TV or Radio, you wouldn't know these things. The mainstream media tends to bombard us with meaningless fluff coupled with pro-establishment propaganda and militarism.
The chances of hearing a song on the radio talking about inciting peaceful change or calling out government corruption, are all but non-existent.
The mainstream hip hop scene has transformed from rhythmic poets on a mission to expose their inequality into bumbling thugs bragging about how much money and 'bitches' they have.
In an Interview with AllHipHop.com legendary hip hop artist Darryl McDaniels, more commonly known as DMC of the pioneering group Run-DMC, sums this conundrum up well.
"It was inevitable that Hip Hop became commercialized but along the way our power got taken away," he says in the story. "Now you got the same 12 records on radio being played over and over again."
"We wanted to change the world, taking responsibility for our actions," he said. "Now everything that's negative in stupid ass America is celebrated."
McDaniels is correct, when referring to the mainstream, but real hip hop is alive and well on the underground circuit. And the underground circuit is exactly where you will find musician Rob Hustle.
Hustle tells the RebelPundit, that he felt compelled to do something that actually mattered so he made a music video. "A lot of the things that are happening right now made me want to do something because I'm concerned about the world my children are going to grow up in."
Last month Rob Hustle released a hard hitting hip hop song that calls attention to the militarized police state. It already has over 140,000 views on youtube.
In a true show of chivalry, Hustle is also donating everything that the song makes to the fundraiser, Justice for Baby Bou.
In a system that promotes only the one culture of supporting and maintaining the status quo, no matter how violent and rapacious it becomes, it is remarkably refreshing to see creativity being focused in this manner. Enjoy and share.
▶ GET THIS SONG ON iTUNES - https://bit.ly/1mKPlpx
▶ LISTEN ON SPOTIFY - https://bit.ly/1qyL4cj
▶ CONNECT ON FACEBOOK - https://facebook.com/robhustle
▶ FOLLOW ON TWITTER - https://twitter.com/robhustle
▶ BITCOIN - 1CeXM2teB5cWqRapGhKdUye9Lhktk3CGAS
▶ REMIX THIS - Vocal Stems - https://bit.ly/1nVvFPT
▶ FREE MP3 - https://bit.ly/U6Cn9L SHARE
▶ LYRICS - https://rap.genius.com/Rob-hustle-call...
▶ FOLLOW LIV - https://LETMELIV.COM