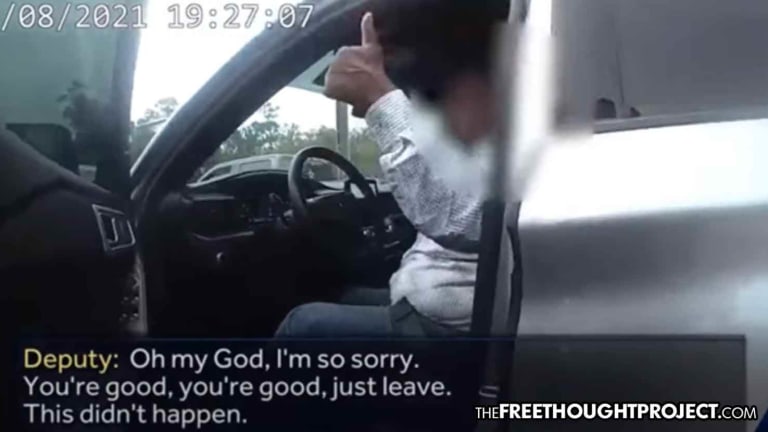 'You're Good. This Didn't Happen': Cop Found Passed Out in Traffic Allowed to Drive Away
A high-level captain was found passed out behind the wheel in the middle of the road and instead of a breathalyzer, he was given a fist bump.
Seminole County, FL — On July 8, 2021, fire fighters and deputies responded to multiple calls about a driver who was passed out in the middle of the road with his foot on the brake and the car in drive. Instead of a field sobriety test, breathalyzer, or forced blood draw, the man found passed out behind the wheel was given a fist bump and allowed to go on his way. He was a 24-year-veteran captain with the Seminole County Sheriff's office.
According to police, on that day, several drivers called 911 to report that Seminole County Sheriff's Captain Kip Beacham was passed out in his SUV with his foot on the brake. When police showed up to the scene, they blocked him in to prevent his car from rolling forward and began banging on the window.
"He either ODed or asleep?" one deputy can be heard saying on the body camera.
For over a minute, emergency responders banged on Beacham's window but he would not wake up. Finally, Beacham comes to and opens the door and his special privilege began immediately.
"Did you fall asleep? What happened?" one of the deputies asks.
But Beacham wasn't going to answer his question. Alternatively , he immediately identifies himself as an officer and instead of arresting or giving him a field sobriety test, the responding deputies apologize.
In fact, as the video below shows, the people who called 911 were given more of an investigation than the passed out cop as deputies demanded to see the ID of the man who called 911.
"I'm a captain with the sheriff's office," says Beacham.
"Oh, oh sh*t, I'm sorry man," the deputy says, as if waking up a person passed out in the middle of the road with their car in drive is somehow something you should apologize for doing.
As the medical personnel arrive and attempt to figure out what's going on, the deputies send them away and allow Beacham to get back into his car. They don't ask him any other questions, don't administer a field sobriety test, nor do they administer a breathalyzer.
"You're good, just leave. This didn't happen," a deputy can be heard saying as he walks away from the vehicle laughing.
After apologizing to the man who could have killed a family and covering up any possible investigation, the deputies fist bump Beacham as he is sent on his way.
When asked why no field sobriety test or breathalyzer was administered, the sheriff's department called the situation "unique" and justified the captain's special treatment.
"A sheriff's office spokesperson said every situation is unique, and it is ultimately the deputy's discretion based on training and experience," the report stated. "The spokesperson went on to say that upon awakening, the driver showed 'no signs of impairment or further concerns to deputies.'"
Because passing out with your foot on the brake in the middle of the road happens all the time to people who aren't impaired, right?
None of the deputies involved filled out a report and no review of their conduct is underway. There are no plans to investigate Beacham any further.
Thanks to WFTV 9 reporter Karla Ray, we have the body camera footage of this incident which paints an infuriating picture of blue privilege and the special treatment given to cops — even when found passed out in the middle of the road.