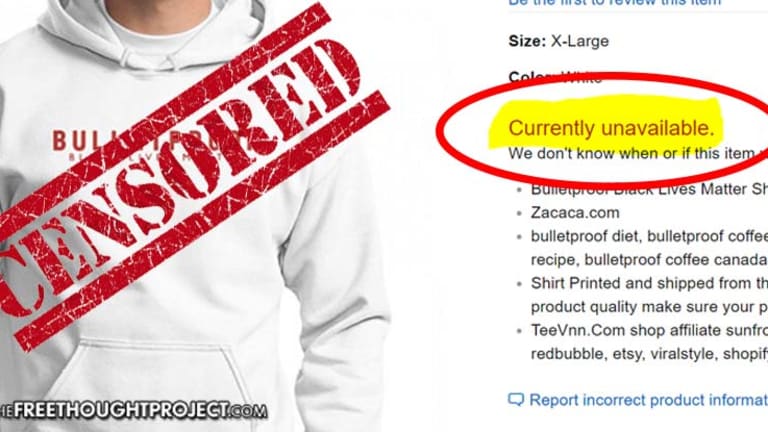 After Silencing Walmart, Police Union Demands Amazon Remove 'Offensive' Black Lives Matter Shirt
The Fraternal Order of Police is hypocritically attempting to force a nationwide safe-space for themselves by censoring black lives matter apparel.
First Amendment be damned. The United States' largest police union has successfully censored Walmart and now they've set their sites on Amazon -- for daring to sell a t-shirt that says "Bulletproof: Black Lives Matter."
As the heavily outspoken Trump-supporting group backed a campaign that ridiculed 'safe-spaces' on college campuses -- the Fraternal Order of Police is hypocritically attempting to force a nationwide safe-space for themselves. Using their government-granted status of police officers, the FOP intimidated the mega retailers through veiled threats of boycotts and blacklists to censor themselves -- sadly it worked.
On Tuesday, FOP president Chuck Canterbury wrote to Walmart CEO C. Douglas McMillon to tell him Walmart was "selling offensive shirts and sweatshirts."
Canterbury demanded Walmart refuse to allow the third party sellers to list t-shirts and sweatshirts that say "Bulletproof" and "Black Lives Matter."
"I urge you to prohibit the use of the Walmart name and website for the retail sale of these products," wrote Canterbury. Walmart quickly complied and removed the 'offensive' Bulletproof shirts while keeping the Black Lives Matter shirts.
After effectively stifling free speech at Walmart, Canterbury penned another open letter to Amazon chief executive Jeff Bezos urging him to support the FOP in "increasing the bonds of trust between the men and women of law enforcement and the communities they serve."
Censoring free speech, according to the FOP, is how to 'increase trust' among police and the community. Had Canterbury demanded the 'Blue Lives Matter' apparel be removed as well, perhaps his sentiment could have contained some semblance of logic.
However, not only did the FOP fail to address those shirts, but they also find no problem in the slew of Punisher-style police items depicting a skull -- because nothing says 'protect and serve' quite like the blue skull of death.
Amazon appeared to have held out a little longer than Walmart, who immediately acquiesced to the demands, as the shirt in question was available for purchase through Sunday night. However, as of Monday morning, it is 'currently unavailable.'
Speaking to the Guardian, Canterbury justified, or rather attempted to justify, his reason for silencing free speech. He called the issue relevant, according to the Guardian, because of the "amount of violence demonstrated at Black Lives Matter marches and the fact that eight police officers had been assassinated while protecting Black Lives Matter protests."
While there certainly have been some instance of Black Lives Matter protests turning violent, this is largely due to outside agitators who are uninterested in police accountability and only interested in violence and crime. However, this was not the issue to which Canterbury was referring. According to the Guardian, Canterbury said he was referring to officers who were shot in separate incidents in Dallas and Baton Rouge last summer.
However, Canterbury would do well to read a police report, or perhaps a newspaper -- because neither of these two shooters were involved in any capacity with the Black Lives Matter movement. In fact, they both noted that they had no affiliation with any group.
"Commercializing our differences will not help our local police and communities to build greater trust and respect for one another," Canterbury wrote, only to go on to hypocritically ignore the fact the 'death from above'-style skull items remain for sale. "Turning a buck on strained relationships will not contribute to the healing process."
"I wanted to let you know that my members are very upset that you and Amazon are complicit in the sale of this offensive merchandise," he wrote.
Well, what about the families of the thousands of people killed by cops in the past few years, many of who were unarmed and innocent? Does Canterbury not feel that seeing police skulls all over Amazon is offensive to the mother of 6-year-old Jeremy Mardis, an autistic boy who was publicly executed by cops who likely had shirts just like the ones above?
Obviously not.
Of course, no one here is advocating that anyone stop selling anything, as the freedom of speech shall not be infringed in any way -- even if it means offending someone. However, this double standard of removing items found offensive by cops only, speaks to the nature of the privileged 'blue class' in America today.
The precedent has now been set.
[author title="" image="https://tftpstagingstg.wpengine.com/wp-content/uploads/2016/03/magorist-e1456948757204.jpg"]Matt Agorist is an honorably discharged veteran of the USMC and former intelligence operator directly tasked by the NSA. This prior experience gives him unique insight into the world of government corruption and the American police state. Agorist has been an independent journalist for over a decade and has been featured on mainstream networks around the world. Follow @MattAgorist on Twitter and now on Steemit[/author]