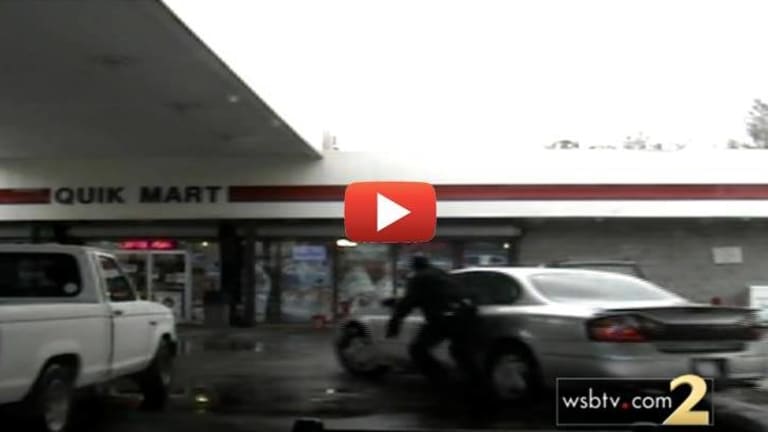 Charges Dropped Despite Video Showing APD Officer Shooting an Innocent Man in the Face
An officer with a long history of abuse and complaints has escaped jail after permanently disfiguring an innocent man during an unlawful stop.
Atlanta, GA-- Former Officer Kylema Jackson will be remaining a free man after accidentally shooting unarmed Will O. King in the face.
The incident happened while Jackson was banging on King's driver side window with his gun during a traffic stop in April of 2013. Jackson had been on the force for 11 years and had a long history of abuse complaints at the time of the incident.
Dashcam footage of the incident has finally been released to the public after the former officer pleaded guilty to simple battery and reckless conduct under the first offender act, escaping felony charges. The plea bargain meant his only punishment would be giving up his state certification and never being a police officer in the state again. It did not say he can no longer be an officer, he can just no longer be one in the state of Georgia.
The footage shows the victim attempt to drive off and Jackson recklessly banging on the window with his weapon causing it to discharge. He was being pulled over and approached at gunpoint simply because King had a dealer "drive-out tag" on his vehicle.
"At no time prior to the shooting did defendant Jackson have any articulable suspicion to believe that Mr. King had committed any felonies," a federal lawsuit claims.
Even if King's tags had been incorrect or misused, the charge would be a misdemeanor at most.
"He's giving verbal commands to roll down the window, there's a very dark tinting on the window, he's not getting the attention of the driver so he tapped on the window to get the driver's attention," defense attorney Holly Hughes told WSB-TV, while stating that it was simply an accidental discharge and minimizing the careless nature of his actions.
A federal lawsuit that has been filed claims that the Atlanta Police Department allowed Jackson to remain on the force despite an internal investigation describing the officer as "unstable" and "potentially dangerous to stay on the job."
"Jackson yelled for all of the occupants to raise their hands, to which they all complied, including Mr. King, despite complying with the demand, defendant Jackson used unjustified and excessive deadly force by shooting through the glass of the driver's side window, striking Mr. King in the side of the face," the lawsuit reads.
The lawsuit had a long list of previous complaints against Jackson, including a complaint from a fellow officer who described him as confrontational.
During a 2005 investigation in which Jackson was accused of refusing to walk a beat — saying he didn't "walk foot beats, it goes against (my) principles and (my) manhood," the interviewing sergeant opined that Jackson was mentally unstable and the sergeant wondered if he should be concerned about his personal safety. Both investigating sergeants discussed Jackson's "bizarre" behavior and concerns he might use his weapon. Jackson was relieved of duty and surrendered his badge and weapon on May 25, 2005. He was reinstated July 14, 2005, the lawsuit said.
In another 2005 investigation Jackson approached a group of motorcycle riders in a service station on Boulevard in the Old Fourth Ward, who were gathering for photographs. Jackson cursed the group, which included an off-duty police officer, telling them to move on, pulling his weapon in the process. Seven members of the group, including the off-duty officer, later filed a complaint saying Jackson used "unnecessary and excessive" force. The APD initially ruled Jackson's behavior constituted a a "courtesy violation" but later reversed the decision and exonerated him, the lawsuit said.
Another officer complained about Jackson's "irate" and confrontational behavior toward her and other law-enforcement officers during an off-duty job at an event. An APD internal report noted Jackson had repeated complaints regarding his "attitude and courtesy" toward civilians and law officers and that "without some form of training, this type of situation will continue and cause unforeseen problems for the department and Officer Jackson."
In 2008, when Jackson arrested a man for drinking in public — the man complained that Jackson punched him and pepper sprayed him, the investigation found Jackson admitted delaying getting the man medical assistance for the pepper spray for 40 minutes "to teach … a lesson." The internal report recommended counseling.
Also in 2008, Jackson was accused of manhandling a girl who had come to assist her blind grandmother at an apartment complex where Jackson lived and had taken an unapproved position as a "courtesy officer." Jackson bruised her arm when forcing her to leave the property on foot in the rain. When the girl's mother arrived she found her daughter outside in the rain. When the mother approached Jackson at his apartment, he came to the door with a handgun. The APD investigation sustained this complaint of unnecessary force, the lawsuit said.
Jackson is now suing for $510,000 to cover his medical expenses and the pain and suffering of being permanently disfigured, as well as punitive damages for the city continuing to employ or train someone who was clearly dangerous.