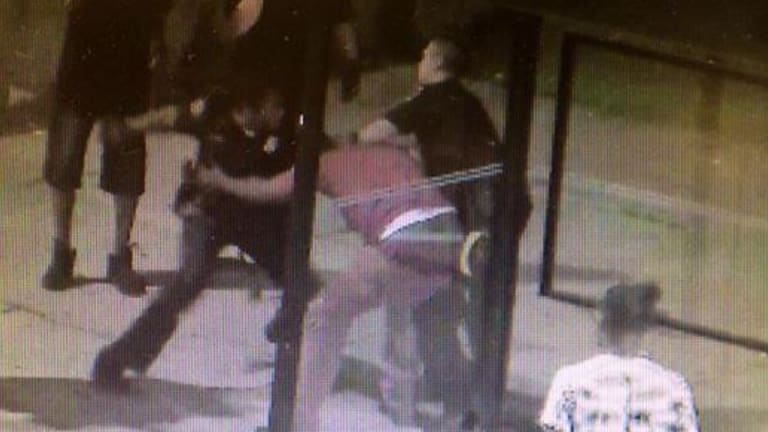 Charges Filed Despite Extreme Negligence by Baltimore PD After Brutal Beating Caught on Camera
Baltimore, MD-- Charges have been filed against Officer Vincent Cosom Jr. who brutally assaulted Kollin Truss on June 15.
Cosom was charged with second-degree assault, perjury and misconduct in office only after the lawyer for Truss publicly released the disturbing video of Cosom savagely pummeling his client as another officer held him.
Raw footage of the attack-
"The officer is still charged with only a misdemeanor. The second-degree assault charge -- we're disappointed that he wasn't charged with first-degree assault, which is a felony. We're also disappointed that the other officers who participated were not charged," Truss' attorney Ivan Bates told WBAL-TV.
While this hot tempered officer is currently suspended, with pay, he remained on normal duty without any disciplinary action what-so-ever for three months, due to what Deputy Commissioner Jerry Rodriguez called "a breakdown of communication".
"It appears that while we in Internal Affairs moved quickly to conduct the investigation, there was possibly a breakdown in the communication flow upward to make sure that all of command was aware of this incident,"
The Commissioner claims to never have seen the video until three months later when it was reported on in the media, an interesting claim as the incident was filmed by a CitiWatch camera being manned by a Baltimore police officer, and it was turned over to internal affairs immediately following the incident.
"To suspend him only after it is on the news shows that this investigation has no credibility," Bates stated.
In fact, Truss had been charged with assaulting an officer, the complete opposite of what we see happen in the video. The statement of probable cause asserted that Truss got into a fighting stance with closed fists when the officer went to make an arrest, something we surely do not see happen.
Charges against Truss were only dropped only after Truss' attorney released the footage, which they believe also indicates a cover up.
"Everything you see, everything that I saw was a concern to me. It wasn't handled right at the incident, and it certainly wasn't handled right afterwards," Baltimore Mayor Stephanie Rawlings-Blake told WBAL-TV.
Truss' attorneys filed a $70 million civil lawsuit against Cosom in September, a settlement which surely won't come from Cosom's own pocket.
Perhaps one way to force out of control officers to treat people with dignity would be to force them to carry professional liability insurance.
As we previously reported-
Similarly to how other professionals, such as doctors who are sued too many times become uninsurable, the demands of professional liability insurance will ensure risk reduction takes place. Meaning basically that if city officials won't hold police accountable for their actions an insurance company on the hook for large police misconduct payouts certainly will.

Problem officers would find their rates up until eventually they would become uninsurable, a wonderful way to have problem officers forced out of policing entirely.