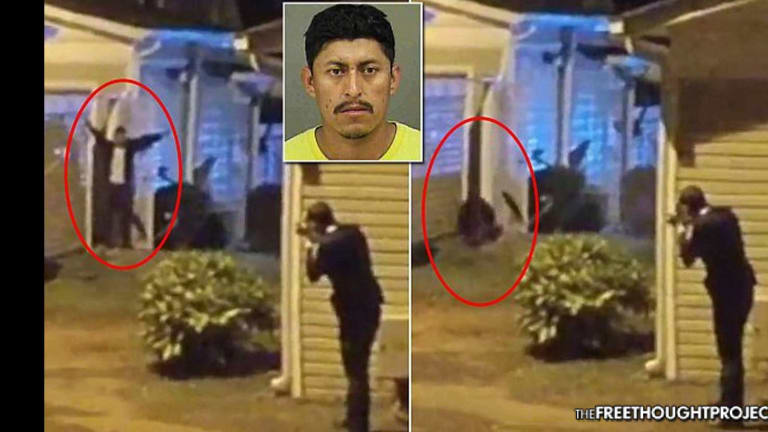 Horrifying Video Shows Cops Kill Man as He Had His Hands in the Air
Charlotte Mecklenburg Police Department comes under scrutiny following the September shooting death of a Spanish-speaking man who was attempting to turn in his handgun by calling 911.
Charlotte Mecklenburg, NC -- Rueben Galindo, 29, wanted to turn in his gun to Charlotte Mecklenburg Police. No longer wanting to be in possession of his firearm, according to his wife Azucena Zamoraro, he decided to call police to make arrangements to turn it in. Little did he know calling 911 would be the last phone call he'd ever make.
Answering the 911 call, an unnamed police dispatcher asked Galindo (as police officers were en route to his apartment) if he had any guns in the home. He said he had a gun in his bag. He asked her if she wanted him to retrieve it and she said, "si, si", meaning yes in English. Spanish-speaking Galindo had spent 15 minutes prior talking to 911 operators who decided police would have to come to the home.
Galindo was more than happy to retrieve the gun to give it to the officers when they arrived. Over and over again, he told the 911 dispatcher that he had no bullets for his gun. She also reassured him that they were there to help him. In her defense, she did tell the allegedly drunk man that he should leave the weapon. Clearly, he was confused, and possibly perceived her message to mean he must leave it with the policemen.
He explained to her that he would be happy to "leave" it with police but he didn't know where they were. He asked:
Donde Estan? (Meaning where are the police so I can give it to them - implied)
When officers arrived, they began shouting to Galindo "manos" which means only "hands" in Spanish. Other officers told him to throw the gun down. Still, another officer told him to put his hands up, which he did. He had his hands up for several seconds before one officer opened fire, hitting him twice, killing him. Galindo can be heard taking his final gasping breaths as the 911 call ends.
Instantly, Galindo's family went into hysteria, screaming, crying, cursing, expressing the only emotion they could at the horror they had just witnessed before their eyes. In the chaos, the very officers who'd just shot and killed their father and husband, now had their guns trained on them as well.
Experts and community leaders are now calling the officer-involved shooting a homicide and, understandably, they want the officers to be held accountable for their actions. They point to multiple camera angles of video footage obtained through court order by the Charlotte Observer as the proof they need to demand justice.
Standing with Officer David Guerra, who apparently fired the fatal shots, is CMPD Chief Kerr Putney. Chief Putney said at some point during the contact with police, Officer Guerra perceived Galindo to be a threat. The chief said:
I'm not going to second-guess how (officers) perceive a lethal threat
While it is clear the chief of police is standing by his officer's decision to shoot and kill Galindo, others are calling what happened to the man who called 911 for help either manslaughter or murder. The Charlotte Observer consulted with former police officer and criminal justice expert Phil Stinson who teaches sat Bowling Green State University.
In and of itself, the video does not show that the officers are legally justified to shoot...Without legal justification you're left with either murder or manslaughter. This one, I've watched it a dozen times and I question whether a murder has been committed.
From the body camera footage released this week, officers can be seen approaching the apartment with long guns, something that is not standard procedure arguably when people are attempting to surrender a firearm. The reason they did so, according to the Charlotte Observer, was because Galindo had been charged in April with assault for pointing a weapon at someone. Also, the dispatcher told them he did not want to put it down prior to their arrival.
Galindo's death is the latest in a series of controversial shootings in the Charlotte area within the last few years.
Did Galindo have a death wish? Was the police shooting justified? Should police be charged with manslaughter or murder for shooting someone who refused to put down a gun that reportedly had no bullets inside? These questions and more remain. Feel free to like, share, and comment below.