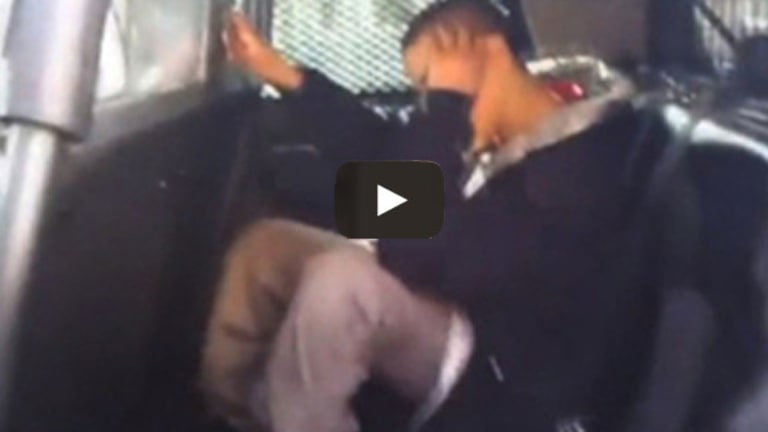 This Sadistic Cop Game Happens A Lot. But This Time it was Caught on Film
John Vibes
June 19, 2014

There are many unnecessary and depraved tactics that are used by police that never see the light of day. One of those tactics, for example, is parading gang members in front of their rivals. This tactic is largely unknown to the public, but on one occasion in Chicago, the incident was captured on video.
The YouTube video depicts a group of police officers displaying a very young gang member in front of a large crowd of rivals. The police officers responsible have since been fired from the department, but this situation has exposed some of the sick games that police officers are playing with the people that they encounter.
It is true that gang violence is a serious problem, and that many gang members can be dangerous people. However, it is not the right or the duty of a police officer to "punish" or otherwise dehumanize their suspects. It is only their job to apprehend the suspect and take them into custody.
Whats worse, is that actions like these could actually work to instigate gang warfare. In fact, many people are having a hard time finding a rational motive for these actions. It has been suggested by some that this was actually intended to instigate gang warfare, either that or it was done purely for the officers' entertainment.
According to court documents "Officers Contreras and LaCasa knowingly and intentionally took a very young gang member into a rival gang's territory and allowed him to be threatened. The officers also allowed a gang member to video-record a significant portion of this event, a video that ended up on YouTube. Such conduct by Officers Contreras and LaCasa is antithetical to that expected and required of police officers, whose duty is to serve and protect. They exposed a teen gang member to threats and danger, and created a situation that could inflame gang rivalries and lead to violence."
On April 18th 2013, both officers were found guilty of "unlawful restraint" and holding the young gang member against his will.
The kicker here is that the gang member in the video, Miguel Castillo, was not being charged with any crimes. He was kidnapped by these cops and then subjected to this inhumane treatment.
Castillo was awarded a $33,000.00 settlement because of the actions of these two people who swore an oath to protect and serve.
Situations like this happen every day, but the average American would likely call you a "conspiracy theorist" for bringing it it up.
John Vibes is an author, researcher and investigative journalist who takes a special interest in the counter culture and the drug war. In addition to his writing and activist work he is also the owner of a successful music promotion company. In 2013, he became one of the organizers of the Free Your Mind Conference, which features top caliber speakers and whistle-blowers from all over the world. You can contact him and stay connected to his work at his Facebook page. You can find his 65 chapter Book entitled "Alchemy of the Timeless Renaissance" at bookpatch.com.