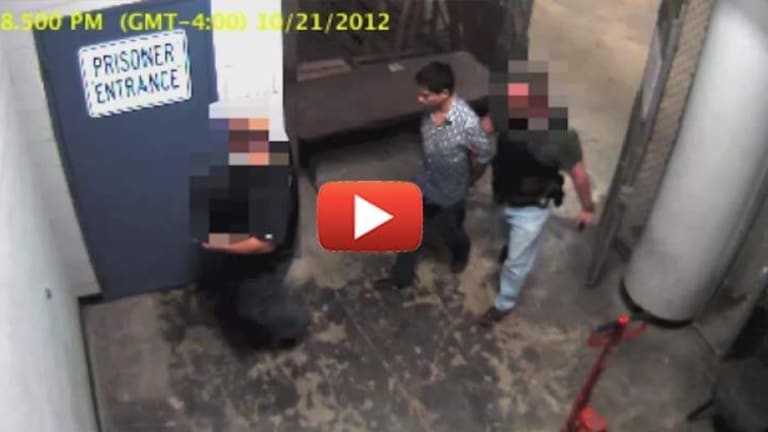 Chicago Man: Cops Brought Me to Secret Prison, Anally Raped Me to Force Me to be an Informant
Newly obtained footage corroborates a Chicago man's claims of being kidnapped and detained at Chicago's black site prison, Homan Square.
Chicago, IL -- A Chicago man has come forward about his experience with the Chicago Police Department which turned into a living nightmare.
The incident happened on October 21, 2012 at the now infamous Homan Square facility. Angel Perez was targeted by police because they believed he knew an alleged drug dealer.
Video obtained by the Guardian and the subsequent interview detail the horrifying events as the incident the unfolded. The Guardian reports:
So the next day, October 21 2012, he agreed to meet at Al's Beef. Camera footage shows Perez walking over to their car with his hand extended for a handshake, unarmed and unassuming. The officers turn him around, push him against the car, cuff him and take him to Homan Square – where, he alleges, they sexually assaulted him.

The footage that follows, which the Guardian is publishing, is rare video showing the Homan Square detention operations that the Chicago police have downplayed. They have instead pointed to the evidence lockers at the warehouse and the press conferences they hold there for drug busts to insist that the Guardian's expose of their incommunicado detentions are overblown.

But the footage, taken from surveillance cameras inside and on the perimeter of Homan Square, shows two officers walking a handcuffed Perez through a blue door inside the warehouse marked "prisoner entrance" at 3.49pm. He was taken to a second-floor room, he said, where he contends police inserted a metal object, believed to be a handgun barrel, into his rectum.
Perez said the cops shackled him, taunted him and then began to force the gun barrel into his rectum.
"He jammed it in there and I started jerking and going all crazy. …go into a full-blown panic attack," he tells the Guardian. "The damage it caused, it pretty much swole my rear end like a baboon's butt."
Scared to death of what the cops would do if he refused to cooperate, Perez agreed to go along with the sting. He later set up a meeting to purchase $170 worth of heroin.
For $170 worth of Heroin, Chicago police allegedly raped a man with a gun.
No charges were ever brought against Perez and in 2013 he filed a lawsuit for damages.
Warning: The video below contains graphic detail of the incident.