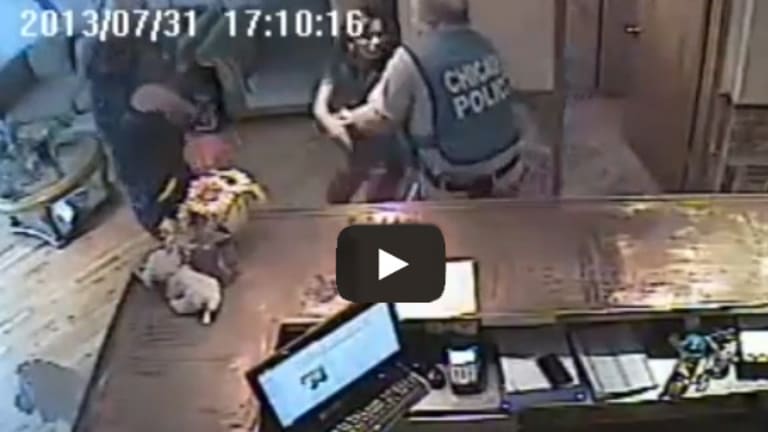 Chicago PD Caught on Camera in a Disgusting Case of Verbal and Physical Abuse
"I'll put you in a UPS box and send you back to wherever the f*** you came from!"
May 20, 2014
Jianqing "Jessica" Klyzek has filed a lawsuit against Chicago PD for verbally and physically assaulting her in her place of business.
Police raided the Copper Tan and Spa after an undercover officer was allegedly offered a sex act by a masseuse.
When they arrived, you can see in the video that police aggressively try and grab and detain Klyzek, to which she naturally resists.
One officer yanks her from a hallway and into a corner, saying something that sounds like "You don't listen very well," the video shows.
She screams, and the Sun-Times said officers claimed she scratched and bit them.
However, the lawsuit claims an officer placed his hands over her nose and mouth, leaving her unable to breathe. In addition, the video shows a cop striking her in the head while she is on her knees, bent over and handcuffed. The lawsuit complains that she suffered "scratches and abrasions on her neck, bruising on her right forearm, an abrasion on her left elbow, bruising on both her thighs and an abrasion on her right knee."
According to the lawsuit and what can also be heard on camera the interaction between the officer and Klyzek went like this:
Defendant DI PASQUALE: You're not fucking American! I'll put you in a UPS box and send you back to wherever the fuck you came from!

Plaintiff: I'm a citizen, OK?

Defendant DI PASQUALE: No you're not! No, you're not a citizen! No, you're not! No, you're not! You're here on our borrowed time. So mind your fucking business before I shut this whole fucking place down. And I'll take this place and then whoever owns it will fucking kill you because they don't care about you, OK? I'll take this building. You'll be dead and your family will be dead
Eventually the cops seem to realize they are on camera and calm down. The lawsuit alleges that they searched for the recorded video but it was stored off-site so they could not find it.
Klyzek was arrested and charged with aggravated battery, however the charges were later dismissed by a judge.
Police say they're investigating the incident.
"The alleged conduct and comments are reprehensible and completely intolerable in our police department," spokesman Adam Collins was quoted as saying by NBC Chicago. "We have codes of conduct that apply to officers and if the allegations are proven accurate, appropriate action will be taken."
The Tribune reports that two of the officers in the case were accused of abusing an immigrant in a previous lawsuit. That suit, stemming from a 2008 prostitution sting, was settled out of court, the paper said.
Here's an idea Chicago, quit creating criminals out of people engaging in consensual transactions. When you arrest someone for a victimless crime, you become the criminal.