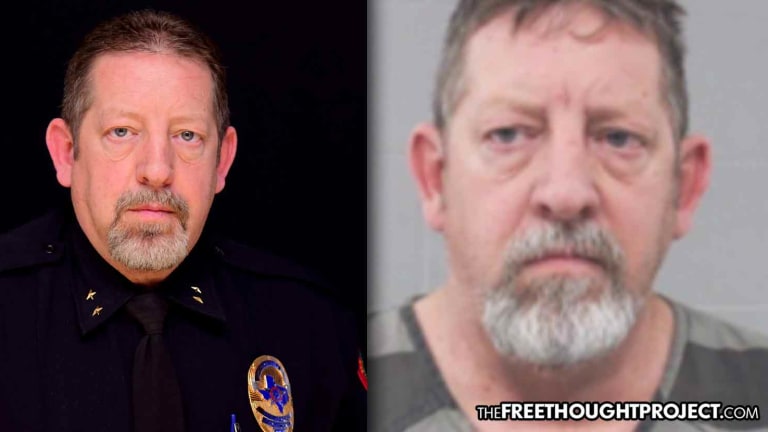 Chief of Police Arrested on Shocking Charges of 'Continuous Sexual Abuse of a Child'
A police chief in Texas was arrested this week on disturbing charges relating to the sexual abuse of children, he immediately posted $500,000 bail.
Hamilton, TX — It is no secret that there is an epidemic of child sexual exploitation and abuse in the land of the free. According to many experts, child sexual abuse is likely the most prevalent health problem children face with the most serious array of consequences. It is so rife that it is estimated that about one in 10 children will be sexually abused before their 18th birthday. This year alone, there will be about 400,000 babies born in the U.S. that will become victims of child sexual abuse unless we do something to stop it. Thousands of child predators are nabbed every year and for every one caught, there are likely 10 others who remain free.
While child sex trafficking is certainly a problem within the upper echelons of society, these sick people are from all walks of life. One of the things the victims are told is to report their abuse to the police. However, as TFTP regularly reports, police are often times the worst offenders and even when they are caught committing horrifying acts of abuse, they receive little to no time behind bars. This is a serious problem, and as the following incident illustrates, it does not appear to be slowing.
Weekly or more, TFTP reports on police officers who get arrested by fellow cops on charges of everything from trafficking in child pornography to child rape to running child sex trafficking rings. Some of these officers are low-level cops like Avo Marzwanian, 34, of LaPlace, Louisiana who was charged earlier this month with 10 counts of distribution and 20 counts of possession of child pornography involving juveniles under the age of 13 along with 15 counts of sex abuse against animals.
Other child predators fill the top position in their department like Anthony "Tony" Yocham, who is the police chief in Hamilton, Texas, a town about 100 miles southwest of Fort Worth.
"Detectives with the Somervell County Sheriff's Office asked the Texas Rangers to investigate the allegations," said Texas DPS Lt. Lonny Haschel to the Fort Worth Star-Telegram.
Yocham was arrested over the weekend on charges of continuous sexual abuse of a child. According to the Texas Rangers, they took Yocham into custody Saturday after their investigation found enough probable cause to charge him with a crime.
Yocham, who lost the Republican nomination for Somervell County Sheriff in April, was taken to the Johnson County Jail in Cleburne, Texas where he quickly posted the massive $500,000 bond and walked out.
The department has yet to release a statement regarding their police chief's arrest. Nor have they said whether or not Yocham has been placed on leave. Our efforts to contact the chief or anyone else in the department have fallen on deaf ears.
On the Hamilton police department's website, the department has the following mission statement:
The Hamilton Police Department is committed to the highest professional standards; working in partnership with our citizens to meet the challenges of reducing crime, and improving the quality of life for the members of our community.
If the allegations against Yocham are true, that statement means absolutely nothing.
While this story is certainly shocking, it is unfortunately not isolated. As stated above, TFTP reports on cops busted for child sex crimes, quite literally every single week. In fact, just down the road from where Yocham is the chief of police, last week, TFTP reported on a cop in Dallas, Sr. Cpl. Daniel Lee Collins who pleaded guilty to uploading sexual photos of underage girls to various Google accounts using the City of Dallas internet network.
U.S. Attorney Erin Nealy Cox stated that Daniel Lee Collins, 35, a former senior corporal, pleaded guilty to the crimes last month. The top cop further admitted he knew the images depicted actual minors, including a nude prepubescent female, and portrayed "sadistic or masochistic conduct."